Features
Top 5 DC Comics for the Week of 3/27/13
Reviews of: Batman Incorporated #9, Flash #18, Teen Titans #18, Superman #18, and Aquaman #18
It's a veritable super-friends lineup of DC characters this week! Check out our reviews of: Batman Incorporated #9 and Teen Titans #18, in which the fallout from Damian Wayne's death continues! Flash #18 is a great jumping on point for new readers! Superman #18 is…well, it's a Superman comic. And don't forget Aquaman #18 which continues the trend of Geoff Johns proving he can make any book cool.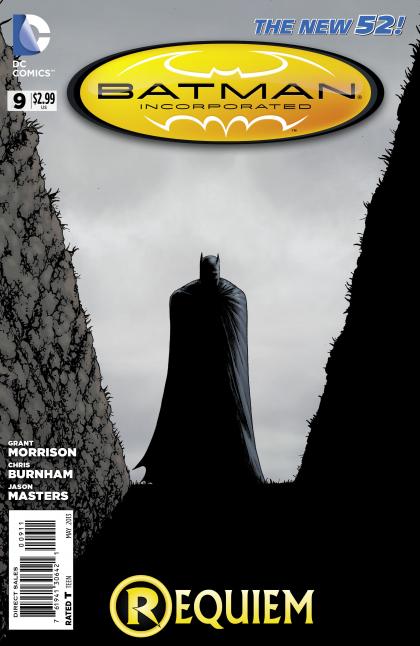 Batman Incorporated #9
"Fallen Son"
Writer: Grant Morrison
Artists: Chris Burnham and Jason Masters
At the risk of sounding harsh, now that the whole Damian croaking thing is out of the way, we can get back to the whole Batman Incorporated concept, right? It sure looks that way in Batman Incorporated #9, as we get glimpses of, not just the initial consequences of Damian's death, but that of the Knight as well. Oh yeah, remember that? Knight of Knight and Squire fame got his ticket punched recently as well, but for some reason, we all seem to have forgotten about that.
Anyway, Batman Incorporated #9 is every bit as emotional and stirring as its more famous predecessor. In fact, it's more so. There's something particularly disturbing about the site of Damian's corpse lying on his back, with his cape covering his face, while the battle continues on around him. Nightwing's reaction and denial of the circumstances only helps to drive it all home. It's actually very powerful stuff, much more than I expected it to be. The art of Burnham and Masters has quite a bit to do with this effectiveness, as everyone is swollen, bloodied, dirty, and hurting all the way to their souls on virtually every page. Pain, both physical and emotional, is very real in this comic, and it's something that Batman deals with alone.
But around this, the narrative pulls back a little to remind us that there's more to this story. There may not be very much left, but something tells me that what's coming is going to be absolutely ridiculous. Batman has a score to settle with Talia and the Heretic, and Leviathan has officially declared war on all of Batman Incorporated. Everything is lining up for this to be a Batman story for the ages.
Batman Incorporated is a book that's never felt like it fits in DC's New 52. The amount of history it implies for Batman and his surrounding cast is entirely too unwieldy for the five year timeline outlined in the "main" Batman books and elsewhere. From a reader perspective, I feel like we're witnessing Grant Morrison bringing, not just his Batman tenure to a close, but an end to the entire "post-Crisis" Batman mythology. If that's indeed the case, there couldn't be a better writer for the job.
Review by: Mike Cecchini
Story: 8/10
Art: 8/10
Overall: 8/10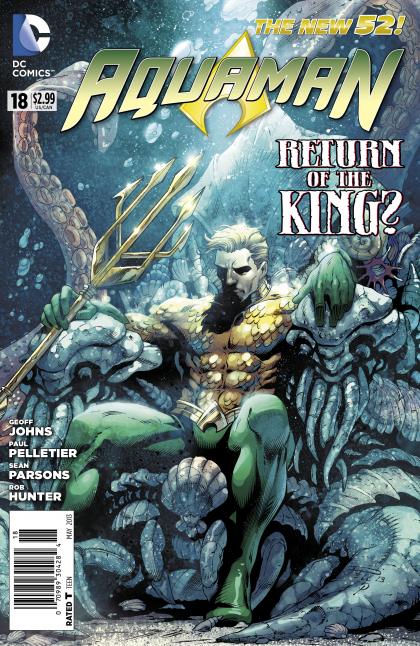 Aquaman #18
"Death of a King: Chapter 1"
Writer: Geoff Johns
Penciller: Paul Pelletier
Inker: Sean Parsons
The recently concluded "Throne of Atlantis" should be the modern how- to guide on how to do a crossover. It had one focused creative direction, personal stakes for the characters involved, internal and external conflicts, and intense action. The DC Universe might not have changed drastically, but the major players involved certainly did. The crossover allowed for Justice League readers not reading Aquaman (and really, what's wrong with them) a reason to pick the title up, and experience what is one of DC's most consistently enjoyable reads. This is the first issue of Aquaman after "Throne of Atlantis," and a chance for Geoff Johns to set the stage for the book's next direction. As Arthur comes to terms with being the newly-crowned King of Atlantis, Johns takes this issue to examine the relationship between the surface world and the sea kingdom through the eyes of the book's rich supporting cast. That's right, Aquaman has a great supporting cast. Oh, Geoff Johns, you truly are a wizard.
This issue introduces the new version ofTula, known as Aquagirl before the reboot. Sister to the former King Orm,Tula is torn, Antigone-like, between her duty to the throne and her duty to her disgraced brother. Johns wastes little time in making the new Tula an intriguing and richly defined character, as she is privy to a possible insurgency against Aquaman. Because Aquaman promises her that her brother's life will be spared, Tula is torn between her duty to her brother and her duty to the newly crowned king who promises her disgraced brother justice.
Mera gets her share of the spotlight, as she is inAmnestyBay for crimes she committed earlier in the series. Mera's struggle is a microcosm of the relations between land and sea, where she sees surface dwellers as weak and their rules as trivial. Mera must swallow her pride in order to try and fix the rift caused by former King Orm's attack on the surface, and by having her submit to surface authority, Johns adds a layer to Mera's already rich character. Mera only got a few pages in this issue, but they speak volumes about her place in the overall narrative of the series.
The main plot point of this issue was Aquaman trying to stem the tide of Atlantaen weaponry reaching the surface world. Aquaman's former advisor, the disgraced Vulko, tells Aquaman to seek out the rebooted classic villain the Scavenger to stop the weapons trade. Once you get beyond Black Manta and Ocean Master, Aquaman doesn't have the deepest rogues gallery, but this new take on the Scavenger portrays him as a specific breed of irredeemable scum that will be a blast to watch Aquaman take down. Scavenger is not the only threat to be introduced this issue, as the story ends with the arrival of a new threat that could rival anything Aquaman has faced since Johns' run began.
Review by: Marc Buxton
Story: 9/10
Art: 8/10
Overall: 8/10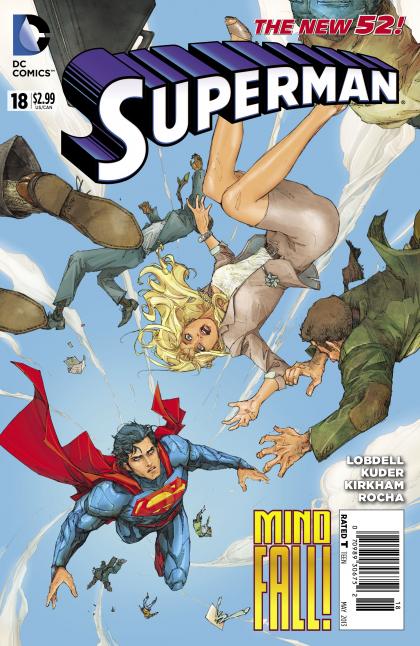 Superman #18
"Metropolitan Nightmare"
Writer: Scott Lobdell
Pencillers: Aaron Kuder, Tyler Kirkham, and Robson Rocha
I really hope that one of these days somebody, whether it's Scott Lobdell or another writer, can finally give the New 52 Superman an actual identity. I simply don't buy the Spider-Man-esque "nobody trusts Superman" angle, and I'm certainly not feeling the "Clark as a brooding tool" angle. It's not like I'm some kind of traditionalist, either. I could probably, given the opportunity, go into great detail about the nuances in Superman's personality and how it has evolved over the last seventy-five years. Make no mistake, there were always significant changes being made. But lately, this is something that just isn't clicking. After eighteen months, you'd think someone would have figured it out.
Still, this book hasn't been as good under any of the previous teams as it has been since Scott Lobdell took over on writing chores. If nothing else, the book has been exciting. This isn't the most exciting of issues. Superman gets yelled at by the government,Clark broods at a nightclub and annoyed by Cat Grant, and people start spontaneously attempting suicide and then complaining that Superman gives them the creeps after he saves them. I'd type a "yawn" here, but that would just feel self-indulgent.
While we do get an intro and an epilogue with Orion, and the promise of more New Gods in this book is very appealing indeed, it's not enough to save the middle section of Superman #18, which feels about as unnecessary as it gets, especially after a story as big (and overlong) as the recently concluded "H'el on Earth." It's almost as if this Superman book has been stuck in neutral while DC waited for Grant Morrison to lay all his cards on the table over in Action Comics. Now that all of that is out of the way, perhaps Superman can come into its own. I believe Lobdell is as capable as anyone of steering the ship, but if he's gonna be the guy, then he's gotta up his game significantly from the disappointing Superman #18. It would be nice if we can finally get a sense of Superman actually IS in the New 52 sometime in the near future.
Review by: Mike Cecchini
Story: 4/10
Art: 5/10
Overall: 5/10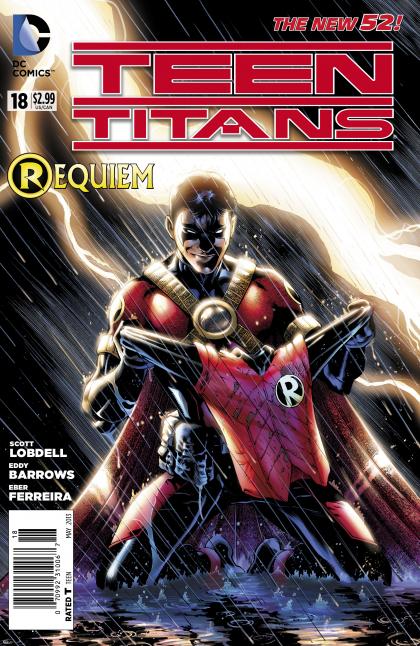 Teen Titans #18
"To Belle and Back"
Writer: Scott Lobdell
Pencils: Eddy Barrows and Rodney Buchemi
Inks: Eber Ferreira and Rodney Buchemi
"Requiem" has been a very solid and moving storyline. It has allowed the Bat writers to clear the decks from Damian Wayne's death and "Death of the Family," and to meditate on the individual characters' motivations moving past these important storylines and into the future. In this issue of Teen Titans, Scott Lobdell has the chance to examine Tim Drake, and see where he stands with his team and within the larger framework of the DC Universe. Since Damian has come to the forefront, Tim has seemed the odd man out. Given the proper path, this could be the time for Tim to shine.
Teen Titans #18 kicks off with a great spotlight on Tim's motivations for starting the Titans. In a strange little dialogue Tim has with a dream-like manifestation of Damian, Tim reveals he began the Titans in order to protect neophyte super-heroes from the dangerous worlds of Batman and the Justice League: a strength in numbers type of situation that should provide teen heroes with like minded backup. This idea cuts right to the core of Tim's character, as the Titans exist as a selfless gift to the next generation of super-heroes. This conversation also reveals Tim's bitterness in Damian supplanting Tim as the youngest Robin, another aspect that enriches Tim's character.  As I've said before, Lobdell just seems to get Tim, and when the writer focuses on Drake, they both truly shine.
Then Tim joins up with the rest of the team, and things go downhill fast. Other than Red Robin and, to some extent, Superboy, the rest of the Titans are just static, flat characters. Wonder Girl is angry, Kid Flash is reckless, Solstice is innocent and mysterious, and Bunker is, well, Spanish and gay. That's all there is to them. Inspired by the loss of Damian, Tim declares the team's new mission statement is to help super powered teens that find themselves in danger. So, Tim and company attack Belle Reve and the Suicide Squad to rescue a girl Tim heard is supposedly held there against her will.
Deadshot's dialogue of "You're not so fast when you're paralyzed, eh?" is really not going to cut it for a contemporary comic book writer. Interspersing the narrative with expository thought bubbles (Solstice confessing her guilt in cheating on Kid Flash with Superboy) or expository caption blocks (clumsily introducing each Squad member) is distracting and lazy. The teams fight, banter is exchanged, and it is discovered that the girl was never held at the prison, which sort of makes Tm look like an ass. Amanda Waller and Tim come to an agreement, but it seems the creators didn't feel it was important to tell the reader what that agreement was. The Titans leave with nothing accomplished, as we learn that it is indeed difficult to be fast when paralyzed.
Maybe it's time to move Lobdell to a solo Red Robin book and let the writer play to his strengths, because keeping a coherent narrative while juggling plots for each team member and establishing their motivations certainly is not one of them. What started as an emotional look into the mind of Tim Drake turned into a pointless brawl with the Suicide Squad with unneeded soap opera elements like who kissed who and when, and ends with the arrival of Trigon, in a moment that seemed shoe horned into an already confusing and directionless story. The art was nice, though, and Eddy Barrows is quickly becoming one of my favorite DC artists.
Review by: Marc Buxton
Story: 4/10
Art: 8/10
Overall: 5/10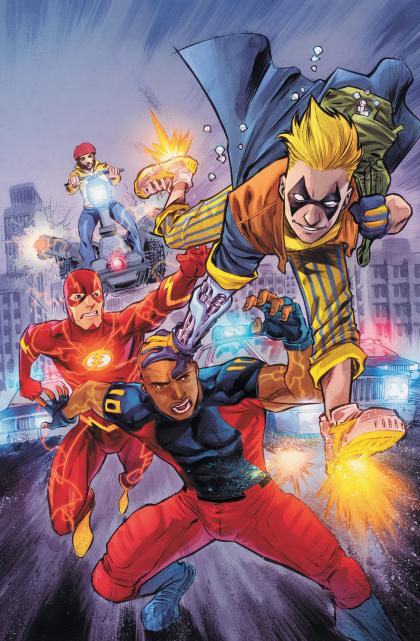 Flash #18
"The Heroes' Journey"
Writer: Brian Buccellato
Artist: Marcio Takara
The Flash, when done right, is one of those characters that could kind of exist outside the DC Universe. His supporting cast is so strong, and his rogues' gallery is even stronger, that there's just enough good material there for Central City to be its own little corner of reality that obeys its own rules, and that should be enough. And Central City kinda DOES have a set of rules and regulations that don't apply to the rest of the DCU. Look at it this way, can you think of any other city with such an active supervillain population that operates so openly? Maybe it's the "no killing" code that the Rogues have which makes them able to go out to dive bars in full costume to have a few drinks, but you sure wouldn't see this kind of thing in Gotham or Metropolis!
But that "no killing" code is central (ahem) to Flash #18. You see, someone has framed the Trickster for murder. It's easy to frame a costumed super-criminal for any crime, really, no matter how loudly protest that any particular crime isn't their thing. You wear the costume and you're a target, even in a relatively villain-friendly place like Central City. Regardless, Barry Allen, better known as The Flash, isn't convinced of the Trickster's guilt, and that sets things up.
Flash #18 is ALMOST a standalone issue. It feels like a standalone adventure for most of it, and it does a nice job of being accommodating for new readers. I know I've complained a bit recently about this title's tendency to stretch storylines a little bit past their expiration dates, but this issue makes a fairly clean break. This could be your first Flash comic, or you could be following this from the reboot. Either way, it's proper fun. My only complaint is the "surprise" crossover with Dial H, which I haven't been following. Ah, well…I need to broaden my comic reading horizons anyway, don't I?
While we do get Francis Manapul on the cover, it's Marcio Takara who delivers the interiors. Takara's art is pleasing to the eye, and definitely dynamic enough for the Flash's world. Manapul is a tough act to follow, as I expect he could become THE Flash artist of this generation, but Takara steps right in and makes this book his own. Well done!
Review by: Mike Cecchini
Story: 7/10