Features
Top 20 movies of 2018 – No 3: Spider-Man: Into The Spider-Verse
Our favourite neighbourhood webhead gets a funny, emotional and visually stunning big-screen refresh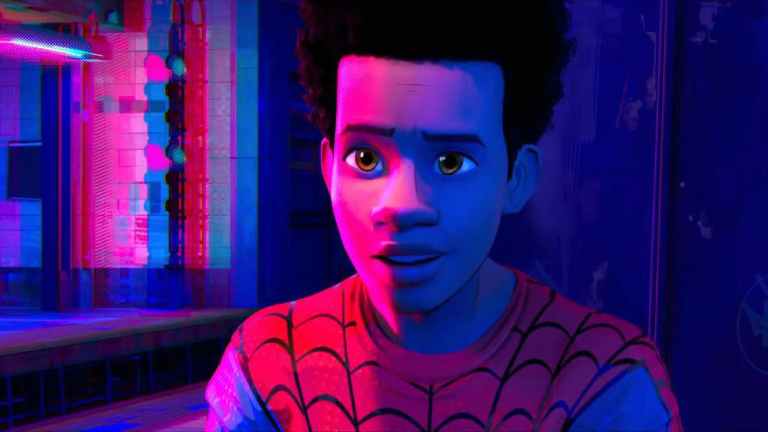 "Do we really need another Spider-Man?" That was the question on everyone's lips before Into The Spider-Verse – featuring the fourth big-screen incarnation of Marvel's web-slinging superhero in 16 years – was unleashed on the world. As it turns out, we did.
In fact, Spider-Verse gave us not one but six new takes on the character, in a Spidey film that was quite unlike any that came before it. Heartfelt storytelling, pitch-perfect humour and astounding visuals meant that this swung straight into our top three films of 2018 by some margin, despite being released only weeks before the year's end.
So, why was Spider-Verse such a success? Well, like much of the work of writer/producer Phil Lord and producer Chris Miller (Cloudy With A Chance Of Meatballs, 21 Jump Street, The Lego Movie), it takes a concept that teeters on the verge of being too "out there" and trusts the audience to go along for the ride, balancing a somewhat surreal story with knowing laughs and genuine feels.
But the real ace up Spider-Verse's sleeve is its main protagonist. He might be the fourth big-screen Spidey, but he's the first Miles Morales – and the film is all the better for it. A modern, relatable, funny and sympathetic hero (voiced brilliantly by Shameik Moore) who's trying to do the right thing but struggling to come to terms with his new-found superpowers, it's not long before you're rooting for him. It helps that we don't have the familiar "with great power…" origin story rehashed again: Miles' story feels fresh enough to warrant his place in the big-screen Spider-verse.
The supporting Spideys are all top-notch too: Miles' reluctant mentor Peter B. Parker (Jake Johnson), the super-powered Spider-Gwen (Hailee Steinfeld), the anime-styled Peni Parker (Kimiko Glen), porcine superhero Spider-Ham (John Mulaney) and the black-and-white 1930s web-slinger Spider-Man Noir (a none more hilarious Nicolas Cage). Not only do their disparate backgrounds and personalities fuel some inspired culture-clash comedy, but their common-ground understanding of the challenges of being Spider-People also provides much of the film's warmth.
On top of all that, the mash-up of their various animation styles makes for a bizarre visual feast that feels truly unique. In fact, the film's groundbreaking animation doesn't just set it apart from the other Spider-Man films; it sets it apart from most cinematic 'toons, too. Halftone textures, thought balloons, comic-sans captions…This is probably as close to a living, breathing comic book as you're ever going to get.
As we summed up in our five-star review: "From its laugh-out-loud funny opening to its heart-melting final moments, the film delivers nothing short of two hours' worth of visual and emotional treats." Chuck in some gloriously meta Spidey references, a beautifully poignant Stan Lee cameo and an inspiring central conceit about the universality of heroism, and you've got a film that's up there with the best comic-book movies (and one that will hopefully get some awards-season recognition). Into The Spider-Verse might not have been the Spider-Man film we knew we wanted, but it's the one we needed right now.