News
Thor: Ragnarok — Kevin Feige Talks No Natalie Portman & Going Outside the Nine Realms
The Marvel Studios prez also discussed the importance of mixing things up in the third installments of MCU's standalones.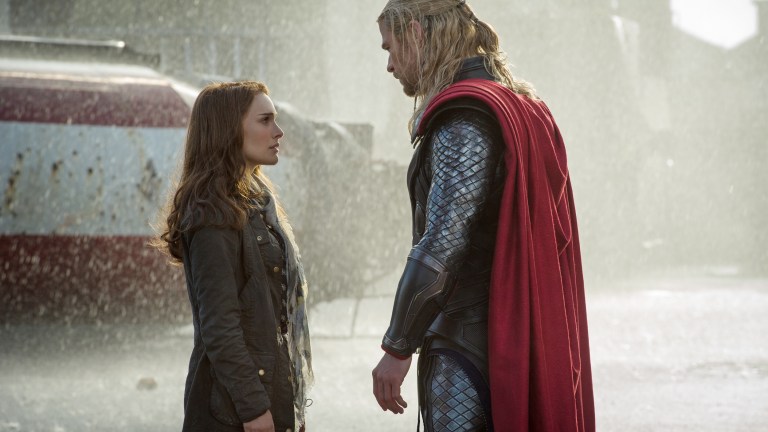 We fans are still in the post-Captain America: Civil Warhoneymoon period, but that doesn't mean the Marvel Cinematic Universe is resting on its superhero laurels. The MCU is always working on its next features, and Thor: Ragnarok set to start up production in July. 
On a recent Empire podcast, Marvel Studios president Kevin Feige shared details of what we can expect from the "universal road movie" featuring both Thor and Hulk, but, notably, not Natalie Portman's Jane Foster. Feige addressed Portman's absence, as well as teasing the "different planets" we will be visiting on Thor and Hulk's cosmic adventure…
On the lack of Jane Foster…
Feige confirmed that Natalie Portman will not be in Thor: Ragnarok, adding that her absence is for "many reasons, many of which are in the film, so you will see that." One of the major reasons, according to Feige? Thor: Ragnaroktakes place mostly in space:
But there are only a couple of scenes on Earth in this movie. Majority, 95 percent of the movie takes place in the cosmos.
We'll have to wait and see how the movie explains Jane Foster's absence — and if it's permanent or merely temporary. From where I'm sitting, if Bruce Banner can go on a cosmic adventure, then so can Jane Foster.
On the all-star cast…
Logistically, the Thor: Ragnarokproduction team is already gearing up in Australia, where the MCU standalone will be filmed. Speaking about the current status of pre-production, Feige said:
The production office is open in Australia. Our executive producer Bob Winderbaum is out there. [Director] Taika Waititi is out there. Our great crews are out there. Chris Hemsworth lives out there, so he's very close and very pleased with where we're shooting the film.
Though Portman may not be returning for the film, Ragnarokhas cast both Cate Blanchette and Tessa Thompson (Creed)in major roles. Feige also teased that there will be more exciting casting announcements to come, saying:
And the cast that has come together for that film, some of which has been announced, some of which has not been, is pretty amazing and is a dream… and most of them are new cast members to the cinematic universe.
On avoiding three-quel-itis…
Feige also chatted about the larger role of the third standalone installment for MCU characters, and how Ragnarok will follow the mixing-it-up story strategy implemented in both Iron Man 3and Captain America 3. Feige said:
If you look at what we did with Iron Man 3, if you consider Civil War, which we do, Captain America 3, we really challenge ourselves when it comes to Part 3. You know, I heard the term many years ago 'three-quel-itis,' and I said, 'Let's never get that.' So we usually look at a Part 3 as the opportunity and the time to really change things up, to really take characters to new places.
On going outside of the Nine Realms…
What does it mean that Ragnarokwill really "change things up" for Thor? Feige elaborate:
Tonally and geographically, there are a lot of different planets in Thor: Ragnarok outside of the Nine Realms that we visit, and I'm excited to share what's going on. But it's a long way out. We start filming in July.
Any cosmic destination requests?
If you'd like to listen to the Ragnarok-related discussion of the podcast yourself, the Thor discussion starts around the 48-minute mark.