News
Things You Can Do for Jack Kirby's 100th Birthday
How can you honor the King of Comics on his 100th birthday? There are plenty of ways to pay tribute to Jack Kirby.
There shouldn't be any need to remind anyone who reads comics, watches superhero movies and TV shows, or attends conventions about Jack Kirby's towering accomplishments. But somehow, despite the fact that he's one of the pillars (arguably the pillar) that Marvel's entire empire was built on, Kirby's name isn't as ubiquitous as you'd expect. When you think of pop culture in the 20th century, the name Jack Kirby should occupy the same stratosphere as George Lucas, Jimi Hendrix, and Bruce Lee: innovators who made indelible impressions on the collective consciousness. Unlike those men, Kirby was almost impossibly prolific, producing tens of thousands of pages of story and art over a career that spanned five decades.
With partner Joe Simon, he brought Captain America into the world in 1941. When the public lost interest in superheroes after World War II, Simon and Kirby branched out into war, crime, and romance comics, the latter of which they virtually invented. Kirby's collaborations with Stan Lee brought forth characters that are now the bedrock of nearly every Marvel Cinematic Universe movie, from titans like Thor, Iron Man, and the Hulk to the more offbeat Ant-Man, Groot, and Ego. Kirby's work for DC produced characters and concepts that have become cornerstones of their line, and they're bound to make their way to the big screen sooner rather than later (the villains of the upcoming Justice League movie are Kirby creations, for example).
When I was a kid, Jack Kirby was one of the first comic book creators whose work I recognized. The acrobatic fight scenes that seemed to move on the page, the ornate technology that looked like nothing I had ever seen in sci-fi movies, and the mythic, cosmically-powered heroes and villains that were immediately recognizable. As an adult, I was drawn to Kirby, the impossibly hard working man, who went from brawling in the streets of New York City's Lower East Side to fighting Nazis in World War II, to the artist who produced consciousness-expanding works when he was far older than the "flower children" of the '60s and '70s, and finally to the elder statesman who patiently dispensed advice to every aspiring writer and artist who approached him in the early days of San Diego Comic-Con (where he was a guest of honor every year until his death in 1994) or tracked him down at his California home.
Jack Kirby is the reason I get to do what I do for a living. My fascination with "the King of Comics" led me to an internship with the Jack Kirby Museum and Research Center in college, and it was while working their booth at a comic con that I met the people who eventually hired me at Den of Geek. I'm now a trustee of the Kirby Museum; I'm proud to assist in their efforts to keep Kirby's name in the public eye and aid them in their ongoing quest to build a permanent museum in honor of this towering figure.
Today marks the 100th anniversary of Jack Kirby's birth. Spend some time with one of your favorite works of his. Discover a new one. Donate to one of the causes that do good work in his name.
Here are a few that we think are pretty cool…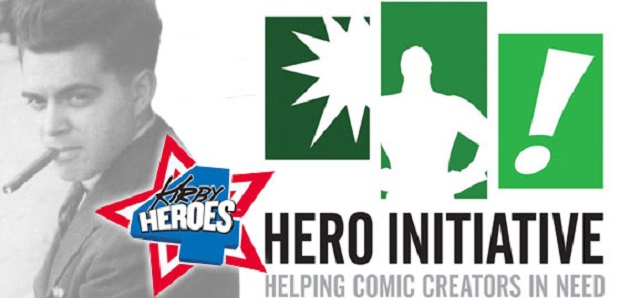 Kirby 4 Heroes, The Hero Initiative, and #WakeUpAndDraw
Jillian Kirby, Jack Kirby's granddaughter, has a tradition of raising money for The Hero Initiative in Jack's name on his birthday this year. The Hero Initiative, in case you aren't already familiar with them, raises money to help comic book creators in need. You can donate right here, and be sure to put Kirby4Heroes under "special instructions" so they can keep track of the donation for their goal!
And then there's #WakeUpAndDraw, where comic artists spend the day creating art that will then be auctioned off to benefit The Hero Initiative. A highlight of this year's #WakeUpAndDraw is Phil Hester and his quest for 100 drawings in honor of Kirby's 100th birthday, and those will also be used to raise funds for Kirby4Heroes. Follow him on Twitter to see what's up. 
Follow the #WakeUpAndDraw hashtag on Twitter and Instagram to see what everyone comes up with!.

The Jack Kirby Museum and Research Center
Maybe you've visited the Kirby Museum's website, or spent some time at their booth at NYCC, SDCC, or MoCCA Fest, but they've got more to offer. The Kirby Museum has a special event open in New York City through August 30, Jack Kirby – 100 Years. The event takes place at One Art Space at 23 Warren Street. If you're in the area, please come out!
Disclosure: I am a Kirby Museum trustee.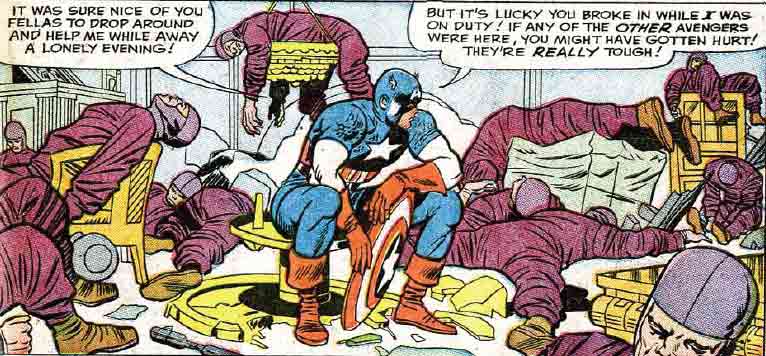 What Else?
Most importantly, take some time to enjoy some of Jack Kirby's incredible work. I'll probably kick back with the Captain America solo story from Tales of Suspense #59 (see the above panel), which first opened my eyes to just how dynamic a fight scene could look on a page, or with OMAC, a comic that still feels years ahead of its time 40 years after its initial publication.
Or better yet, create something of your own. That's probably what Jack would have wanted you to do, anyway.
Long live the King.