News
The Wild Storm: Get Ready for DC's Warren Ellis and Jon Davis Reboot
Ellis & Davis-Hunt team up to resurrect the imprint & we have previews!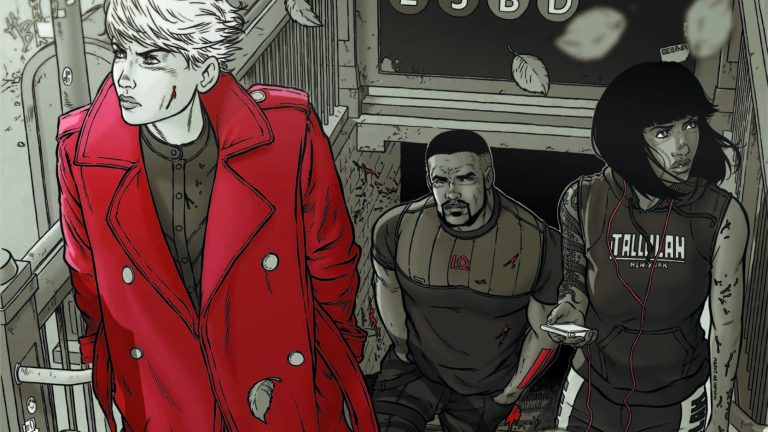 Wildstorm is back this February! Jim Lee's studio, formed back in the Image Revolution before it eventually migrated to DC at the turn of the millenium, is being resurrected by one of its most important creators and a talented art partner.
Warren Ellis, who followed a great run on Stormwatch with the revolutionary The Authority, and followed that with equally incredible runs on Planetaryand Global Frequency, has been given the keys to the line with a mandate to bring it back following the characters' fall into disuse. After DC's New 52 relaunch, the Wildstorm characters were integrated into the main DC Universe creating continuity logjams the likes of which hadn't been seen since the Time Trapper was sent on his merry way by the Legion of Super Heroes. Grifter and Voodoo had solo series, while Stormwatch was a secret Justice League before there was a Justice League, and some Gen 13 members periodically bounced around Teen Titansand Superboy. 
Eventually all of these characters (except for Midnighter, and regular Denizens know that has turned out exceptionally well) just kind of were put on the shelf. Meanwhile, Young Animal, a DC sub-imprint connected to but set apart from the main DC Universe, helmed by Gerard Way and in practice turning into a hip reinvention of early Vertigo, has done exceptionally well, likely clearing a path for Ellis to head up a similar arrangement.
The Wild Stormis the first book in the new line. Here's what DC's solicits have to say about it.
THE WILD STORM #1 Written by WARREN ELLISArt and cover by JON DAVIS-HUNT Atroubled woman, barred by her employer from continuing her research, walks miserably through New York City. It takes her a moment to notice that everybody else is looking up. A man has been thrown from the upper floor of the Halo skyscraper. And that woman—Angela Spica, sick from the transhuman implants she's buried in her own body—is the only person who can save him. What she doesn't know is that the act of saving that one man will tip over a vast and secret house of cards that encloses the entire world, if not the inner solar system. This is how the Wild Storm begins, and it may destroy covert power structures, secret space programs and even all of human history.

New York Times best-selling writer Warren Ellis (TRANSMETROPOLITAN, RED, THE AUTHORITY) returns to DC to curate Jim Lee's WildStorm world, with this debut issue resetting the WildStorm universe with new iterations of Grifter, Voodoo, the Engineer, Jenny Sparks and others. "I couldn't be more excited to see these characters that are so near and dear to me reintroduced under the guiding hand of Warren Ellis. WildStorm represents an incredibly fun and exciting period in my career, and I can't wait to see what Warren and Jon have in store for fans in February."—Jim Lee, DC Comics Co-Publisher On sale FEBRUARY 15 • 32 pg, FC
The preview images are below. They include variant covers from Lee and Tula Lotay, who last partnered with Ellis on Supreme: Blue Rose, as well as unlettered interior pages that look like they include Zealot (think Deathstroke but a lady and an alien) and what looks like an Engineer.
Are you excited for the return of Wildstorm? Let us know in the comments!