News
The Walking Dead Showrunner Scott Gimple Talks Potential Time Jump
The Walking Dead boss Scott Gimple looks beyond the upcoming Season 8, addressing a possible time jump.
Warning: Spoilers for The Walking Dead Season 7 finale, "The First Day of the Rest of Your Life" and the current storyline of the comic book series.
The Walking Dead closed out a controversial, arguably agonizing Season 7 with Rick Grimes (Andrew Lincoln) leading a coalition of communities to fire the first shot across the bow of Negan (Jeffrey Dean Morgan) and the Saviors, instigating a storyline referred to in Robert Kirkman's comic book source material as "All Out War." Consequently, this fall's Season 8 will clearly become an extended colossal conflagration between the factions. However, if the show continues to follow the comics, then the eventual armistice could be followed by a two-year time jump!
Speaking with THR, The Walking Dead showrunner Scott M. Gimple has some intriguing things to say about the game-changing elephant of the time jump in the future storyline room. While we don't know exactly how the All Out War will be fully waged in this fall's Season 8, it is clear that the inevitable conclusion will leave the show – already mired in fan ire and controversy over the handling of the Saviors storyline – stuck in a creative quandary and here's why.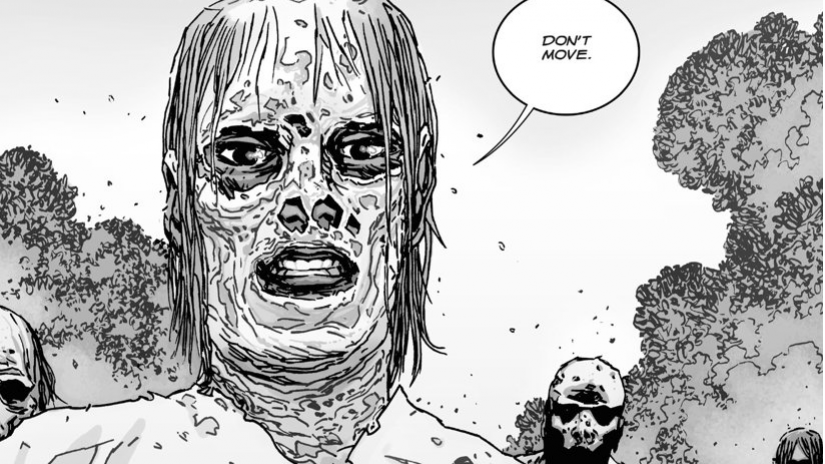 The Walking Dead comics conclude All Out War – after losing several more lives – with a fateful one-on-one showdown between Rick and Negan, resulting in Negan's capture and incarceration at Alexandria, leaving Dwight in charge of the Saviors, with all the communities embracing a new vision of reciprocity. – The following issue (#127) jumps forward two years with Rick's vision fully implemented, Negan still locked up and the arrival of a new group led by new female A-list player Magna. However, an accidental crossing of the non-delineated borders of the Whisperers, an animalistic group who wear walker/roamer skin masks, sows the seeds of another costly inter-factional war; one that sees Rick question his values and Negan attempt a good-guy turn. As Gimple explains of the time jump:
"For the people who read the comics, they're going to be expecting this. We're doing the book, we do all sorts of variations on it, and then we do things that are inspired by it and then we change things up with a remix. But I will say there are things that happen in that time jump that are referred to that are super interesting. And thus, we might see some of that stuff; it might not be the same sort of jump, or we'll do that two to five years in real time."
Gimple, thinking of the show's longevity, seems to be considering – amongst other things – bypassing the time jump to power through the storyline in real time, depicting the building of Rick's vision of an inter-community trade coalition, Dwight (Austin Amilio) attempting to lead the Saviors in a more honorable existence and Maggie (Lauren Cohan) fielding leadership of the Hilltop community. It's certainly a reasonable approach, especially considering that the timeline between the dawn of the zombie apocalypse and All Out War is (out of necessity,) much longer on the show than it was in the comics. Gimple continues:
"I've had a general plan for a long time, and invariably when I do that, there are little things that catch and change that plan. But in general, I think there's going to be a little bit more content that Robert [Kirkman] actually refers to. There's stuff in there that I was reading that I wondered about, and when I wonder about stuff that I like, I like getting into that stuff [on the show]. We're definitely going to honor it and do it, but we're definitely going to have either more of it or possibly do it in a different way."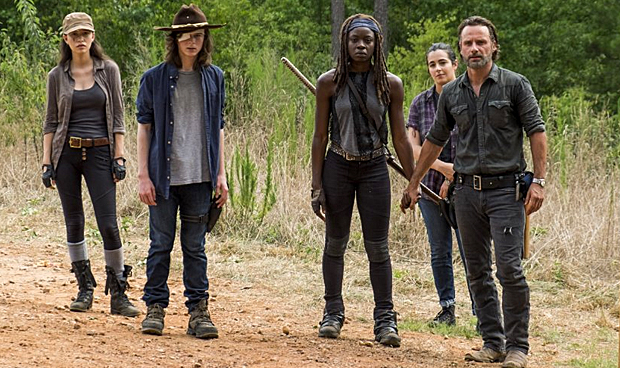 Gimple has been brainstorming the inevitable story shift, discussing production logistics with Kirkman, presumably since Issue #127 hit back in May of 2014. Yet, with increasing storyline and timeline divergences between the comics and the show, vastly different roads need to be taken toward the comic-adherent destination with the Whisperers. Comic plot points like Rick and Andrea's married life, the tragic ending of Michonne's romance with Ezekiel and Carl's problem-causing romance with Whisperer Lydia, are completely nullified by the show's structure with Rick romancing Michonne (Danai Gurira), chemistry between a still-alive Carol (Melissa McBride) and Ezekiel (Khary Payton) and Carl already involved romantically with non-comic character Enid (Katelyn Nacon).
It will certainly be interesting to see how Gimple, Kirkman and the rest of the creative coalition approach this most crucial of thresholds for The Walking Dead, presumably sometime around Season 9. Indeed, while the series has gained its share of detractors, it remains a money-generating powerhouse that won't be going anywhere anytime soon as far as AMC is concerned. However, for the viewers, that plot dilemma is barely visible on the horizon, as the All Out War with the Saviors will be a heartbreaking bloodbath dominating Season 8 this fall.