News
The Walking Dead Showrunner Promises Events That Make Rick Grimes Smile
The Walking Dead hasn't given Rick Grimes cause to smile in a long time, but the showrunner hints it will very soon.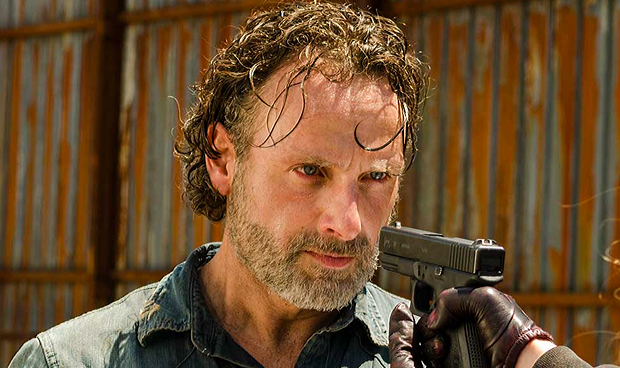 It has been well established that a good portion of The Walking Dead viewers were not having a good time in the first half of the highly-anticipated Season 7, watching their favorite characters get brutally killed and/or constantly tortured and humiliated. Thus, even when rumblings started to emanate from the likes of key personnel like showrunner Scott M. Gimple hinting major tonal changes in the second half, many remain understandably incredulous. However, Gimple's latest Season 7 comments – while admittedly thin – are quite provocative.
Speaking to EW, Gimple, who, back in December, teased "a very different vibe" for The Walking Dead Season 7B, reaffirms the veracity that statement and qualifies it in a uniquely minimalistic manner. With Andrew Lincoln's Rick Grimes and company finally finding their purpose with plans to meet with King Ezekiel (Khary Payton) and his group of potential allies the Kingdom, we already know that the midseason return will kick off the planning of a long-overdue reprisal. Possibly revelatory in his brevity, Gimple explains of the 7B premiere:
"It propels us into a very different half season from the one before it. Before the end of that very first episode back, you will see Rick Grimes smile."
We've seen Rick smile on many occasions, notably with his recent show-shipper-pleasing romance with Danai Gurira's zombie-apocalypse samurai Michonne – there's nothing intrinsically newsworthy about that idea. However, given what Rick has experienced at the hands of Negan (Jeffrey Dean Morgan) and his unmerry band of ravagers the Saviors, there is a more sinister context to the idea of Rick smiling.
Put yourself in Rick's shoes: you were just humbled in the most definitive way, forced to watch two of your closest friends get their brains bashed by a snarky lunatic, almost forced to chop off your son's arm to mollify said lunatic's sense of security, forced to sit back and watch as your best friend is capture and tortured, forced to sit back while said lunatic's buddies run roughshod over your home and neighborhood, all while being forced to donate most of your stuff – including all your guns – to his selfish cause.
Consequently, whatever occurrence could possibly make one smile after all that is probably nothing less than unmitigated, wanton revenge. In fact, such an idea would mirror what co-star Norman Reedus recently said of the mental state of his character Daryl Dixon, the aforementioned best friend who spent Season 7A locked in a dark closet, fed dog food sandwiches and endured a creatively sadistic variety of humiliation. While the upcoming Season 7B was shot well before the feedback arrived for 7A, it does seem that the Saviors-dominant season was always designed to build up its torturous tension toward a presumably satisfying second-half payoff. Whether that will successfully be accomplished as the show adapts the "All Out War" storyline of the comic book series, remains to be seen.
The Walking Dead readies a return rife with revenge when the series resumes Season 7 on AMC on February 12.