News
The Walking Dead Season 9: What Lauren Cohan's ABC Show Means for Maggie
While Lauren Cohan will return for The Walking Dead Season 9, she's also co-starring in ABC crime series Whiskey Cavalier.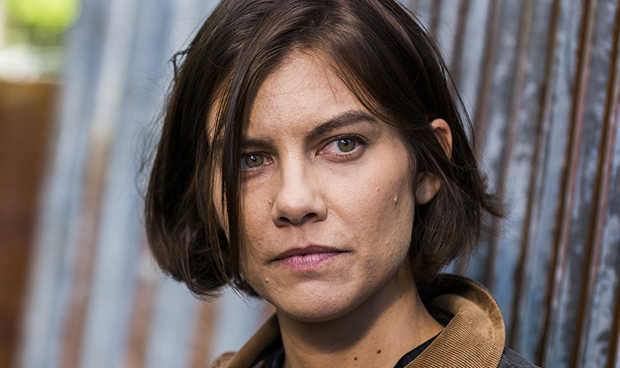 The Walking Dead actress Lauren Cohan is on the verge of expanding her television presence in a big way. Not only is Cohan booked to return for Season 9 of the veteran AMC zombie series, but this fall she will co-star in a high-profile ABC crime-solving series called Whiskey Cavalier. However, as details start becoming clearer, the likelihood of Cohan reaching a practical impasse in her show-jumping situation seems to increase.
Fans who were worried that Cohan's Whiskey Cavalier ABC television gig might jeopardize her role on The Walking Dead – on which she has played Maggie Greene/Rhee since 2011, in Season 2 – were relieved in late-April when the actress confirmed her return for Season 9 at CinemaCon in Las Vegas. However, in the most recent development, ABC has announced its series pickup for Whiskey, on which Cohan will co-star with Scott Foley as a duo of inter-agency crime-stoppers who are forced to work together (fighting obligatory sexual tensions) to save the world from non-zombie threats on a weekly basis.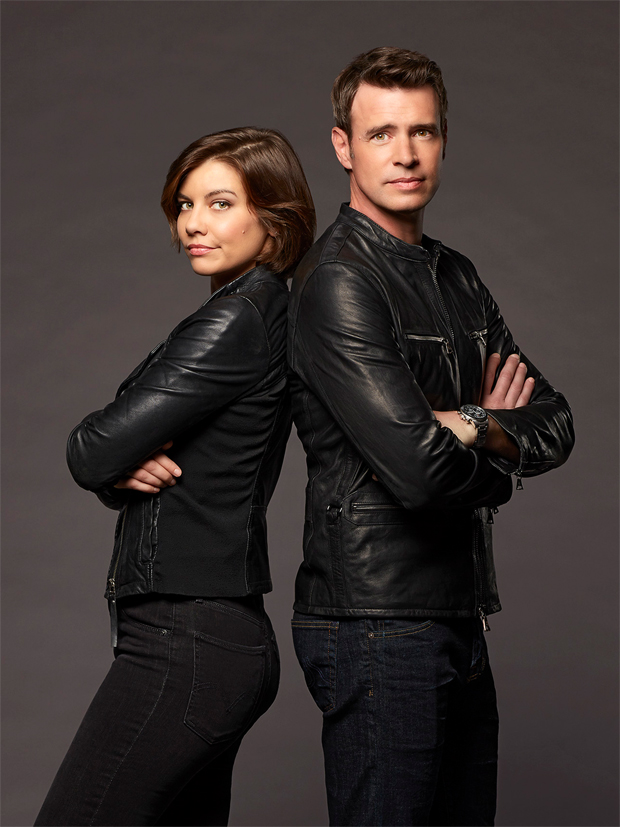 So, what's the big deal? Well, for one thing, Cohan's The Walking Dead Season 9 commitment only extends to six episodes of the first half, which leaves plenty of time for the series to find an appropriate exit for Maggie. Thus, Cohan's exit is not outside the realm of possibility, especially after the series just – in a manner dramatically anachronistic to the comic book source material – made a casualty of Chandler Riggs's (series co-protagonist,) Carl Grimes. Plus, The Walking Dead's new showrunner, Angela Kang, might use Cohan's network gig as the perfect excuse to refresh the veteran AMC series – especially in the wake of its highly-publicized ratings plunge – by ushering Maggie off the proverbial stage after her nearly-series-long arc reached an arguably-acceptable apex with the death of husband Glenn and her ascension to leadership in the Hilltop colony.  
Interestingly, while Cohan's The Walking Dead 9B future is uncertain, there would be plenty of comic book-inspired events for Maggie to field in the event that she renegotiates with AMC. Indeed, the closing moments of the recently-aired Season 8 finale even teased a feud amongst former friends, with Maggie left disappointed after Rick's newfound appreciation for mercy had to start with Glenn's killer, Negan. Now, joined by Daryl and Jesus, Maggie's planning a stealthy insurrection against Rick to achieve proper satisfaction against Negan; something that should provide plenty of drama that reaches into 9B, if necessary.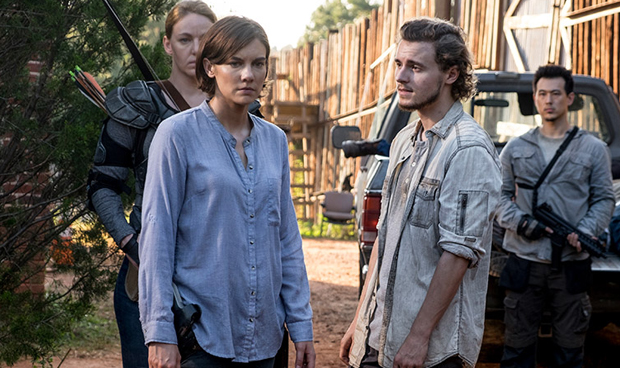 Moreover, Season 8 seemed to be running a slow-burn story element that (slightly) hints of chemistry of some kind between the widowed Maggie and the (seemingly reasonable, non-hostile,) Savior prisoner, Alden (Callan McAuliffe), with a level of trust and respect continuing to increase between the two. With McAuliffe confirmed to return for Season 9, it could be the case (and this is major speculation here,) that Alden might eventually serve as the TV series equivalent of the comic book character, Dante, with whom Maggie would eventually (after a long period of coldness,) strike up an awkward romance.
From a practical perspective, Cohan – a veteran of shows such as Supernatural, The Vampire Diaries and Chuck – could field double-duty on both The Walking Dead and Whiskey Cavalier, especially since the former is a large ensemble series that doesn't require her constant presence, often utilizing character-centric episodes. Yet, should Cohan's Whiskey Cavalier series end up becoming a ratings success story for ABC, then just about any long-term post-All-Out-War twist for Maggie's arc could end up feeling like an afterthought; something that wouldn't be all that helpful to a show like The Walking Dead, which is trying to find its mojo.
Regardless, we'll definitely know a lot more about The Walking Dead Season 9 situation by the time Comic-Con kicks off on July 19.