News
The Walking Dead Season 9 Story to Take a "Quantum Leap Forward"
The Walking Dead showrunner Scott M. Gimple teases a major evolution for the series when it returns this fall for Season 9.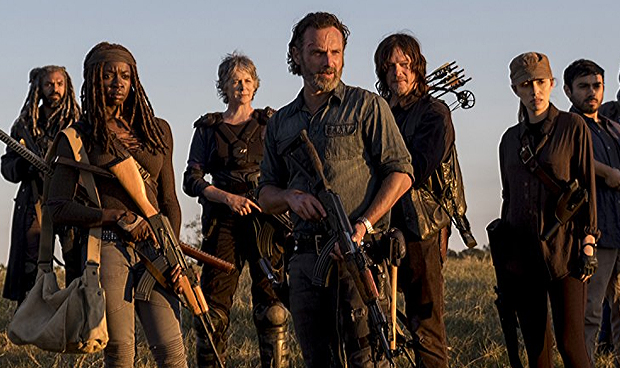 Warning: Spoilers for The Walking Dead Season 8 finale, "Wrath."
The Walking Dead season 9 will arrive this fall as a venerable television juggernaut that's in the odd position of having something to prove. While the AMC cable smash continues to dominate Sunday nights with an undead iron fist, it's lost some steam in the ratings. However, with season 8 now over, the series will go into season 9 with a new showrunner, Angela Kang, and, according to outgoing showrunner Scott M. Gimple, a "quantum leap forward." But will it be enough to cauterize its hemorrhaging viewership?
At an impromptu presser before The Walking Dead aftershow, Talking Dead, Gimple, along with property creator and show executive producer Robert Kirkman, discussed the future of the series as it eyes season 9. With the season 8 finale, "Wrath," having concluded the (two-year-running) "All Out War" storyline with the victory of Rick Grimes (Andrew Lincoln) and his united communities over Negan (Jeffrey Dean Morgan) and his apocalypse plunderers the Saviors, the series is destined for a major storyline departure. As Gimple states (via THR):
"The show will evolve in a huge way [in season 9]. They'll be dealing with things we haven't seen them deal with before and dealing with each other in ways that we haven't seen before. What [the writers] have planned … it just feels new. It feels like an evolved show. [The past eight seasons] very much lived in the world that Rick began with. It was so informed by the pilot. It just takes this quantum leap forward in the stories we're telling."
Readers of Kirkman's The Walking Dead comic book series – whose knowledge of the source material once equaled clairvoyance until the show started making major plot deviations – know that "All Out War" was followed by a two-year time jump, which began with Rick and company living a relatively peaceful and fruitful existence through reciprocity with neighboring communities, including the Saviors. Consequently, Gimple's choice of words in "quantum leap forward" might be interpreted as confirmation that the series will make a similar time jump. He even concedes that his comments can be qualified as "a time jump tease."
However, the future setting is not yet a sure thing, since, as mentioned, the series has been making some comic-anachronistic story swerves, the most notable of which was the recent death of co-protagonist, Carl Grimes (Chandler Riggs), which kicked off season 8B, as well as the spinoff crossover event that sent Morgan Jones (Lennie James), a character who's long-dead by this point in the comics, to migrate over to the rejuvenated main cast of TV spinoff series Fear the Walking Dead.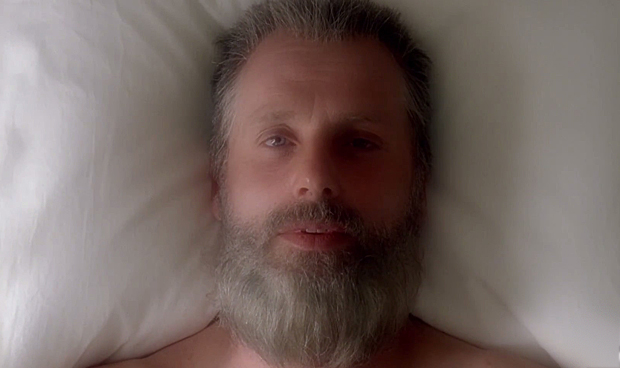 Pertinently, last year's buildup to The Walking Dead season 8 teased what appeared to be flash-forward scenes showing an older (epic-beard-sporting,) Rick living a peaceful existence in Alexandria that resembled the comic book's time-jump. Yet, as the season went on, those scenes were revealed to be a fantasy, manifested by Carl's vision for a peaceful future. Tellingly, the season 8 future flashes depicted "Old Man Rick" as having to use a cane, an idea that came from the comics after Rick sustained a gruesome leg dislocation in his final battle with Negan. However, the show's climactic final battle in question ultimately did not see Rick sustain any such injury, which leaves the time-jump notion further in question.
Of course, The Walking Dead comic book series is still going strong, and there are plenty of spectacular storylines for the show to adapt, especially if it still plans to follow the general trajectory of said source material, showcasing the arrival of an array of new (but initially wary) allies such as Magna and Yumiko, as well as the continuing arc of Negan, who, as Rick reveals in the season 8 finale, will still be around under lock and key in Alexandria, forced to watch the communities successfully thrive without his pillaging tyrannical ways (plus, in another deviation from the comics, he'll have to watch his back, since, as we saw in the season 8 finale, Maggie and Daryl are plotting his death). Plus, most notably, the arrival of the next big bad group of The Walking Dead mythos, the stealthy, primitive, walker-skin-wearing group, the Whisperers, is a sure bet for season 9.
Regardless, The Walking Dead season 9 will need to bring something uniquely compelling to the table to reverse the show's steadily-declining ratings and remain a television staple. Indeed, the show's "All Out War" storyline proved tough for viewers to endure, with season 8 averaging 7.8 million viewers (not yet accounting for the finale). Those are still enviable numbers but far removed from its season 5 (2014-2015) heyday average of 14.38 million viewers.
…Next stop, Comic-Con in late-July, where the first teaser footage will likely debut.