News
The Walking Dead Season 9: Lauren Cohan Dishes on Maggie's Exit
With Lauren Cohan set to leave behind The Walking Dead behind, the actress hints on how Maggie's exit will go down.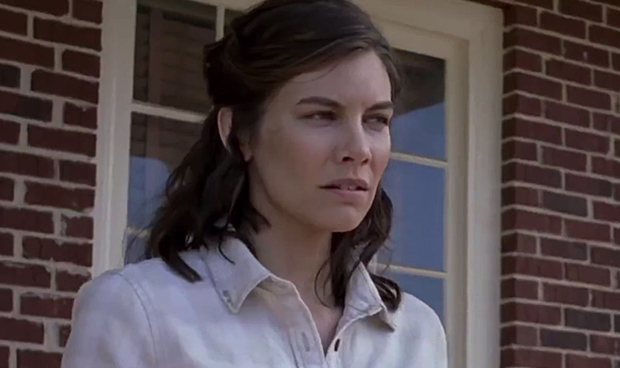 The Walking Dead Season 9 is not only touting an intriguing 18-month time jump, but radical changes that will see main cast members Andrew Lincoln and Lauren Cohan leave the series. While Lincoln's impending exit as Rick Grimes seems to be motivated by burnout, Cohan's departure was marked after offers of new opportunities, notably a major role in this week's Mark Wahlberg actioner, Mile 22, and a co-starring role on the upcoming ABC crime series, Whiskey Cavalier.
As the October premiere of The Walking Dead Season 9 approaches, the reality of severing a seven-year, 8-season run is obviously becoming clearer for Lauren Cohan, who has played the role of Maggie Rhee (née Greene,) since the 2011-launched Season 2. Surprisingly, the actress dishes some details about the upcoming role-wrap-up in an interview with Gamespot. While cynical-minded speculation might lead one to believe that quitting this show obligates one's character to a gruesome death, ripped apart, eviscerated and consumed by the dead, Cohan goes far enough to reveal that Maggie's fate will be left open-ended, explaining:
"It feels like the greatest way to honor it is to keep it open-ended because whether it's about me going back as Maggie or whether it's about me just taking in, absorbing, and honoring everything I've learned there. It never leaves me. It will never, ever leave me. And that is I think the greatest compliment you can give to anything and to any group of people because we all came together to make something that we didn't know was going to have this success that it did."
Consequently, Cohan's Maggie, who has evolved from the tragedy of Negan's brutal killing of her husband, Glenn, into becoming a leader of the Hilltop community and – as the Season 9 trailer implies – a mother to the child she conceived with her late husband, should, in the very least, reach a satisfying trajectory. Moreover, when asked if the open-ended nature of Maggie's mysterious fate leaves the door open for a prospective return, Cohan implies that – while it's not guaranteed – it is still a possibility.
However, Cohan is clearly not thinking about a return, and the idea of turning the page on The Walking Dead – the most significant TV run of her career – seems to be at the forefront of her thoughts these days. As Cohan reminisces with preemptive elegiac wistfulness:
"I had a lot of time to think about it before I came back to Walking Dead this season. And what the show means to me, what my family there means to me, what my time there has meant, and how this role has impacted my life which is immeasurable."
While Cohan was hardly a newcomer when she joined The Walking Dead, having banked high-profile runs on shows like Supernatural, The Vampire Diaries and Chuck, she explains how the years on Dead transformed her in immutable ways:
"It taught me to trust in such an important, creative way. I don't think I can ever shake that. Once you have an experience like that, it really dictates the measure of how you want to connect with people going forward in my work."
It will be interesting to see how Cohan's Maggie makes her exit from The Walking Dead in Season 9, especially considering how deeply embedded the character currently is in the storylines of the series. However, new showrunner Angela Kang is onboard to shake things up for the popular-but-ratings-hemorrhaging series. Plus, as fans who are familiar with the source material of Robert Kirkman's comic book series are aware, major changes lie ahead and a horrendous housecleaning of characters could be imminent, attributed to the arrival of the show's new big bad, Alpha (Samantha Morton), and her extremely territorial, walker-skin-wearing group, the Whisperers. Of course, going by Cohan's comments, Maggie should be safe… maybe.
The Walking Dead Season 9 premieres on AMC on October 7.
Read the latest Den of Geek Special Edition Magazine Here!