News
The Walking Dead Season 9: Boss Angela Kang Teases Western Vibe, Reveals First Image
The Walking Dead's new showrunner, Angela Kang, goes into detail about the major changes showcased in Season 9.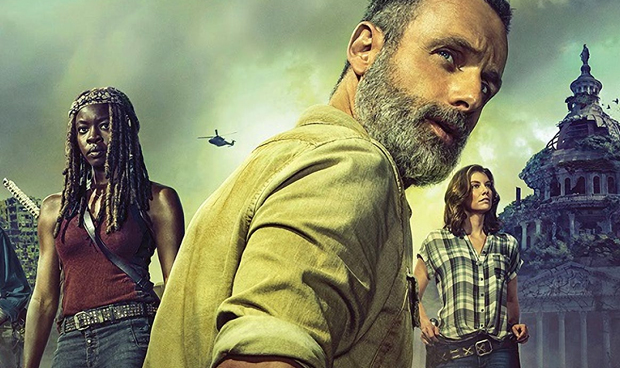 The Walking Dead heads into Season 9 as a pop culture juggernaut that lost some steam and eroded hard-earned goodwill amongst segments of its audience. Indeed, while the show's depicted "All Out War" may finally be over, the patience-testing storyline yielded a pyrrhic victory for both Rick's people and the show's ratings, which has declined steadily. However, a much-needed refresh is approaching, headed by new showrunner Angela Kang, who is providing some new details about the changes (including a time-jump,) set for Season 9.
"There's a fun Western vibe that has emerged," says new boss Angela Kang in an interview with EW, in which she sheds light on the tone of The Walking Dead in Season 9. Indeed, major tonal and aesthetic alterations lie ahead under Kang's new stewardship, perhaps more than we had previously thought. The predominant theme here – in an era of the show's timeline that will be set a few years after the events of Season 8 – is focused on the idea that nature is finally reclaiming the apocalypse-affected remnants of the old civilization.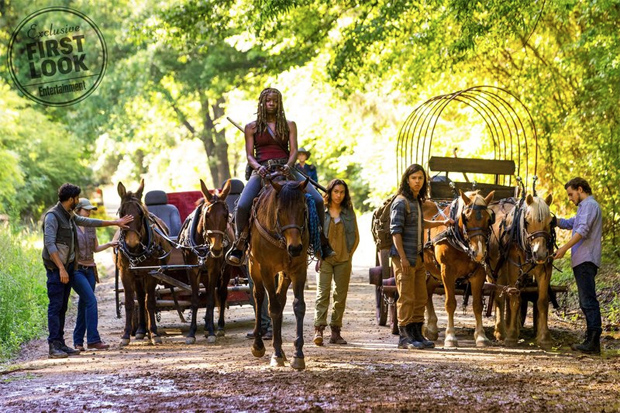 Driving this "Western vibe" idea home, the first photo of The Walking Dead Season 9 was provided in the EW piece (pictured above), prominently showing Danai Gurira's Michonne on horseback, followed by members of ally communities who, using horse-drawn carriages, are so close the Oregon Trail experience, they're probably in danger of dying from dysentery. As Kang explains of the show's new/old aesthetic:
"We'll explore what happened as man-made objects and structures break down. Infrastructure like roads and bridges are changing and crumbling. And we'll also explore what happens as resources are getting low."
While the zombie show (that never uses the "z-word,") was always about how humanity itself had defaulted to primal rules, all the leftover luxury bells and whistles of the old world – notably cars – are starting to become moot concepts as all the gasoline has been used up and industrially manufactured parts are no longer available. Thus, society is turning its transportation needs back to beasts of burden, namely horses, which lends the series a quasi-historical atmosphere. As Kang further describes:
"We are going into a period where a lot of the things that we've seen in previous seasons have broken down, so they've got these horses and carriages that are being drawn around instead of cars. Things are lit with oil lamps. People are using different kinds of weaponry. There's a real grittiness to it that I think will be fun and fresh for the viewers."
Of course, all of this will take place after a significant time-jump from Season 8's climactic All Out War armistice, which resulted in its primary instigator, Negan (Jeffrey Dean Morgan), sustaining a near-fatal injury (after Rick cut his throat,) and subsequently imprisoned in a cell in Alexandria, where the intent is to have him witness the fruits of a new era of peace and reciprocity amongst the neighboring communities. As Kang hints of the time-jump in a concurrent interview with Variety:
"I really love the section of story that we're telling. We're playing with time. We're playing with the style of the show a little bit. I think fans will enjoy the new look and feel that we have. Obviously, the show has an established feel that we want to keep. We love these stories about survivors and how they're making their way through the world. That said, we want to keep things fresh, so I've had these great conversations with out DPs and our directors about amping up the look of the show. We're doing some interesting things with sound this season too."
Pertinent to the notion of keeping things interesting, The Walking Dead is still a television drama about a zombie apocalypse, not a feel-good romp about post-apocalyptic farmers. Thus, the aforementioned peace and reciprocity experienced by Rick and company will inevitably be intruded upon by an antagonistic force; a role that readers of Robert Kirkman's The Walking Dead comic book series strongly speculate will be filled by a savage group of survivors who wear skin masks and weaponize large herds of the dead, known as The Whisperers.
Consequently, there's a lot to be optimistic about regarding The Walking Dead's new direction under Angela Kang, even in the wake of the shocking development that star Andrew Lincoln is bound for a series exit. Moreover, the new showrunner is hardly new to the series itself, having been onboard as a writer since Season 2. While Kang replaces outgoing showrunner Scott M. Gimple, the collaboration between the two is still active, since Gimple has been elevated to the role of Chief Content Officer of The Walking Dead and spinoff series Fear the Walking Dead. As Kang tells Variety about working with Gimple in his new capacity:
"Scott and I started on the show at the same time. We've worked together as colleagues in the writers' room, then he was my boss, and now he's chief content officer. We have a great relationship. He and I are in contact, but he doesn't handle the day-to-day of the show at all, so I have the leeway to make decisions. I come to him regularly and bounce things off of him. He's been a great friend and mentor. We work in the same office building, so we see each other and talk to each other."
The Walking Dead Season 9 is eyeing an October premiere on AMC.
However, we will likely know a lot more about the situation after San Diego Comic-Con, where The Walking Dead will hold a unified TV franchise panel with spinoff Fear the Walking Dead on Friday, July 20 from 11:15 a.m. to 1:15 p.m. at Hall H.