News
The Walking Dead: Daryl is All About Revenge in Season 7B, Says Norman Reedus
The Walking Dead's Norman Reedus hints that Daryl is out for vengeance against the Saviors in the remainder of Season 7.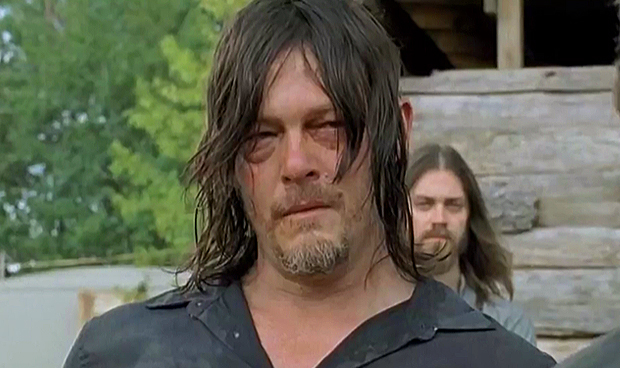 Warning: Spoilers for The Walking Dead Season 7 episode "Hearts Still Beating."
After some controversial sequences, fans of AMC's The Walking Dead have had some time to reflect on the current state of the show. In a "be careful what you wish for" scenario, one of the most anticipated comic-book-adapted storylines introducing Jeffrey Dean Morgan's Negan and his militia of zombie-apocalypse-extortionists the Saviors seemed to rub viewers the wrong way with its ultraviolence and over-extended abuse of main characters. Optimistically, however, a key cast member reinforces the December mid-season finale's hints of a tonal turn, describing the current state of his over-tortured character.
Speaking with EW, The Walking Dead co-star Norman Reedus, while obviously not at liberty to disclose specific plot details, did not mince words when it comes to the state of mind of his perennial fan-favorite character Daryl Dixon. Despite already suffering his share of tragedies in seasons past, Season 7A has been an unprecedented low point for Daryl as he endured physical and psychological torture from the Saviors; stripped, imprisoned, fed dog food sandwiches and forced to listen to a lasting loop of saccharine song "Easy Street." Yet, the most potent part was his feelings of guilt after his impulsive actions led to Negan – having just brutally executing Abraham – claiming a second victim in longtime pal Glenn. Now, having escaped with help from Hilltop ally Jesus (Tom Payne), Reedus hints that a reinvigorated Daryl will reap wanton vengeance in 7B, stating:
"He wants revenge. He's ready to fight. When he goes back in that last episode and hands Rick back his stuff, it was like, 'Let's go! Let's go beat this guy up. Let's go take what's ours and fight this monster.' So, you know, he's in kill mode."
Daryl's own self-loathing guilt resulted in his silent, morose demeanor during his imprisonment, which even at a crucial impasse, prevented him from accepting an offer to end the ordeal and join the Saviors. Yet, since reuniting with his own group, he's achieved a measure of clarity about the Saviors situation. Thus, Daryl's switch to "kill mode" seems to indicate that the tank-destroying, horde-decimating, varmint-claiming world-wrecker we all know and love is back. As Reedus continues:
"I feel like he spent his time in the hole thinking about Glenn and thinking about Abraham. He took it very personal, and felt like it was his fault and he was deserving what he was getting. Now, he's ready to get revenge. He's ready to go kill everybody."
As if that bit of rhetorical adrenaline wasn't enough to get fans excited for what's ahead, Reedus describes what seems to be a turn of the tide in Rick and company's dilemma with the Saviors and, specifically, Negan. Coupled with the powerfully symbolic moment in the Season 7 midseason finale when a newly-liberated Daryl hands Rick back his proverbial Excalibur in the Colt Python that Negan confiscated, Reedus states of the season-dominating barbed-wire-bat-wielding villain:
"I think you're going to start to see a little fear in that bad guy's eyes. He's been walking tall long enough wielding his little toy bat around. Time to bring that guy down a notch." Hinting cacophony-filled clashes, he adds, "It's going to be consistently loud."
The Walking Dead will make its midseason return on AMC on February 12, featuring a newly-motivated Rick Grimes, Daryl Dixon and company ready to violently demonstrate why so many would-be zombie apocalypse tyrants have already fallen.