News
The Walking Dead: Andrew Lincoln Reacts to Season 7 Criticism
The Walking Dead star Andrew Lincoln explains why Season 7 took a dark, difficult direction and what lies ahead.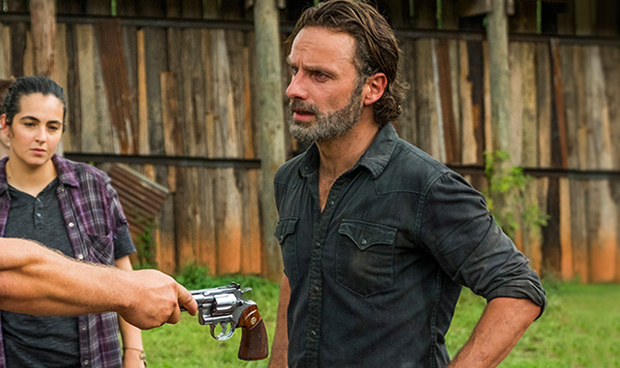 Warning: Spoilers for The Walking Dead midseason finale, "Hearts Still Beating."
The Walking Dead went into Season 7 with both unprecedented levels of momentum and controversy over a cliffhanger that left fans in the lurch for six months over the mystery of who debuting big bad Negan (Jeffrey Dean Morgan) killed. However, the resolution of said mystery was followed by a half-season crucible of misfortune for Andrew Lincoln's main character Rick Grimes and his group, rendering it hard to watch by many. Now, the star chimes in on that reaction and explains the reasoning behind the controversial choices.
In an interview with EW, Andrew Lincoln addresses the latest elephant in the room regarding The Walking Dead, with the overtly one-sided sadism that Rick and the Alexandria survivors endured from Negan and his heavily-armed zombie apocalypse extortionists the Saviors, notably the multi-episode torture-fest of fan-favorite Daryl Dixon (Norman Reedus). While he understands the difficulty of digesting those episodes, he explains that – at least as showrunner Scott M. Gimple told him – it's designed the contextualize the eventual payoff with their (now-burgeoning) rebellion. According to Lincoln:
"[Scott] explained it to me in one way, which I found very helpful, which was that rather than just have a very cool exciting buildup to war between Negan and Rick, he wanted people to want more than that — to really feel that they wanted justice, and then to also acknowledge the cost of what had happened and why they were willing to risk it all again while realizing that they were putting many, many, many lives back in the firing line. I think he really wanted it to feel like the audience, rather than just baying for blood, wanted justice for what had happened. And that, for me, was quite a helpful way of understanding why it had to be so immersive and so painful — certainly for all of us on set and acting in it, but also, I think, for the audience."
The buildup to last October's brutal Season 7 premiere saw many of the cast members discuss the difficulty of filming not only the cliffhanger-resolution scene (in which beloved characters Abraham and Glenn met shockingly violent deaths). Lincoln himself was notably quoted in early 2016 saying that, after the reading scripts for the 7A episodes, "I felt sick to my stomach." However, after the midseason finale, "Hearts Still Beating," it was also abundantly clear that Negan's days of abuse with impunity have ended, with the culminating moment of a reunion of his primary group at Hilltop Colony, a renewed plan to fight back and the metaphor-laced image of the recently-liberated Daryl handing Rick back his Saviors-confiscated signature Colt Python.
Indeed, the buildup to The Walking Dead's 7B midseason premiere is rife with promises from the likes of people like Norman Reedus, who teased an improved tone and a ratcheting of action-imbued vengeance. The latest such claim comes from Michonne actress Danai Gurira, who recently stated that 7B will be "really riveting," showcasing a reprisal to the Saviors threat that uses new tactics. Lincoln also echoes this sentiment when, again, addressing the reasoning behind the rough 7A tone and the payoff it will ultimately yield, describing the process as "very brave, bold, and also challenging." Attributing the negative reaction to the insatiable nature of the binge-watching culture, Lincoln muses:
"[I] know people want to watch more than one episode a week at a time just because it's kind of compulsive, the storytelling, and they want to know what happens next. And I think sometimes having to wait is a good thing because you get to recap on other things and view it in a different way. Although I would say that this season made a lot more sense once we got the last role of film in the can for [April's Season 7 finale] episode 716. The brilliant writers that we have take some risks, and I admire them for it. I admire anybody taking risks."
The Walking Dead will have the no-nonsense, Colt-Python-packing Rick Grimes reunited with his proverbial Excalibur, his mojo and his sense of purpose in organizing an "All Out War" against Negan and the Saviors. The show makes a consequential, stage-setting midseason return on AMC on February 12.