News
The Undiscovered Country: New Series Coming from Image
The Undiscovered Country is a new series from Scott Snyder, Charles Soule, and Giuseppe Camuncoli!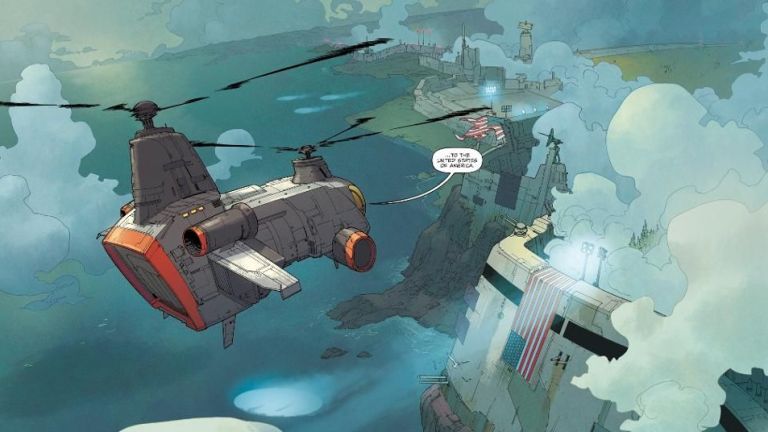 Scott Snyder (Batman, Justice League) and Charles Soule (Darth Vader, Strange Attractors, The Death of Wolverine) finally unveiled their new comic series at SDCC 2019. The pair is writing The Undiscovered Country for Image, co-creating the book with Soule's old Darth Vaderart partner, Giuseppe Camuncoli. The book is out in November.
"As soon as Charles and I came up with this idea, I knew it was special—one of those ideas that turns into big, wild, world-building story. And this series is just that: a twist-filled trek across a landscape that's alien, mysterious, and full of adventure," Snyder said during the announcement at the Diamond Comic Distributors Retailer Luncheon.
The book takes readers to a part of the planet that's been walled off and unexamined for decades: the United States of America. There is a pandemic threatening the rest of the world, and the series follows explorers digging through the unknown region that were once the USA for clues on how to save themselves. Undiscovered Country sounds a little bit Manifest Destiny, a little bit Annihilation, a little bit Octavia Butler's Parable books. 
"I can't believe this is my job. Working with Scott, Cammo, and the rest of the team—all-stars every one—is a dream on a creative level," Soule said. "We've got ourselves a hell of a high concept here, and fleshing it out together—filling our sealed-off US with beautiful, insane adventures—has been one of the great thrills of my career. It's been wonderful to make Undiscovered Country with my friends, and I think it'll be just as fun to read."
The rest of the team is comprised of all-stars, too. It's inked by Camuncoli's traditional art partner, Daniele Orlandini. The obscenely talented Matt Wilson joins on colors, and Crank! provides the letters. And ex-Vertigo editor Will Dennis is helping out with the book. "
These guys really make me feel like it's easy to tell a story that is larger than life," Cammuncoli said. "Will hired me for my first Hellblazer story, back in 2001, and it feels fantastic to have him on my side again after all these years."
We'll keep you updated as we hear more about the series!
Read and download the Den of Geek SDCC 2019 Special Edition Magazine right here!