News
The Titans Face a Massive Tragedy
Titans #27 does a ton of work in the greater DC Universe.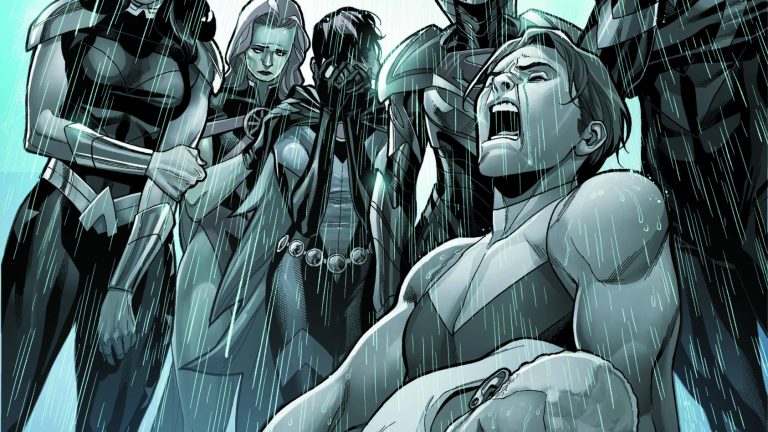 There's a weird convergence of events going on at DC right now with a ton of implications for Titans. First, in Heroes in Crisis, Wally and Arsenal die in the inital attack on Sanctuary. Then, just before Nightwing #50, Dick gets shot in the head in Batman. And we're about to head into Justice League: Drowned Earth, a big Aquaman/Atlantis crossover that promises us a return of Tempest in the next issue.
So this preview that DC sent over of Titans #27 is a break from the new status quo of the team, traveling the Earth looking for new metahumans created by the breakdown of the Source Wall in Justice League: No Justice. Insead, they process all of the chaos foisted on the team by the deaths and maimings. Well, one of the deaths – Wally is conspicuously absent from the mourning here, but he's probably mourned later and not a part of the plot for the rest of Heroes in Crisis nope no way no how.
Aaaaanyway here's what DC has to say about Titans #27 from Dan Abnett, Brent Peeples and Matt Santorelli.
TITANS #27 written by DAN ABNETTart by BRENT PEEPLES and MATT SANTORELLIenhanced foil cover by CLAYTON HENRYvariant cover by JOSE LUISNewly awakened metahuman Ionbound suffers a fateful transformation that rocks the Titans team to their core. If they can't save these Source Wall victims, what good is their latest mission? But does this development hold the key to helping them? Or is it a harbinger of more death and destruction to come? That's a lot of questions to answer; good thing there are two issues this month to cover all that ground!
It's shared universe stuff like this that got me into comics as a kid – hunting down all the various editorial references at the bottom of a panel, comparing scenes that appear in multiple comics for clues that I might have missed (like the opening scene here, which also occurs in Green Arrow #45) and then poring over wiki entries about character backstory to understand what makes someone like Donna Troy so glib about death. Ok that might have been a little much for me when I was first starting, but I can assure you it's fun to look into here. Check it out!