News
The Teenage Mutant Ninja Turtles Movie: Everything We Know
Everything we know about the Teenage Mutant Ninja Turtles reboot, including a look at the original script!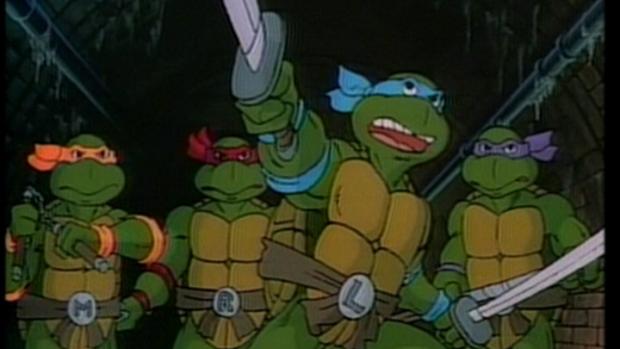 The latest attempt to bring the 
Teenage Mutant Ninja Turtles
 to the screen has been somewhat more rocky than expected. After an early draft leaked, some controversial comments about the film's direction, and a constantly shifting release date, the Turtles reboot has dealt with a surge of conflicting information and fan rage. Whether it was something as seemingly innocuous as shortening the film's title to 
Ninja Turtles
 (but as it turns out, we are indeed getting the full
Teenage Mutant Ninja Turtles
title) or the more drastic issue of giving the Turtles extraterrestrial origins (something which also appears to have been ditched), the latest Michael Bay produced, Jonathan Liebesman directed TMNT movie hasn't left us with any shortage of things to talk about. 
The Story:
 We don't know much about the current story, but an early draft of the screenplay (dated January 30, 2012) by Josh Applebaum and Andre Nemec (the gents who wrote 
Mission Impossible: Ghost Protocol
) with the rather secret sounding title of "The Blue Door" leaked and 
sparked an internet firestorm
 when details were revealed. Having read this draft, I can tell you that it isn't nearly as bad as folks would have you believe. The controversy stemmed from the revelation that the Turtles' origins were extradimensional in nature (from Dimension X, as a matter of fact), although they BELIEVED that their origins were the familiar "turtles wading in mutagenic ooze" story from the comics, cartoons, and previous films. "The Blue Door" was certainly no worse than Turtle films like 
Secret of the Ooze
 or 
Turtles in Time
. If nothing else, we would have been treated to proper live-action versions of Bebop, Rocksteady, Krang (including his giant robot power suit), and the Technodrome. Unfortunately, the rest of the script is unremarkable in virtually every way other than a really perplexing final act, and some story choices that, even if you aren't a Ninja Turtle purist (we exist!), simply don't sit right. Among those who voiced their displeasure with "The Blue Door" was TMNT co-creator 
Peter Laird, who offered his thoughts
 on the script saying that it "should be tossed out, deliberately forgotten, and…started again." However, Michael Bay 
was quick to point out
 that this draft "was written well before I, or anyone else at Platinum Dunes, was involved with the project. That script saw the shredder a long time ago." In a 
more recent interview
, Bay was emphatic on the subject of whether the Turtles are aliens, saying "It's the ooze! It's from the original source material…I do listen to the fans and I do want this to be authentic." Even the Turtles' Raphael (Alan Ritchson) got in on the act 
when he said
, "The assumptions, everything you read online is wrong." So what, if anything, CAN we learn from "The Blue Door?" I think it's safe to say that the Turtles attitudes and personalities will remain intact…which isn't saying much, because they all behaved exactly as you would expect them to in the first place. It also seems likely, since the Turtles will be motion-capture/CGI creations, that their look (and their individual physical quirks) may survive. Note this description from page 15 of "The Blue Door": 
"Three enormous creatures, each standing near six-and-a-half feet. Turtles by the looks of the shells surrounding their cores. With arms and legs distinctly more humanoid. And rippled with muscles…you'll recognize them as our boys. But not in a way you've ever seen them."
There are individual physical and personality traits which distinguish them. Leonardo is described as "muscled like a middle-linebacker, he is the oldest of the turtles." Raphael is "the most yolked of the group. and boy does he need those massive shoulders to carry around that giant chip." Donatello is "the brainiest and most zen." While, unsurprisingly, Michelangelo is "the youngest and most free-wheelin'." Throughout the script, the Turtles use their shells offensively and defensively, even retracting their extremities completely within them in order to barrel through walls or bowl over foes. Based on the trailer (
which you can watch right here
) it appears that some of those descriptions DO indeed hold true to what was in that draft.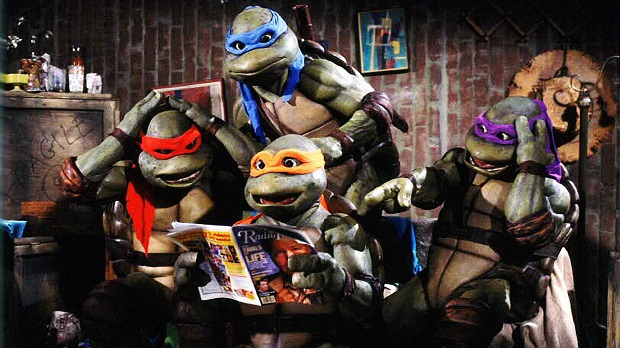 The Cast:
A look at the cast seems to confirm Bay's statement about The Blue Door having seen "the shredder" (we can only presume the pun was intentional). There is no mention of Bebop, Rocksteady, or Krang…not to mention Casey Jones, who was THE central human character in "The Blue Door" draft. On the other hand, the film has added a number of other characters who might be especially familiar to fans of the 
Teenage Mutant Ninja Turtles
 cartoon series (if not the comics) K. Todd Freeman plays Baxter Stockman, 
Whoopi Goldberg is Bernadette Thompson
 (April's boss), 
Will Arnett is April's cameraman
, Vernon Fenwick, and Minae Noji plays Karai (who first made an appearance in the comics in 1992). None of these characters were present in "The Blue Door" draft, and it all seems to confirm Bay's statement (and Laird's wishes) that a page one re-write was done on the project, almost certainly with the involvement of Evan Daugherty (
Snow White and The Huntsman
) who isn't credited on "The Blue Door." As for the Turtles themselves, they'll be voiced by the same actors who wear the motion-capture suits. Alan Ritchson is Raphael, Noel Fisher is Michelangelo, Jeremy Howard is Donatello, and Pete Ploszek is Leonardo. 
Seinfeld
alum, Danny Woodburn is Master Splinter. And, of course, one character who will not require motion capture is 
Megan Fox as April O'Neil
. In a recent development,
Johnny Knoxville will voice Leonardo and Tony Shalhoub will provide the voice for Master Splinter
. 
William Fichtner
 (recently seen in villainous roles in 
The Lone Ranger
and 
Elysium
) is Turtle arch-enemy, The Shredder. It's worth noting that in "The Blue Door" draft, Shredder was also not of Japanese origin, and that hasn't changed with this bit of casting. Then again, 
the actor told Screenrant 
that "I actually play a guy named Eric Sachs" in the movie, and that does sound like an anglicized version of Shredder's more familiar name, Oroku Saki. Might this be a plot point? If nothing else, it's better than the "Colonel Schrader" name from the first draft! It's also worth noting that 
Mr. Fichtner apparently signed a three-picture deal
, meaning that Paramount envisions 
Teenage Mutant Ninja Turtles
 as a trilogy of films!
The Rest:
It was 
recently announced
 that 
Teenage Mutant Ninja Turtles
 was getting bumped from its June 6, 2014 release date to August 8, 2014. Paramount apparently didn't want to compete with its other toy-centric franchise film of the summer, 
Transformers 4
. This allows additional time for post-production, since filming on the TMNT movie only wrapped on August 3rd. Given the intricate fight scenes that will likely be involved, combined with the amount of CGI that the main characters will require, we can only assume this is a good thing. We'll keep updating this as more information becomes available. Despite all of the controversy (or perhaps because of it) Paramount has been extraordinarily secretive about this film.  And if you haven't watched the trailer yet, now is a good time to do it!
Like us on Facebook and follow us on Twitter for all news updates related to the world of geek. And Google+, if that's your thing!