News
The Riddler Goes Full Nice Guy at Batman and Catwoman Wedding
In this exclusive preview, Riddler is trying to get a date to the wedding of the century.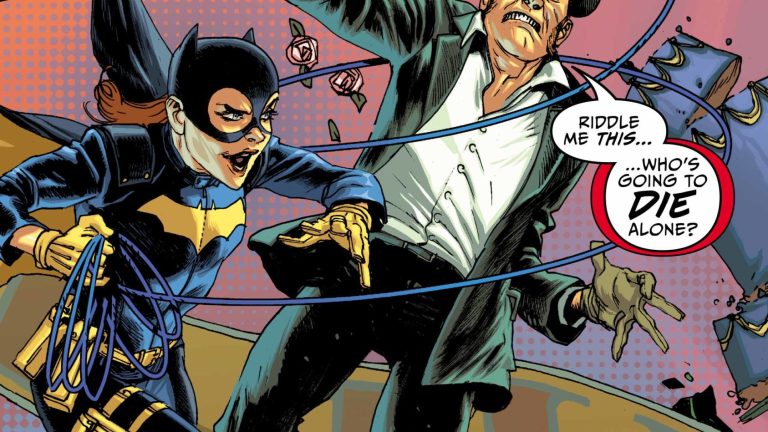 There aren't enough one-offs in modern comics. It struck me as I was looking through last week's Prelude to the [Batman and Catwoman] Wedding: Nightwing vs. Hush that it was the kind of story that doesn't really happen anymore. 
DC is running check ins with the associated Bat-family ahead of the Batman#50 mega event. The first was Damian and Ra's al Ghul, a lovely story about Batman's son and fiancee building a relationship with each other. The second, the above-mentioned Nightwing vs. Hush, was a character exploration specifically of Dick Grayson. It was also a lot of fun.
Let's be upfront about this: these books are mostly fluff. They probably won't turn the course of the meta-narrative in the main Batman stories (though the Hush revalation might stick for a while). But their value lies precisely in the lack of pressure that's put on the story. In big or even regular comics, part of the job is character development, but part of it is moving the characters from point A to point B. In one-offs like these, the only thing that matters, what they succeed and fail on is the craft and skill of character development. In that, Tim Seeley, the writer of these tie-ins, is doing a wonderful job. Both issues have had really nice character moments for Damian, Catwoman and Nightwing, and an interesting dig into the psyche of Hush. 
That looks to continue here, in Prelude to the Wedding: Batgirl vs. the Riddler. DC sent over an exclusive glimpse at it. Here's what they have to say about the issue.
BATMAN: PRELUDE TO THE WEDDING — BATGIRL VS. THE RIDDLER #1 Written by TIM SEELEY • Art by MINKYU JUNG Cover by RAFAEL ALBUQUERQUE On the eve of Batman's wedding to Catwoman, two of Gotham City's finest minds clash. In her role as Oracle, Barbara Gordon wired all of her allies together. But when The Riddler takes on Batgirl, will he tear everything asunder?
This is a good pairing with a great cover. Check it out.
[gallery:0]