News
The Question Returns to DC
DC has a reboot of The Question on the way in 2020, and we've got the details here.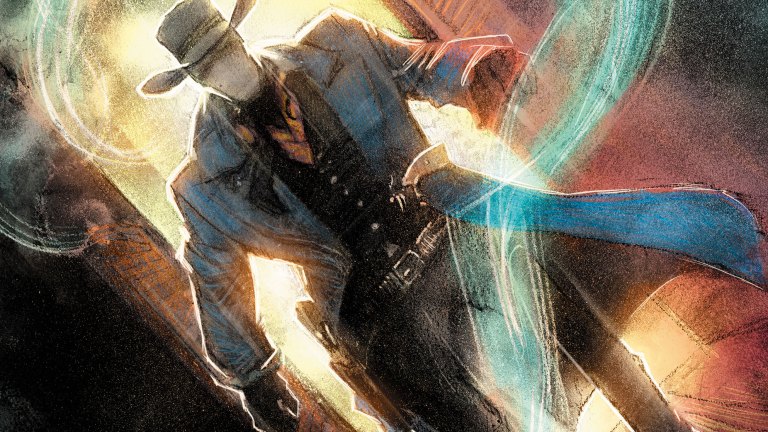 The Question: The Deaths of Vic Sageseems like a book designed in a lab to get me to buy it. It takes one of the most talented writers in comics today in Jeff Lemire, and teams him with the classic comics great who defined Vic Sage in Denys Cowan, and adds in literally the only inker in comics who gets people excited, Bill Sienkiewicz. That would have been more than enough to land it on a best of the year watchlist. But then these guys had to go and make the Question a cowboy, and now the hype is nearly unbearable.
DC released unlettered preview pages to the first issue of the new comic, and it's like walking into your redecorated childhood home to discover that it's an architectural masterpiece. Cowan was the penciller on the seminal '80s run of The Questionwith Dennis O'Neill, and while his art there was as terrific as it is today, it was inked by Rick Magyar. Magyar was a very skilled inker who added great texture to Cowan's art, but Sienkiewicz takes every artist he works with and sends that art to the next level.
You probably know Sienkiewicz best from either Elektra: Assassin, the bonkers kung fu monster book he drew with Frank Miller that came to define the character for eons of Marvel books; or New Mutants, where he drew the all-time classic Demon Bear storyline, the introduction of Legion, the slumber party issue, basically half of the good stuff with those characters. His pencils sometimes veer off into impressionistic, but his inks pull his own work and amplify other pencillers' incredibly well. He is angular, grainy, and moody as hell, with a ton of heavy blacks all over the page, and he is unique in that he's one of a few instantly recognizable inkers in comics today.
So the art in this preview is what you would expect: it looks like the old '80s series but enhanced. It's thicker and a little dirtier, and if you've read any of that old run – where Hub City, the Question's fictional DCU home, is every bit the tire fire that we joke about Gotham being, only with none of Gotham's redeeming qualities – that's perfect.
Lemire is one of the best in the comics game right now, especially when his work is honoring classic comics runs. Black Hammerreads like a love letter to the Silver Age. One of his best traits is his ability to match his story's tone to the artist – Black Hammeris odd and eerie and sometimes bonkers, a great match for Dean Ormston's pencils, while something like Descender, the Astro Boy-esque magical far-future sci fi story he told with Dustin Nguyen, is atmospheric and lighter seeming than the content implies. If there's anyone who can nail that genuine grittiness from the original series without accidentally veering into parody, it's Lemire. 
But enough yapping! Look at these gorgeous pages, and then go buy the thing when it comes out on November 20th.