News
The New Wildstorm Universe Expands with Michael Cray #1
The rebooted Wildstorm Universe gets its updated Deathblow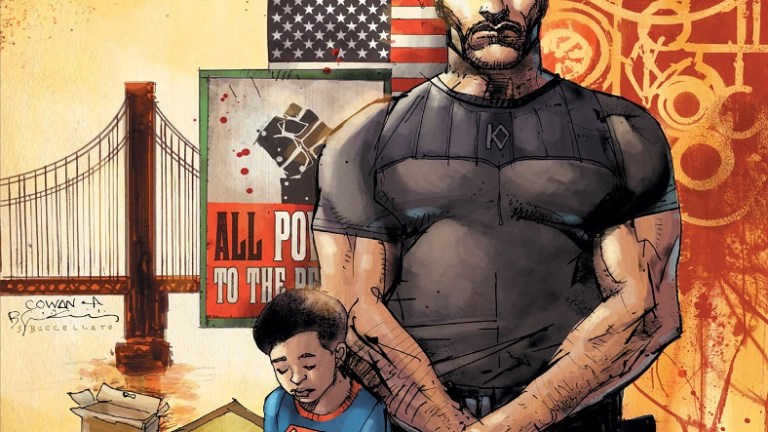 The Wild Stormhas been slow-burn '90s deconstructionism at its finest, and now, a handful of issues in, we are seeing the first expansion of that line.
DC Comics announced today that October will see the debut of Michael Cray, the character better known from the old Wildstorm Universe as Deathblow. Written from Warren Ellis' story bible by Bryan Hill, with art from N. Steven Harris and Dexter Vines, the book picks up where the latest issue of The Wild Stormleft off: with Cray out in the wind after failing to kill Jacob Marlowe, fired by International Operations and with a pretty solid brain tumor to boot. He found himself recruited by Christine Trelane, and his story continues in this book.
The book was initially hinted at back in March in Warren Ellis's email newsletter, where he also talked about setting up a revamped version of WildC.A.T.S. Presumably this is where Trelane (a member of Stormwatch in the old stories) fits in.
The universe Ellis and Jon Davis Hunt (the artist on The Wild Storm) have been building is very distinct from the main DCU. It's bleaker and more paranoid, and much quieter on the surface. That's why a lot of people froze up when reading the advance solicit text for Michael Cray:
Warren Ellis' critically acclaimed relaunch of WildStorm gets its first solo spinoff series! Michael Cray, professional assassin, has been betrayed by International Operations and has an alien life-form in his head that's either killing him, transforming him, or both. The only thing that can bring sense to his life is for him to do what he does best: kill the wrong people for the right reasons. But Michael needs support and resources to hit back against I.O., and he gets them in exchange for working with Trelane, taking out her targets, his way. First up? A sociopathic silicon-valley billionaire by the name of Oliver Queen!
LIGHTLY SPOILERY SPECULATION AHEAD:
While the new Wildstorm Universe clearly didn't contain any super heroes from the start, one can certainly be forgiven a double take at the namecheck of Green Arrow and Cray's son's Superman t-shirt on the cover. However, I think the comics the kid is reading are a dead giveaway: people reading comics inside a DC comic is always a giveaway for the multiverse, so I'm betting Deathblow meets up with a non-GA Ollie from this parallel earth in this issue. 
NO MORE SPOILERS.
Hill, Harris and Vines' first issue of Michael Crayhits stores on October 11, 2017. Stay tuned to Den of Geek for more patently irresponsible and probably incorrect speculation about the geography of the DC Multiverse.