News
The Gifted: Stephen Moyer Got Advice from Anna Paquin About the X-Men Universe
Stephen Moyer tells us in a San Diego Comic-Con interview that Anna Paquin gave him advice about the X-Men universe for The Gifted.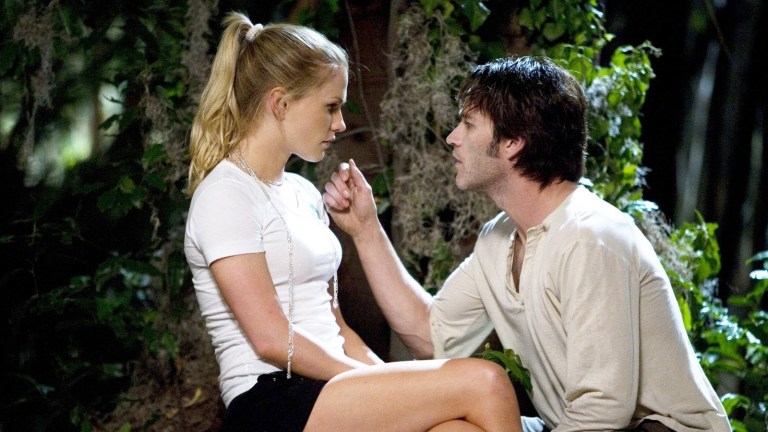 The X-Men universe, whether it be in comics or on film, has always been one that can be somewhat intimidating for folks to enter for the first time. Thus it's usually best to have a friend introduce you to this world. Still, it's doubtful few have ever had as unique a guide as Stephen Moyer did when he was cast in The Gifted pilot, which begins a new X-Men based television series on Fox this fall. After all, he is married to Anna Paquin who played Rogue in four of the six mainline X-Men movies.
Indeed, during The Gifted San Diego Comic-Con panel, Moyer joked he "married a Rogue" to a crowd of fans. They first met on HBO's popular eight-year batch of vampire gumbo, True Blood. On that series, Paquin played a half-fairy psychic, and Moyer was her vampire beau. And when I met him for a roundtable interview on Saturday, he joked that he was relieved he has no superpowers at all.
"A welcome change for me," he laughs about playing a character with no superpowers on The Gifted. "We're not the ones—" he trails off while gesticulating the types of hand motions he used to lure prey to their doom on premium cable.
Whereas in True Blood, he played a vampire who depending on the season could fly, in The Gifted he portrays Reed Strucker, a U.S. prosecutor who goes after mutants on behalf of the American government until the day he discovers his own children are also "gifted." Awkward. It's a setup rife with dramatic potential and one that X-fans might be familiar with, so it's worth wondering whether he received any advice from Paquin about joining the world of mutants.
"I did," Moyer told me. "You know Anna's done four of these movies, so she knows the world backwards. She's worked with Bryan [Singer] three of those occasions, so she knows Bryan extremely well and she's a big fan of Bryan and everything he brings to the table."
Moyer refers to Bryan Singer, who helped create the cinematic image of X-Men by directing X-Men and X2 in the early 2000s, and returning for X-Men: Days of Future Past, which Paquin also appeared in. Now things come close to home too since Singer also returned one more time to this universe to direct The Gifted pilot.
Moyer also credited his wife with helping him find the best X-Men stories to read and immerse himself in. "She's a big believer in doing a bunch of research, so she showed me a few places she had gotten information from, not just comics. You know, the internet, as an actor, is an amazing resource. We used to have the Encyclopedia Britannica on our shelves. But you know, it's amazing for us to just go down the rabbit hole for research in a way, and Marvel made the comic books available through Marvel Unlimited, which was wonderful."
Moyer and the cast seemed pleased about the results, and fans will likely be curious too when The Gifted premieres on Oct. 2 on Fox.
Read and download the full Den of Geek SDCC Special Edition magazine here!