News
The Flash Season 5 Episode 13 Exclusive Clip
Check out this exclusive clip from tonight's episode of The Flash, featuring the character Sherloque!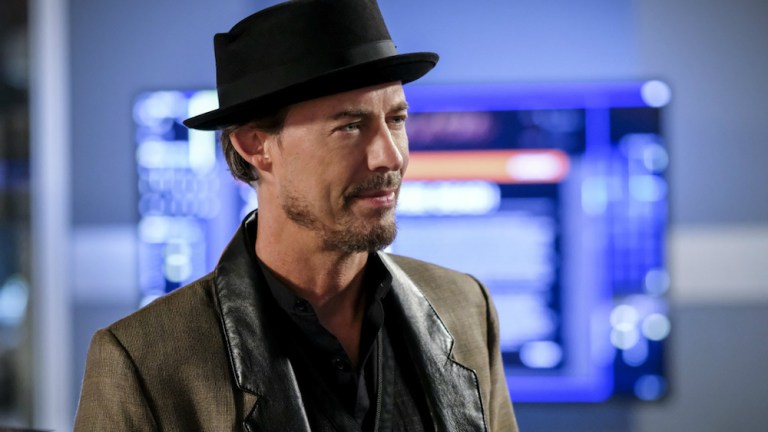 Sometimes being a great sleuth can also make you look like a major creep. In a humorous but revealing new clip from tonight's episode of The Flash, "Goldfaced," we see Sherloque Wells meeting his future ex-wife Renee Adler—but taking it a bit too far with his masterful skills of observation. However, it's what leads to the chance encounter in CC Jitters that is part of a bigger mystery. The clip teases that Nora knows Sherloque is investigating her, and has been doing detective work about her time language journal.
To throw him off the trail, Nora apparently visits the imprisoned Eobard Thawne in the future for advice. In a manipulative way, we can appreciate from the likes of Thawne, he tells Nora the timeline is malleable. It only takes tiny refinements to "birth a whole new reality," and create a new set of possibilities. Moving a coffee cup to the ground or sliding a "Reserved" sign over can unlock previously locked paths.
Thawne suggests this mystery woman is special and by altering time to make Sherloque fall in love with Adler, his attention will shift away from Nora. Played by Kimberly Williams-Paisley, Renee Adler is one of many of Sherloque's ex-wives. And, as TVLine reported last week, she'll appear as "multiple versions" of the character.
While we don't quite know where Adler ranks in the number of Sherloque's exes, he did mention his fourth wife cheated on him with his former partner Watson (or, "Wat-soon"). And if Nora's minor alterations can make big changes to the timeline, how might she be making it easier for Thawne to return, or what other ripples may be caused by her meddling?
Tune into The Flash tonight to find out, and to see if Sherloque can backpedal on appearing like a stalker or if he'll keep on Nora's case.