News
The Flash Season 2: Wally West Details
The Flash season 2 midseason finale will feature Captain Cold, The Weather Wizard, Mark Hamill, and the debut of Wally West.
If you're a comic book fan waiting impatiently for news of when Wally West will show up on The Flash season 2, we've got good news for you. Wally West will make his debut during this year's midseason finale.
Keiynan Lonsdale (Insurgent) will play Wally West on The Flash season 2. Don't get too excited yet, as there's no word on if or when (oh, who are we kidding, it's when) he'll actually become Kid Flash. 
"Just like when we met Grant for the first time, we instantly knew Keiynan embodied all the heart and courage of a hero," Andrew Kreisberg said in a statement released when he was cast back in August. "We are so excited to be bringing this much-beloved character onto the show."
We at least know when he's showing up. That will be on December 8th. The Flash season 2 episode 9 is called "Running to Stand Still." It not only introduces Wally, but brings back some of our favorite rogues…including Mark Hamill as the Trickster.
Watch the trailer here, which also features Mark Hamill's return as the Trickster!
Here's the official synopsis:
When Mark Mardon AKA The Weather Wizard (guest star Liam McIntyre) returns to break Leonard Snart AKA Captain Cold (guest star Wentworth Miller) and James Jesse AKA The Trickster (guest star Mark Hamill) out of Iron Heights, Barry (Grant Gustin) must stop these rogues from taking over Central City during Christmas.  Meanwhile, Joe (Jesse L. Martin) and Iris (Candice Patton) meet Wally West (Keiynan Lonsdale). Kevin Tancharoen directed the episode written by Andrew Kreisberg (#209). 
When Wally West was re-introduced into the DC Universe in his New 52 incarnation, the former redhead (and future Flash) became an African-American teenager. That was no accident, considering that executive producer Geoff Johns is also the CCO of DC Entertainment. Andrew Kreisberg pointed out that when they began casting for The Flash, "in the New 52 they [DC Comics] hadn't reintroduced Wally…when they reintroduced Wally, they made him African-American. So now and forever, Kid Flash will be African-American."
Here's a look at what the current incarnation of Wally West looks like in speedster garb: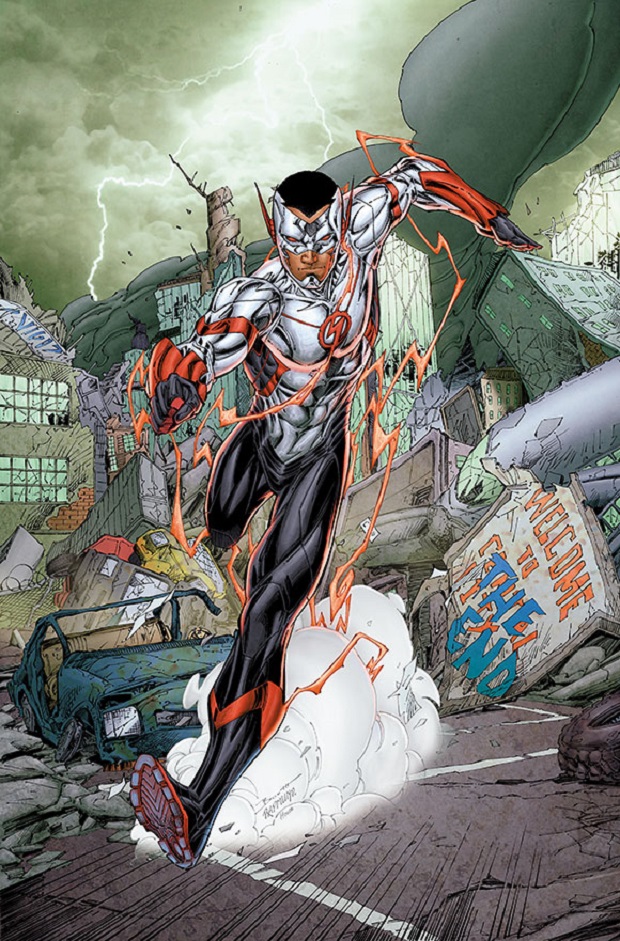 And here's Mr. Lonsdale…