News
The Flash: Mystery Character Revealed on Season 2 Finale
Major spoilers for The Flash Season 2 finale, but not even the show's "man in the iron mask" knew who he really was.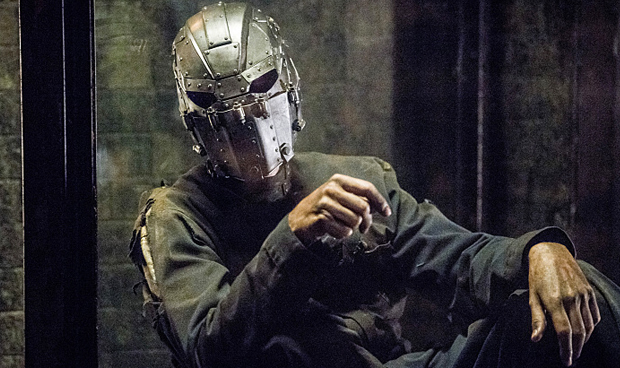 This article contains MAJOR spoilers for The Flash Season 2 finale and the Legends of Tomorrow season finale. Don't read any further if you're not caught up.
The identity of the mysterious "Man in the Iron Mask" from The Flash Season 2 has finally been solved. And while there were plenty of clues in the last few episodes, it ended up being a pretty dramatic reveal. Not only that, but it gave longtime fans of the character the biggest payoff imaginable.
Are you ready? Last chance to get out unspoiled!
The Flash season 2 finale, "The Race of His Life" revealed that Zoom's prisoner this entire time was the real Jay Garrick. And the real Jay Garrick is a multiversal doppleganger of the now deceased Henry Allen, played by beloved fan favorite, John Wesley Shipp. Shipp, of course, played Barry Allen on the CBS The Flash TV series that ran for one (underrated, wonderful) season in 1990-1991.
Speaking with Entertainment Weekly, Mr. Shipp revealed that he didn't even know who was under the mask, let alone his own ultimate destiny.
"I didn't know! I mean, I was riding along reading Twitter. I thought there was a good chance that it was Eddie, given his history through the whole thing. I thought there was a good chance it might be Grant, because we had seen when we were going through the whatever that is where they went from Earth to Earth. We saw Grant [Gustin] with a beard in a prison suit…I really didn't know. Never once did it occur to me that it would be me. Not once."
"I had no idea that it was going to morph into my ending up playing the role that The Flash audience wanted me to play from the very beginning," he said.
The best news of all is that it sounds like we'll see more of Shipp as Jay Garrick on The Flash Season 3. "There are endless possibilities- they're just now mapping out that they can do with the character Jay Garrick," Mr. Shipp said. "I mean, come on, he's the head of the Justice Society of America. They just mentioned that they were going to be doing that on Legends [of Tomorrow]. They just announced multiple crossovers."
It sounds like he's done his homework on Jay a little bit, telling Variety:
I actually went back and did more research and tried to find out who this guy was and where he fit in the lore more than I did when I played Barry the first time … Finding out that he was the original Flash, that he was the founder of the Justice Society of America, that he's really the Flash daddy of us all, and the importance of him to the whole DC Universe… that was very intriguing and very important to me. Also finding out that in the comics he's the one who teaches Wally the speed force — there's just so many possibilities and directions for this character to go.
It's not clear yet if the Justice Society of America mentioned on the Legends of Tomorrow season finale (which introduced Rex "Hourman" Tyler at the end) is the same Justice Society that Shipp's version of Jary Garrick would have been a member of, but it's certainly possible.
And, for real, let's just take one more moment to appreciate how cool John Wesley Shipp looks as Jay Garrick!