News
The Flash: Grant Gustin in Full Flash Costume
As the anticipation builds for the Flash pilot, the first photo of Grant Gustin in the full Flash costume has arrived!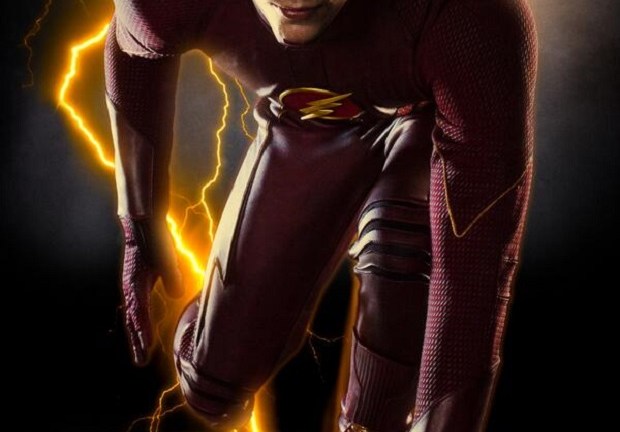 After a teaser image of Grant Gustin in the Flash costume (from the neck up) dropped a few weeks ago, fans have been dying to see more of what the show has to offer. After all, unlike Green Arrow, who has never had one of the more visually striking superhero outfits, the Flash is an iconic piece of comic book history, with a costume that has remained virtually unchanged since his introduction in 1954. And there's good reason for that. The Flash's suit is a perfect representation of that space age feeling of freedom that embodied so many other Silver Age redesigns (like Green Lantern and the Atom), and Carmine Infantino's original design has stood the test of time. Now, as we wait for the CW's Arrow spin-off to get off the blocks, we can finally see Grant Gustin in all his Flash glory.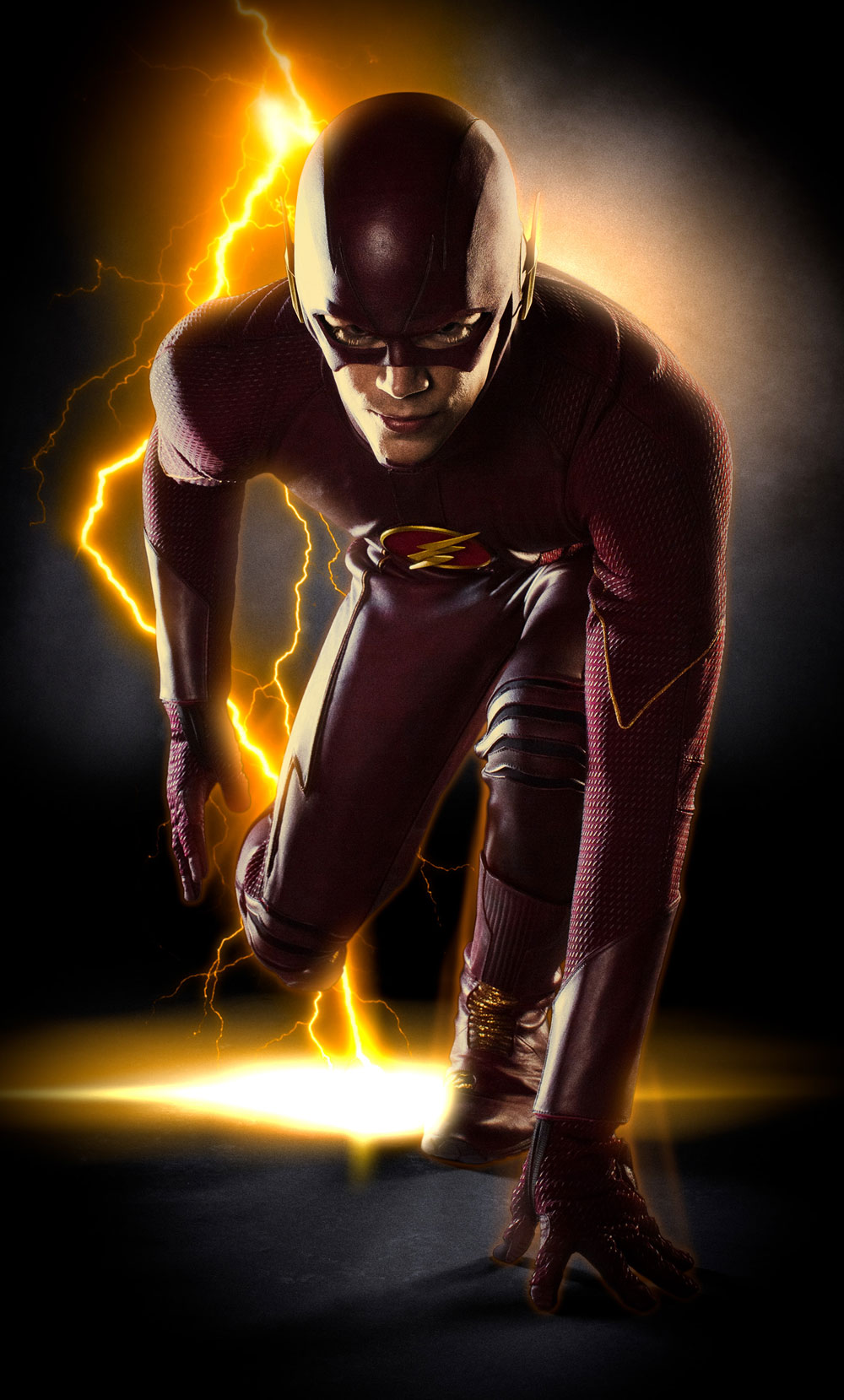 [related article: 8 Reasons The Flash is Perfect for TV]
This is pretty impressive. It's interesting to note that like the original Flash TV series, they've ditched the yellow boots in favor of red (although you can see some gold highlights), and they've toned down the lightning bolt motifs around the gloves in favor of some gold highlights. However, it's probably a safe bet that the "lightning" will be special effects, and that whenever Flash is powered up and in the suit, we'll have a visible speed force effect that will contrast nicely with the red of the suit. As with most superhero costumes, the key will be to see how it looks in motion, but unlike the previous live-action Flash suit, which was burdened by some bulky, sculpted muscles (but was otherwise a faithful representation), this one allows Flash to have that slender, runner's build that is a hallmark of the character.
Some set photos have surfaced of the suit in natural light, as well, which give a better look at some of the details. This next one came to our attention via FlashFans.Org: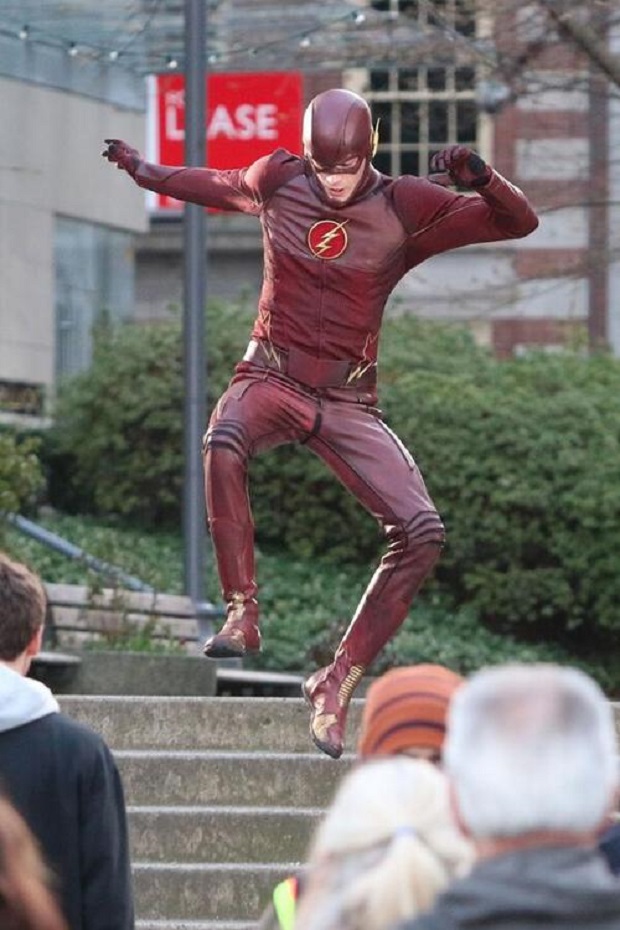 PUNKD Images tweeted this next one:
— PUNKD Images (@PUNKD_Images)
March 12, 2014
What do these tell us? The suit is certainly looks red enough in daylight, which is a relief. There's also no doubt whatsoever that this show is embracing superheroics, even the more flamboyant aspects, in a way that even Arrow hasn't (and that Smallville certainly never did)! It looks like Mr. Gustin is doing at least some of his own stunts, and based on the leaps he's doing, he doesn't look constricted. Despite the fact that Flash is considerably more high-powered than Green Arrow, this looks like the showrunners are still going to find ways for the kind of stuntwork and practical effects we've seen on Arrow. The cowl has a helmet-like quality, while the suit itself looks like it borrows elements from motorcycle racing. It makes sense that someone moving at these speeds would need to protect their head and prevent road rash. This definitely appears to fit in with, and expand on, some of the "rules" of superheroics established on Arrow!
The Flash's costume was designed by three-time Oscar winner Colleen Atwood, who also designed the costume for Arrow and whose motion picture credits include Academy Awards for her work on Alice in Wonderland, Memoirs of a Geisha, and Chicago, as well as seven additional Oscar nominations for films such as Snow White and the Huntsman, Sweeney Todd: The Demon Barber of Fleet Street, and Sleepy Hollow, among others.
"I hope the fans who treasure the character are as excited as we are by what costume designer Colleen Atwood has achieved with this latest version of The Flash's iconic suit," said pilot director/executive producer David Nutter in a press release.
Grant Gustin's Barry Allen was introduced on the Arrow two-parter "The Scientist" and "Three Ghosts." Both episodes not only set up some of the plot threads that will play a major part in the Flash pilot (and hopefully, TV series), but "Three Ghosts" even delivered on Flash's iconic lightning strike origin (albeit with a twist). A few set photos have surfaced from the Flash pilot, as well, courtesy of Comic Book Movie.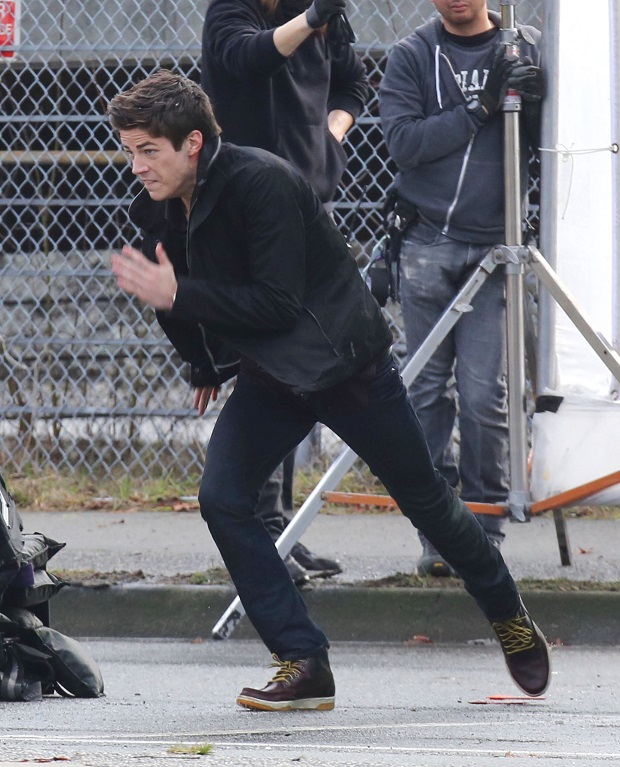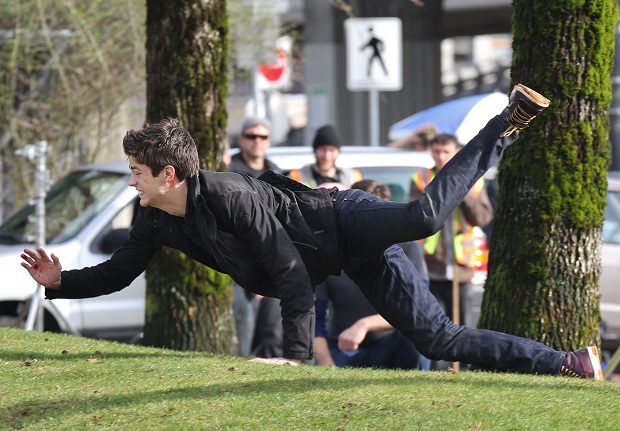 Even in these images, you can see hints of the Flash color scheme, and even the texture of the suit, in Grant's sneakers. Maybe these are prototypes that don't burn up when he hits top speed?
The Flash pilot is directed by David Nutter (who also helmed Arrow's first episode), and is written by Arrow showrunners Greg Berlanti and Andrew Kreisberg, along with a man who is no stranger to Flash lore, Geoff Johns. In addition to Grant Gustin as Barry Allen/The Flash, it stars Jesse L. Martin, Rick Cosnett, Danielle Panabaker, Carlos Valdes, Candice Patton, Tom Cavanagh, and original TV Flash, John Wesley Shipp! 
You can read all our coverage of The Flash right here!
You can read all our Arrow coverage here!
Like us on Facebook and follow us on Twitter for all news updates related to the world of geek. And Google+, if that's your thing!