News
The Flash EP Teases Savitar as a More "Psychological" Villain
We now know who the dark speedster in The Flash season 3 trailer is...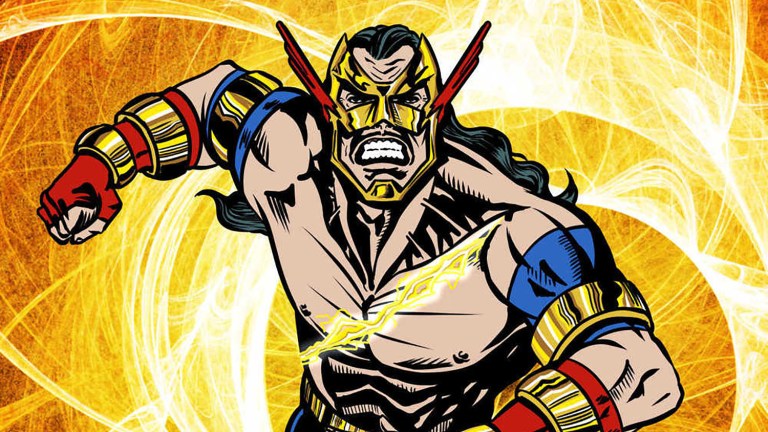 UPDATED!
The Flashexecutive producer Todd Helbing talked to IGN about how Savitar — yet another evil speedster to plague Barry Allen — will differ from the villains we've seen previously on The Flash.Helbing teased:
Savitar is more of a psychological villain in a weird way. I think the Hindu word for Savitar means God of Speed; he's all about speed. Everything about this guy is different. I can't go into super detail, but he's not like Zoom or Reverse Flash.
Let's hope so. The Flashseason 2 was bogged down in its second half by a speedster villain who was too similar to its first season villain — but not as good. If The Flashseason 3 wants to get back in our good graces, then it's got to up its villain game in the new season. A well-executed Savitar would be a good place to start. 
As for how Dr. Alchemy, the other big bad at play in The Flashseason 3, might come into play, Helbing teased: "I'll just say that Dr. Alchemy's plan and Savitar's plan are not much different." Could these villains be working together? Personally, I'd like to see a villain team-up after so much solo villain-y in the first two seasons of the superhero show (anarchistic Zoom garage bands, aside).
Original Story:
The Flash Season 3 unveiled the first look at the new reality of "Flashpoint" and some of the major revelations involved the return of Matt Letscher as Eobard Thawne, in his pre-Harrison Wells Reverse-Flash form. And since Thawne is the villain of the Flashpoint comic book story, it makes sense that he's a major player this season.
Executive producers Aaron and Todd Helbing spoke to a group of reporters at SDCC, and revealed that Reverse-Flash isn't the only major villain this season, though. "There's going to be two big bads," Aaron Helbing said. "One will be a speedster and one will be another metahuman and they're both very formidable." Todd Helbing added that one of the villains would be shown in the trailer, which at the time of the press room, hadn't yet been revealed.
Here's The Flash Season 3 trailer in case you haven't seen it yet…
As you can see, there are technically two speedsters shown in the trailer. There's the Reverse-Flash, of course, but then there's this guy: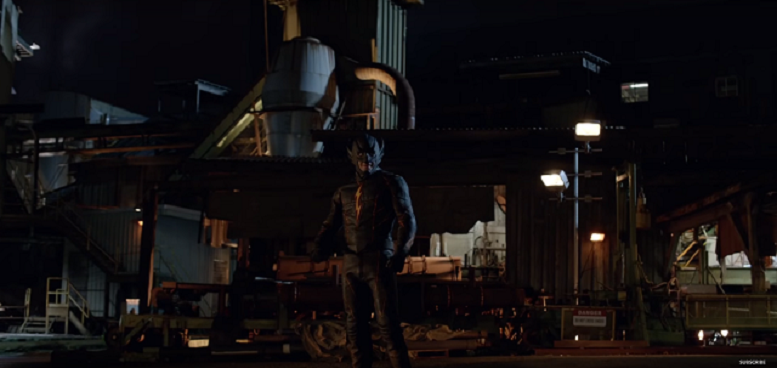 But the mysterious black clad speedster appears to be a foe of Kid Flash in the new "Flashpoint" timeline, not a major Thawne-esque threat. So who is the other metahuman?
It was revealed at the TCAs that this villain is Savitar, a speedster who was originally created by Mark Waid and Oscar Jimenez in 1995. He looks pretty different from his comic book counterpart, though: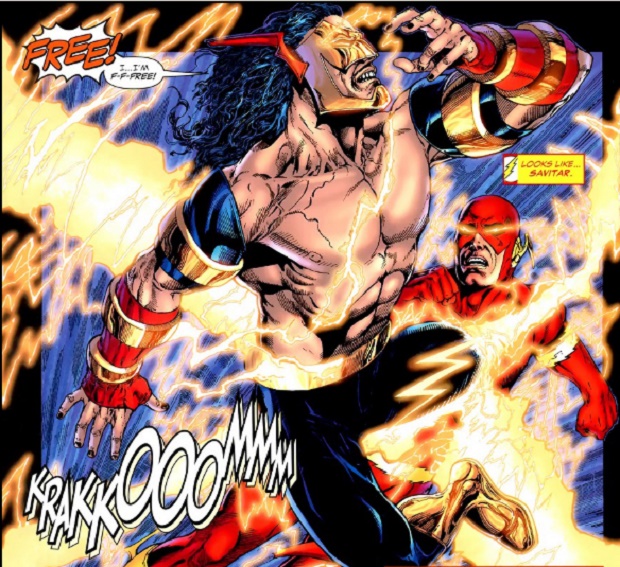 "The other one we're not going to reveal for a little bit," Todd Helbing said.
But I do have to wonder…could the other baddie be this mysterious hooded figure glimpsed briefly in the trailer? 
The hood vaguely resembles Crisis on Infinite Earths crybaby, Kell Mossa (Pariah), who is forced to watch the deaths of countless alternate realities. Given this show's love of the Multiverse, that's something to consider. The mask is another story, though.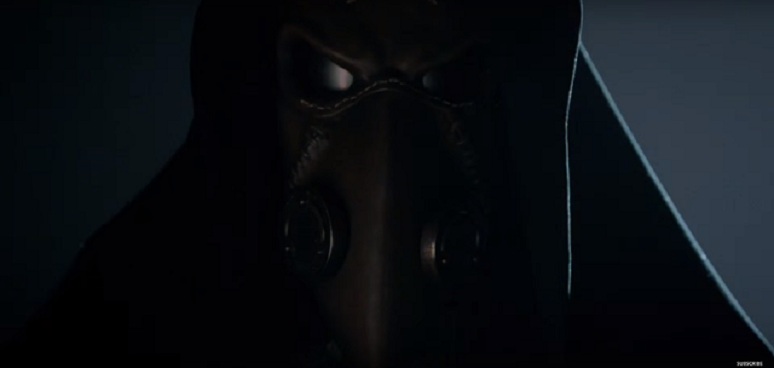 UPDATE! Well, thanks to Kevin in the comments, at 51 seconds into the trailer, the word "Alchemy" is spotted: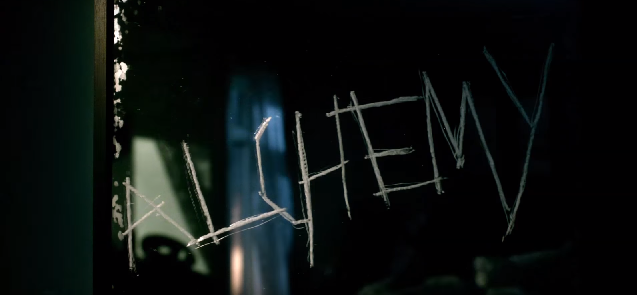 So, it looks like the guy in the hood and mask is intended to be Doctor Alchemy, a villain in possession of the Philosopher's Stone, which gives him tremendous power to transmute the elements, and he's likely going to be our second major villain.
There's one other thing to consider about having two big villains this season, though. There's constant speculation about how long the "Flashpoint" timeline can be maintained, especially when there are three other superhero shows that it has to interact with and affect. It's likely that Reverse-Flash is only the big villain of the "Flashpoint" segment of this season (which will only last for a handful of episodes), while the mystery metahuman will be the baddie after things return to normal.
Meanwhile, the show finally got around to casting Mirror Master, although he sounds more like a villain of the week and not like a season long baddie.
A version of this article first appeared on July 25, 2016. It has been updated with new information.