News
The Flash and Supergirl Crossover Details
Check out the official details for The Flash and Supergirl crossover episode, "World's Finest."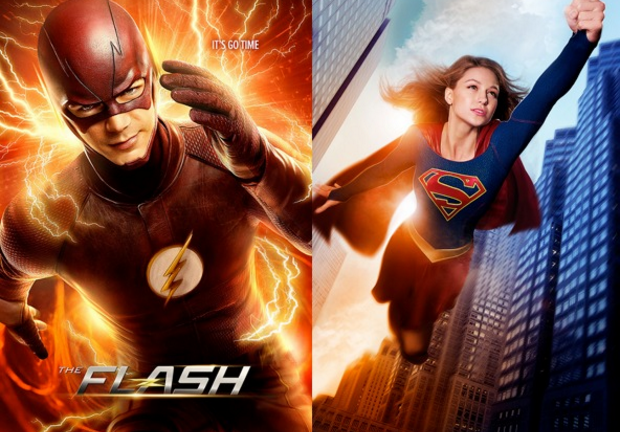 After nearly a year of speculation, it's finally official. The Flash and Supergirl are joining forces. Specifically, Grant Gustin's Flash will appear on an episode of Supergirl. The name of the episode? The comic book appropriate, "World's Finest," the name of a long-running DC Comics team-up title that primarily featured Superman and Batman.
"We are so incredibly excited to announce something that we have dreamed of happening since we started making Supergirl – The Flash and Supergirl are teaming up!" said The Flash and Supergirl executive producers Greg Berlanti and Andrew Kreisberg in a statement when it was announced in February. "We want to thank Grant Gustin for making the time to come visit (on top of his already immense workload) and all of the folks at CBS, The CW, Warner Bros., and DC for working this out. And finally, thanks to the fans and journalists who have kept asking for this to happen. It is our pleasure and hope to create an episode worthy of everyone's enthusiasm and support."
Check out the trailer: 
There's are some earlier teasers here…
Here's another little teaser, too…
— Supergirl (@supergirlcbs)
March 17, 2016
Here's the official synopsis:
Kara gains a new ally when the lightning-fast superhero The Flash (Grant Gustin) suddenly appears from an alternate universe and helps Kara battle Siobhan, aka Silver Banshee, and Livewire in exchange for her help in finding a way to return him home.
And check out this appropriate bit of promo art…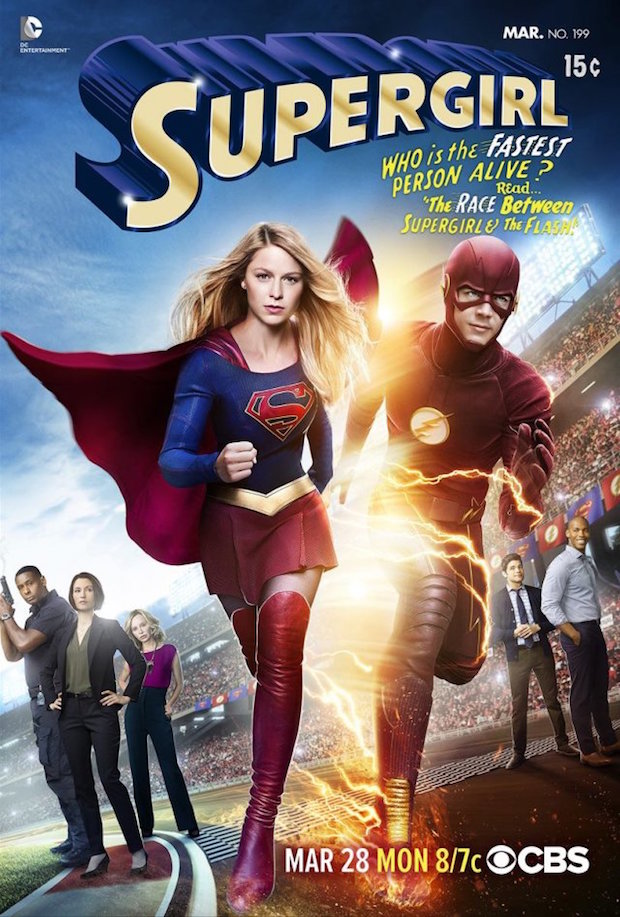 This poster is an homag to the classic Superman/Flash race that took place in 1967's Superman #199, a cover that was drawn by the perfect combination of Superman/Flash artists, Carmine Infantino and Murphy Anderson.
Check out the original:
"World's Finest" will air on March 28th. That's the tail end of a big weekend for DC Comics characters, as Batman v Superman: Dawn of Justice opens on March 25th. Something tells me that Barry and Kara will be a little more cooperative with each other. There is, however, a fine tradition of Superman/Flash races in the comics, so this would be a fun thing to finally see in live action.
Meanwhile, The Flash has been playing around with dimensional travel, and we caught a brief glimpse of Supergirl as Barry traveled to Earth-2 in "Welcome to Earth-2." Obviously, Supergirl doesn't take place on that world, but it's one of the pieces of DC's multimedia Multiverse! 
We now know that Silver Banshee will be the villain. She'll first be introduced in the episode "Truth, Justice, and The American Way" which airs on February 22nd. You can spot her in the background of a set photo, looking very much like her comic book counterpart.
Grant Gustin has been posting some fun set photos…
I'll update this with more information as it becomes available.
This article originally appeared on February 3rd. It has been updated with new information.