News
Teenage Mutant Ninja Turtles: IDW Sending the Turtles Back in Time!
Great Scott! The TMNT are going to star in a miniseries where they fight dinosaurs and pirates! Wait... this feels familiar...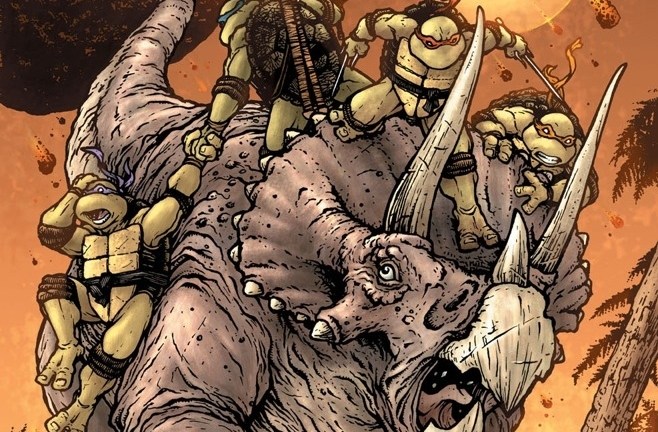 If you have ever been a fan of any version of the Teenage Mutant Ninja Turtles and you aren't checking out IDW's current ongoing series, you are missing out. For one, the latest issue featured Michelangelo flying out of nowhere on a motorcycle and using it to crash into the head of a mutant ninja falcon. But mainly, the series is a well-written and lovely-to-look-at pack of adventures that merges the Turtles mythos into a delicious cocktail.
Along with the main comic and "micro-series" one-shots, there have been miniseries that would come out alongside them. The first major one was the Secret History of the Foot Clan, written by Erik Burnham, which mixed modern-day happenings with flashbacks to how Shredder came to be. A miniseries called Utrom Empire by Paul Allor just wrapped up, which showed the building of the ominous Technodrome while flashing back to General Krang's rise to power. Now those two writers and rad artist Ross Campbell will be teaming up to give us Turtles in Time.
Remember what I said about merging the Turtles mythos? I think it says a lot that the times and places they travel to include prehistoric times, a pirate ship, and the days of the samurai. The first two were featured in the early-90's video game classic, also known as Turtles in Time, while the third Turtles movie had them travel back to feudal Japan. The name on the DVD? Teenage Mutant Ninja Turtles III: Turtles in Time. All we need to round this out is for them to go back to World War II and convince Hitler to kill himself like in the Archie series so we can have a total turtles time travel trifecta!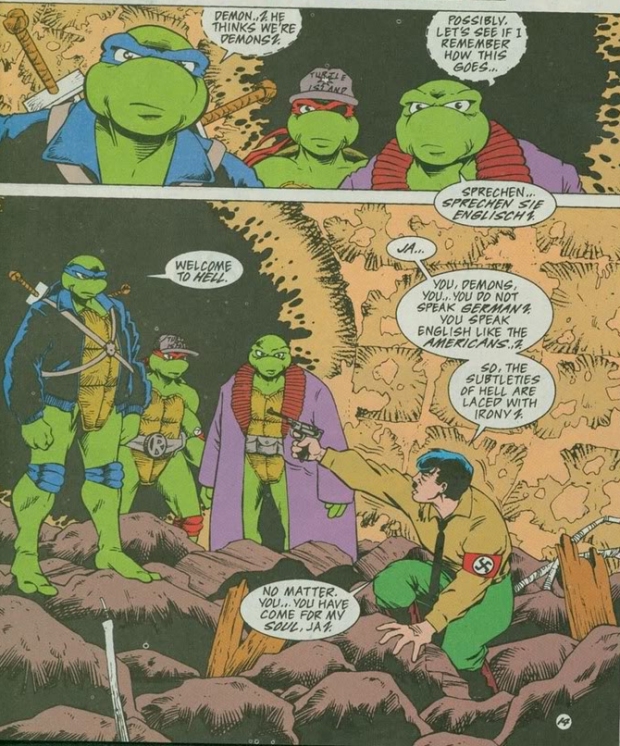 Just want to remind you that that was the more kid-friendly Turtles comic of the time.
Where was I? Oh, yeah. They're making a comic that's pretty much the video game everyone likes mixed with the movie nobody likes with an original spin on it. For one, instead of Neo Nightriders, the Turtles will be flying into a more dystopian future, most likely the one briefly looked at in Shredder's micro-series issue. The Technodrome is coming and a war will come between Krang and the Shredder. Whoever wins, we lose. You know, like the tagline in that one movie. Shawshank Redemption.
Check out this cover by David Peterson and some more official press release words.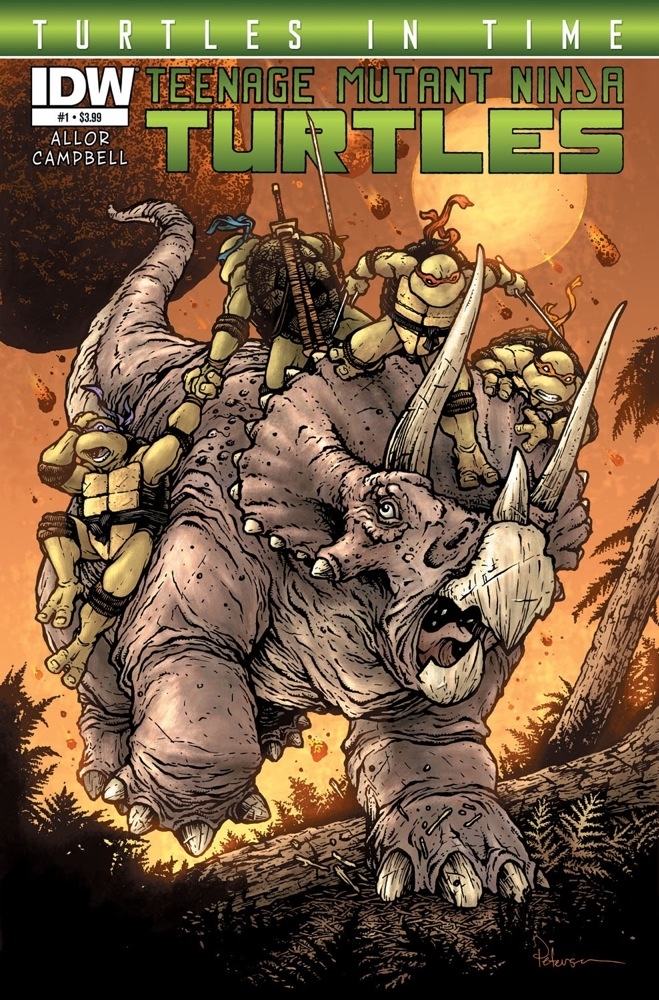 IDW Sends The Turtles To The Edges Of Time!Past And Present Collide In New TMNT Mini-Series

San Diego, CA (March 20, 2013) – The Teenage Mutant Ninja Turtles have faced enemies old and new over the years, but this June they will have to battle against time itself to save the day! Another great way to celebrate the Turtles' 30th Anniversary, Turtles In Time is an all-new, essential mini-series for fans who just can't get enough of the heroes in a half shell. Traveling to the farthest reaches of the space-time continuum, the Turtles encounter dinosaurs, pirates, samurai warriors — and a bleak future, should they fail on their quest! Written by TMNT scribes Paul Allor (Utrom Empire) and Erik Burnham (Secret History of the Foot Clan), each issue features a time-travelling cover by superstar artist David Petersen (Mouse Guard) and interiors by a rotating lineup of different top artists! Issue #1 kicks off with artwork by fan-favorite Ross Campbell, who will also provide art for the issue's SUB variant cover. "I love time travel stories, and I love seeing the Turtles outside of their comfort zone," says co-writer Burnham. "So basically, this is the most fun I've had in the TMNT sandbox yet!" "I am so excited for this story!" added co-writer Allor. "I'm blown away by the artists we have lined up, and I truly think readers are going to love this wild, rip-roaring journey through time." Like the previous IDW mini-series' before it, Secret History of the Foot Clan and Utrom Empire, Turtles In Time, will offer a unique story that further enriches the continuity, taking fans deeper into the world of the Turtles in a way only IDW can. Created by Kevin Eastman and Peter Laird, in 1984 the Teenage Mutant Ninja Turtles evolved from a cult-hit to a mega-franchise. Appearing in films, television shows, and video games, the Turtles have become a mainstay of comic book culture. Currently appearing in the hit Nickelodeon animated cartoon, Teenage Mutant Ninja Turtles, they will also star in the upcoming Paramount feature film TMNT, produced by Michael Bay.
Like us onFacebook and follow us onTwitter for all news updates related to the world of geek. AndGoogle+, if that's your thing!