News
Talia al Ghul Returns to Take on Robin and Superboy
The Daughter of the Demon comes looking for her son in this exclusive first look at Super Sons #13.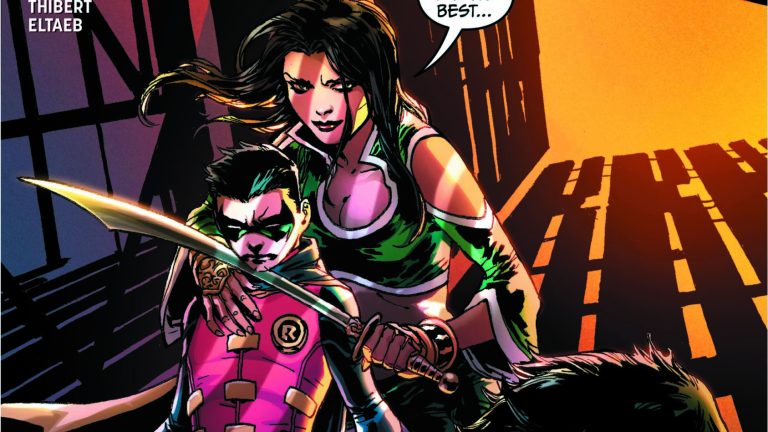 Pete Tomasi is probably the definitive Damian Wayne writer at this point. Yes, Damian was introduced by Grant Morrison, and he retains a particularly Morrison feel, but Tomasi has been working with the kid for somewhere near 60 issues now. He's got a handle on the character, made him likeable outside of the grudgingly respectful relationship that Damian had with Dick Grayson. Seriously, Batman and Robinvolume 2 is great comics, and the Two Face arc is one of my favorite Batman stories ever. Interestingly enough, though, for all the time Tomasi has spent with Damian, to the best of my knowledge, he's never written Talia, Damian's mother, before. Until this issue of Super Sons.   
Super Sonshas rounded into a fun book. It's a throwback, the kind of thing you might not hand to an early reader, but definitely to a new-to-comics tween. It feels like the kind of book that would be used to "um actually" someone complaining about how comics aren't for kids anymore – bright, superhero action steeped in the rich, wide DC Universe, with a perfectly easy point of entry for the reader. That point of entry being Jon Kent, Superboy. Damian is still a bit of a weiner, even after all the work Tomasi's put in making him enjoyable. That's kind of his point, I think.
Anyway, DC sent us a preview of Super Sons#13. Here's what they have to say about the issue.
SUPER SONS #13 Written by PETER J. TOMASI Art by CARLO BARBERI Cover by GIUSEPPE CAMUNCOLI Variant cover by DUSTIN NGUYEN "Mother's Day" part one! Talia al Ghul returns for her son Damian, whom she trained from birth to be an assassin. With the evil in Robin's past finally revealed to Superboy, it might be too much for the Sons' partnership to survive…especially when the boys find out her next victim is one of the most important people in their lives! 
I'm not one to swoon over variants, but I will buy the hell out of this Dustin Nguyen cover if it ever turns into a print *hint hint.* Take a look at it below: