News
Superman Reboot Details
Brian Michael Bendis will write three Superman series for DC, including a Man of Steel origin story.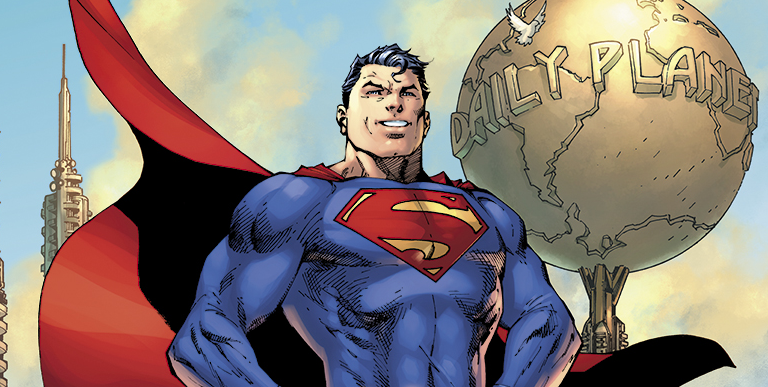 Sometimes, Superman fans can feel like we're a neglected bunch. The Man of Steel may be DC's flagship character, and the superhero against which all others are judged, but frankly, he's been living in Batman's shadow for over 20 years now, and that's a little tiresome. But DC sure is looking to change that in 2018.
In just the last few weeks, DC has revealed the return of Superman's classic costume and the celebratory Action Comics #1000, which features work from some of comics' greatest talents. March sees the TV premiere of Krypton, which I'm not allowed to say too much about just yet but I promise is going to make Kryptonian scholars very happy. They even just announced plans for a Metropolis TV series focusing on Lois Lane and Lex Luthor. And don't forget we have new episodes of Supergirl to look forward to every Monday.
To top it all off, DC is celebrating Superman's 80th birthday by turning over comic book writing duties to one of the most influential creators of this generation, Brian Michael Bendis. Bendis' jump from Marvel to DC was headline news a few months ago, and there has been endless speculation about which character the writer would tackle first. The answer, of course, is Superman. Mr. Bendis will oversee a creative refresh of the Superman titles, with a new mini-series, a relaunched and renumbered Superman, and flagship title Action Comics.
Bendis' first work on Superman will come in a short story in Action Comics #1000 (with art by Jim Lee), arriving in April. This will be followed by Man of Steel, a six-issue weekly miniseries, which will kick off on May 30th. Man of Steel "will shake up the classic story of Krypton's final days and Kal-El's path to becoming an iconic hero, introducing a new villain that knows a terrifying secret behind the destruction of Superman's homeworld."
Man of Steel will feature a powerhouse roster of artists, including Ivan Reis, Evan "Doc" Shaner (a favorite of mine), Ryan Sook, Kevin Maguire, Adam Hughes, and Jason Fabok. There's also a Man of Steel prelude which will appear as part of the DC Nation #0 preview sampler on May 2nd (that features art by legendary DC star Jose Luis Garcia-Lopez).
Check out this gorgeous Ivan Reis art for the interlocking covers of Man of Steel…
Bendis will then move to a brand new Superman #1 (with art by Ivan Reis) which arrives on July 11. Superman will deal with the fallout from Man of Steel and promises to build on the work done by the current creative team of Peter J. Tomasi and Patrick Gleason. He'll also handle writing duties on Action Comics beginning with issue #1001 (with art by Patrick Gleason), which arrives on July 25. Action Comics under Bendis and Gleason will "spotlight more of Clark Kent and his role at the Daily Planet [and] take a closer look at how the actions of Superman impact the DC Universe."
There will also be a "Bendis-curated custom imprint of titles" arriving in 2018 that "will feature some of Bendis' all-time favorite characters in very unique and unusual situations, combined with new characters created specifically for this new imprint." I have to wonder if this will be a DC Comics Presents style team-up book which will allow him to get a feel for other characters in the DCU, but note this is just speculation on my part.
The parallels between Brian Michael Bendis' DC arrival and John Byrne's over 30 years ago are unavoidable. Like Bendis, Byrne had made his name as a distinctly Marvel-centric creator, doing career defining work with the X-Men, Fantastic Four, Namor, and others, and when he was lured to DC, he was given the keys to the Superman titles. Byrne completely rebooted the Superman mythos with a six-issue Man of Steel limited series and renumbered Superman with a new #1. Action Comics became a DC Comics Presents style team-up book, while Adventures of Superman (under the stellar creative team of Marv Wolfman and Jerry Ordway) focused more on the Daily Planet. Bendis, coincidentally, was the writer of a Byrne/MoS style modernization of an iconic character, with the launch of Ultimate Spider-Man at Marvel in 2000 with artist Mark Bagley. This was a title so influential that it helped sow the seeds of not just big screen Spidey adventures, but the entire Marvel Cinematic Universe.
While it seems pretty clear that Bendis isn't involved in a full blown continuity reboot (fans should be comforted by the fact that the work being done by Tomasi, Gleason, and Jurgens isn't getting paved over), the return of the classic costume and the introduction of new elements to the origin story makes this feel like a nod to Superman reboots of yore. And the covers of the Man of Steel miniseries make it clear that they are going to revisit the origin story in some detail, as well. With the level of artistic talent joining these titles, the only downside is that the fan favorite work being done by Tomasi/Gleason on Superman and Dan Jurgens and others on Action Comics has to come to an end. Those books are the best that the Superman comics have been in ages. 
It's also worth noting that Man of Steel is the 2nd big DC weekly series/relaunch recently announced, and it looks like there are more coming. The other is Justice League: No Justice, a similarly star-studded affair featuring Scott Snyder, James Tynion IV, Joshua Williamson, and Francis Manapul that will launch brand new Justice League books with new creative teams. The only "bad" (if you can call it that) thing about that relaunch is, like this Superman announcement, it heralds the end of Christopher Priest and Pete Woods' excellent creative period on the main Justice League title.
In any case, it looks like DC is gearing up for a massive summer, taking the goodwill it has fostered since 2016's Rebirth relaunch to the next level. The company's superhero line hasn't felt this alive in nearly a decade, and I get the feeling there is more to come.
The other big question getting answered has to do with Bendis' numerous creator owned properties. His Jinxworld imprint will now be published by DC Comics, so if you haven't yet had a chance to check out books like the utterly brilliant Goldfish, Jinx, Torso, or Powers, you'll now have your chance. We should get new installments of series like Powers, Scarlet, and the United States of Murder Incorporated via Jinxworld at DC, as well.