News
Superman, Batman, and Wonder Woman Hunt Deimos in Trinity
Batman, Wonder Woman, and Superman search for Steve Trevor in Skartaris in the latest issue of Trinity.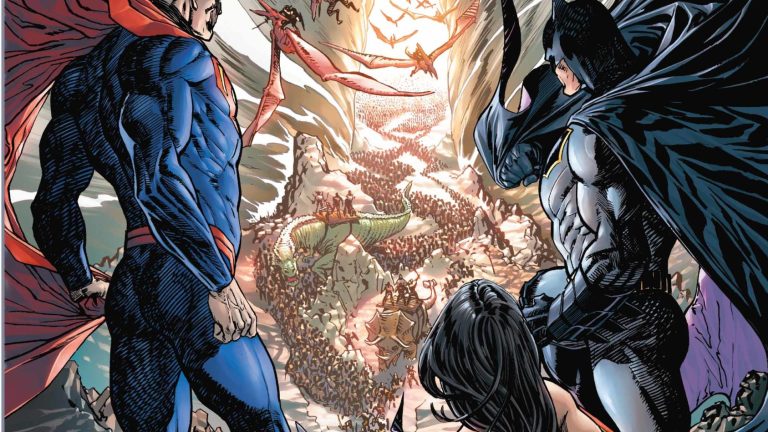 Two things I want to bring up about these preview pages of Trinity #20 that DC sent over.
First is artist Jack Herbert. He's a Brazilian artist who got his start bouncing around Dynamite for a while before getting picked up at DC. Dynamite has a bit of a house style (in that they like their licensed properties to look like what they licensed it from, rubbery figures be damned). Herbert's art here is decidedly not that. It's smartly paced, and interesting to look at for the whole page, with expressive faces and really cool lighting, especially on Deimos in those early pages.
The second thing I wanted to talk about is Deimos' costume. I recognize that it's a classic look, designed by Mike Grell back when Warlord of Skartaris had his own regular book and wasn't just a neat guest character for JLU.And I recognize that he's very much a product of his time, being invented in 1975. However. HOLY CRAP this costume is ridiculous. If a new artist put this outfit on a woman character he just designed for a new comic, his editor would go ballistic. Deimos's outfit is basically costume code for "please direct your attention to my genitals and chest," and I'll be frank: I don't wanna.
The top is absurd: a giant, 70s mystic collar attached to some kind of slutty, open-abbed waistcoat, while on the bottom Deimos is sporting a diaper that's vomiting fabric out the front. And to top it all off: pixie boots.
What the hell, Mike Grell?
Anyway, we do have a preview of Trinity#20, the first story in "The Search for Steve Trevor." Hopefully by the end of the arc, Deimos has figured out some way to enchant himself some pants. Here's what DC has to say about the issue:
TRINITY #20 Written by JAMES ROBINSON • Art by JACK HERBERT • Cover by GUILLEM MARCH • Variant cover by BILL SIENKIEWICZ "Man Down" part one! As the Trinity deals with the fallout of the battle for Skartaris, each set out to search for the missing Steve Trevor. But looming on the horizon are the magical armies of Deimos and their plan to lay siege to the entire planet! Deimos' true goal will bring Superman, Batman and Wonder Woman to their knees!
Check out Herbert's good art!
[gallery:0]