News
Superman and Booster Gold Take on the Son of General Zod
The out-of-time duo faces off with Zod's son in this exclusive preview of Action Comics #996.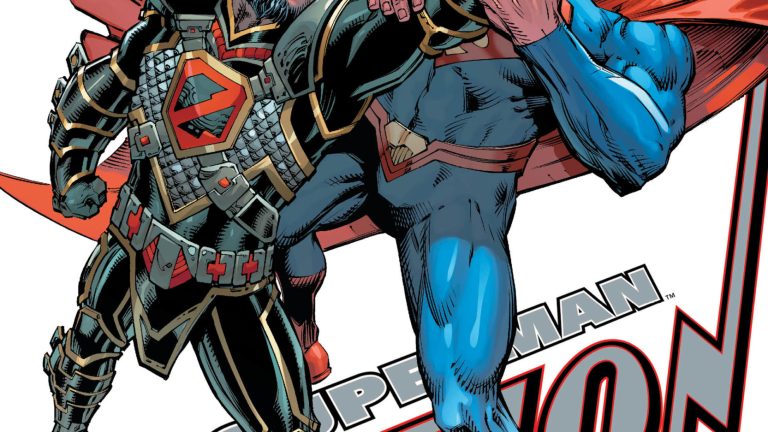 Dan Jurgens writes good Superman comics.
This isn't really a revelation. It's not like there was any particular issue over the last 25-odd years that made comics fandom all jump up at the same time and shout "HOLY HELL THAT WAS INCREDIBLE" (though if this were a "Dan Jurgens draws good Superman comics" conversation, I might make the case that Superman#75 qualifies there). Viewing the body of the man's work on this character, though, it's hard to look at all the iconic moments Jurgens has had a hand in and point to something that wasn't at least eminently readable, and often it's been his work that helped glue together our collective understanding of the character. 
His most recent run has been on Action Comics,where he started out examining a Lex Luthor honoring the memory of a fallen Superman, but quickly shifted to telling classic Superman fare: Clark in Metropolis, saving everyone he can; Lois being a tremendous journalist; and a collection of classic villains and concepts woven together with some great pace and a hint of melodrama.
In this exlusive preview of Action Comics#996, Superman and Booster Gold (a Jurgens creation who has been an incredible addition to the DC Universe) are stuck in a future where Zod and family have their own planet, while Lois skydives into a conflict-torn country to use her journalistic connections to save her dad. Here's what DC has to say about the issue:
ACTION COMICS #996 Written by DAN JURGENS Art by WILL CONRAD Cover by DAN JURGENS and TREVOR SCOTT Variant cover by NEIL EDWARDS and JAY LEISTEN Retailers: This issue will ship with two covers. Please see the order form for details. "Booster Shot" part four! Superman and Booster Gold are out of time, and they've found themselves marooned on a strange planet sometime in the future. So why does this planet's infrastructure look…Kryptonian? The answer shakes the Man of Steel to the core as the ruler of this planet reveals himself…the son of Zod reigns supreme!
Conrad's art is clean and classic in the preview. Check it out!
[gallery:0]