News
Superman #8 Sees Superboy and Jor-El Explore the Universe
Superboy fills in some gaps in his recent history in this exclusive preview of Superman #8.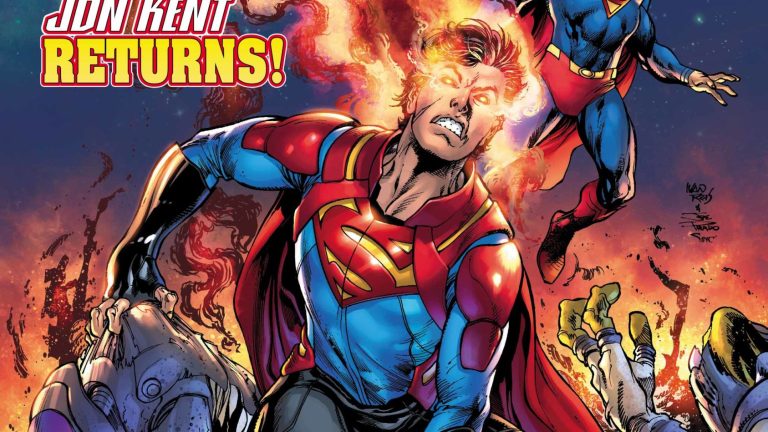 I love comics as a medium. I think that's fairly self-evident from the best comics lists – there's a pretty broad range of subject matter covered, and I've been a pretty adamant proponent of comics as one of the best mediums for nonfiction and biography in the past. Of course, I also really enjoy superhero books, and if there's one thing that keeps me coming back to them, it's probably the rich catalogue of bizarre space stuff that has been built into Marvel and DC's metanarratives. This issue of Superman speaks to me. Hard.
I think that it's the right choice, in a universe where cops wear special green magic wishing rings, to spend as much time as possible playing out there where the weird stuff happens. I also feel like it's the correct choice, when you get your characters out there, to make that stuff as weird as possible. I assumed this issue would be good when I got to the panel with the asteroid belt of pink 20-sided die, and to be frank, after reading the whole thing, I wasn't let down.
When we talked about the last issue, I mentioned that one of the nice things about Brian Michael Bendis making the switch to DC was the fresh eyes he was putting on all of these 80-year-old characters. There's a corollary to those fresh eyes – he's also bringing a sense of awe and wonder to the DCU that you can only get from someone getting to play with these toys for the first time, and he's a skilled enough writer to know how to translate that into the story effectively.
Here's what DC has to say about the issue.
SUPERMAN #8 written by BRIAN MICHAEL BENDISart by IVAN REIS, JOE PRADO and BRANDON PETERSONcover by IVAN REIS and JOE PRADOvariant cover by ROB LIEFELDThe epic secrets of Superman continue to unfold! A few months in space with his paternal grandfather Jor-El changed Jon Kent forever. With Jon now seeking help from his father, the Man of Steel must learn about the war his son and father fought together and set right the wrongs his father may have unleashed on other worlds. See what changed Superboy in such radical ways as the Unity Saga continues.
Pay special attention to page 5 of this preview, and when you pick up the book (out on Wednesday, February 13), drop back by the comments here to let us know what you think of the killer last page reveal…