News
Superman 75th Anniversary Celebration at SDCC
Starring a group of panelists that spanned Superman's history (including Henry Cavill, David Goyer, Grant Morrison, Jim Lee, and more), the Superman 75th Anniversary Panel was a treat for Man of Steel fans!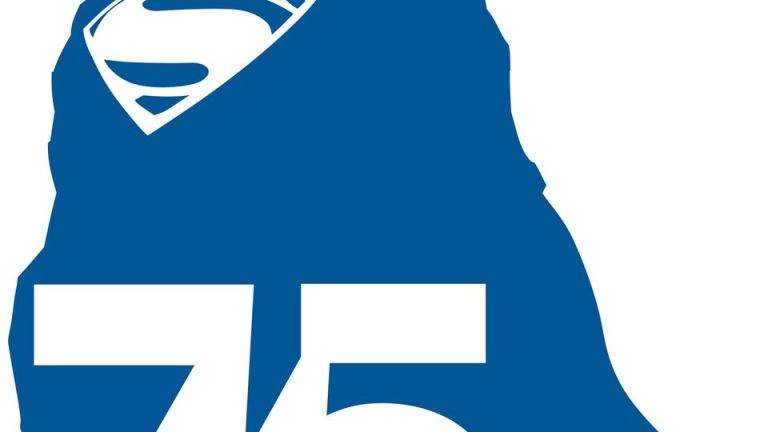 There was no shortage of star power at DC's Superman 75th Anniversary panel at San Diego Comic Con. Panelists Paul Levitz
, 
Jack Larson,
Dan Jurgens
, 
Molly Quinn, 
Grant Morrison
, 
Dylan Sprayberry
, 
Jim Lee
, 
Tim Daly
, 
David Goyer
,
and Henry Cavill, who all engaged in a lively and fun discussion about what makes Superman such an enduring fictional icon. Here are a few highlights.
Jack Larson, Jimmy Olsen from TV's Adventures of Superman received a warm ovation from the crowd. However, the big surprise was that Gary Sassaman presented the 85 year old actor with the distinguished Inkpot Award!
Mr. Larson was asked about the difference between the Superman of his era and the Superman of today. "I've been there since 1951 when we did the first Adventures of Superman, and George Reeves was a true Superman, and Mr. Cavill is a terrific Superman as well. It's a magical part and I'm very proud to have been a part of it since 1951."
Grant Morrison chimed in with his usual optimism. "The fact that Superman has lasted this long, means we all get to participate in this legend, and that's really important."
Jim Lee also had some thoughts on the subject. "It's an honor to be a part of something like this. If you look at Superman over the last seven and a half decades, he's always been a reflection of the culture around him. Today he's a character who is very intense, and it's amazing to see how we can see all of the amazing powers of Superman realized very well on the big screen."
The younger panel members, Dylan Sprayberry (the teenage Clark Kent from Man of Steel) and the animated voice of Supergirl, Molly Quinn, were asked about what Superman means to their generation.
"He's a role model for all people, cultures, and races around the world, and I think that's what has kept him around for so long, and hopefully for another 75 years, and then another 75 years, and so on…" said Dylan.
Molly Quinn added, "Superman always makes the best of his situation. Standing up for yourself and others is something that's difficult to do, and it's something that's lacking nowadays."
When asked to recommend a favorite Superman story, the panel offered a wide range of responses:
Paul Levitz: "It depends on the generation. The magic of what Jerry (Siegel) and Joe (Shuster) created is that it gets reborn in each of our work today. Today, I'd recommend Scott and Jim's work on Superman Unchained. It's not necessarily better than what's come before, but it's of this moment, and you guys are possessing Superman with the magic of your time."
Dan Jurgens: Alan Moore and Dave Gibbons' For The Man Who Has Everything. The beauty of that story is that it really captures the idea of self-sacrifice for Superman."
In typical Grant Morrison style, he recommended a unique choice. "Superman/Muhammad Ali," Morrison said to some chuckles, "What I loved about that book is that it was Superman with a guy that we all recognized and had the two of them duking it out with aliens. And it's so beautifully drawn by Neal Adams…"
Jim Lee recommended Grant Morrison and Frank Quitely's All-Star Superman. "Grant is a unique writer in that he synthesizes everything…there are a lot of weird Superman stories, especially from the 50s and 60s, and what Grant does so well is that he incorporates all of these elements. It's awesome."
Man of Steel writer, David Goyer, pointed out to Grant that 
"we actually quoted some of All-Star Superman in Man of Steel."
Some of the actors who have portrayed Superman in different media were asked if the responsibility of the role had an effect on them. Of course, all eyes were on Henry
Cavill. "Yes, I was fully aware of the responsibility. When it came to it affecting me, I tried to push it back in my mind, because it's so important to everyone. If I were to allow that responsibility to affect me, I don't think I would have done the role justice, so I just had to focus on the task at hand, but even now, the hopes and dreams of everyone are always at the back of my mind."
Tim Daly, the voice of Superman from the classic, Superman: The Animated Series had "a different experience." He continued, "When I started doing the voice of Superman I thought I was just doing a cartoon for kids, not realizing the gravitas that it has, and now I take it a lot more seriously. Superman is such an enormous personality, and such a huge character, that he can handle it all…he doesn't even have to be from America anymore!" Daly smiled at the crowd and joked, "The next James Bond is sitting right here." Daly also encouraged the crowd to give a round of applause for Christopher Reeve, and the room enthusiastically obliged.
When asked about what superpower that he'd like to have, Cavill answered that "the one thing that ties him to humankind is his unbreakable spirit, and that's what I admire the most about him."
And, of course, it was inevitable that the subject of the next Superman movie would come up, and David Goyer was obliging. "
The next film we're making, which is already in preproduction and comes out in Summer of 2015…we don't know if it's gonna be titled Batman vs. Superman or Superman vs. Batman, but that's what's happening next. Never in my wildest dreams did I ever imagine I'd be writing a project like this!" 
Goyer was also asked if he was caught off guard by the backlash regarding the controversial ending to Man of Steel, but he did promise this isn't something that would just be dismissed.
"We will be dealing with this in coming films. Zack has said we will pick up from that. He isn't fully-formed as Superman in this film, and he will have to deal with the repercussions of that in the next one."
Like us on Facebook and follow us on Twitter for all news updates related to the world of geek. And Google+, if that's your thing!