News
Supergirl Lives! Trailer for Kevin Smith Episode is Heavy on Sci-Fi Action
Kevin Smith will direct Supergirl Season 2 Episode 9, and it has a familiar title. We have all the details.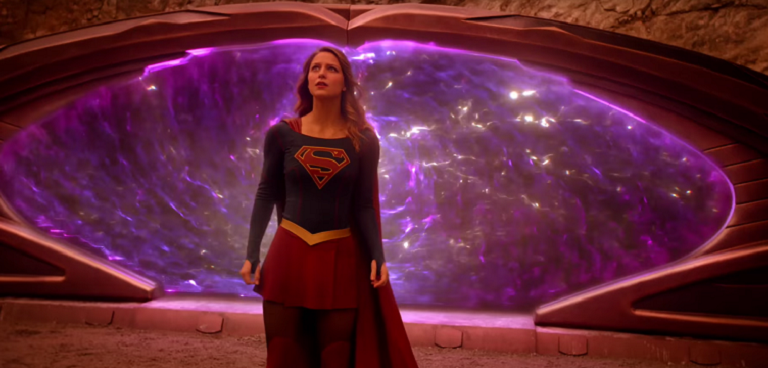 Kevin Smith is experiencing a second life as a superhero TV director. He did a great job with "The Runaway Dinosaur" an episode of The Flash Season 2 (written by Zack Stentz) that aired during that show's rather uneven second half. It was an offbeat hour of TV with a metaphysical vibe, but Smith's style worked perfectly with the cast. It was a success, and Greg Berlanti and co. wasted no time in bringing Mr. Smith back to Vancouver for more DC superhero adventures on the CW. He did an even better job with this year's "Killer Frost" which was a highlight of the season so far 
And now he's getting ready to take on Supergirl when the show returns from its midseason hiatus on January 23rd. Of course, Kevin Smith famously has already had a flirtation with the Superman mythos, during his infamous time as screenwriter on a version of Superman Lives, a movie that never made it to the screen. The thing is, while Superman Lives is generally synonymous with '90s blockbuster development hell excess, and later iterations of the project bore little resemblance to most things you associate with that world, Kevin Smith's scripts are remarkably true to the classic spirit of Superman and his supporting cast. I wrote about my love for Smith's Superman Lives drafts in detail right here, if you're interested.
So, as a nod to Smith's previous work, even though he admits "it has nothing to do with" that project, the episode is called "Supergirl Lives." This doesn't mean that Doomsday will show up (or does it?), but this might be an even better fit than The Flash was. Only way any of this gets better would be if Kara has to fight a giant spider (or "Thanagarian Snare Beast") in the 3rd act," Mr. Smith said on Facebook. 
Here's the official synopsis:
Kara (Melissa Benoist) is moved by the story of a missing woman named Izzy (guest star Harley Quinn Smith) and decides to investigate despite Snapper Carr's (guest star Ian Gomez) order to leave it alone. Kara takes Mon-El (Chris Wood) with her to the last place Izzy was seen and the duo find themselves thrust through a portal to another planet, Slaver's Moon, where the downtrodden are sold as slaves. The leader of the trafficking ring is none other than Roulette (guest star Dichen Lachman). To make matters worse, Slaver's Moon has a red sun, which means Kara and Mon-El are stripped of their powers and stuck on the planet with no way home. Meanwhile, back on Earth, Alex (Chyler Leigh) blames herself for Kara's disappearance, fearing she's become too focused on her new relationship with Maggie (guest star Floriana Lima) and too complacent in watching out for her sister.
Check out the trailer…
This looks like some pretty intense alien action, doesn't it?
"Supergirl Lives" airs on Monday, January 23rd at 8 pm.