News
Supergirl Episode Guide
Here's a Supergirl Season 1 episode guide, with links to all of our reviews and more info!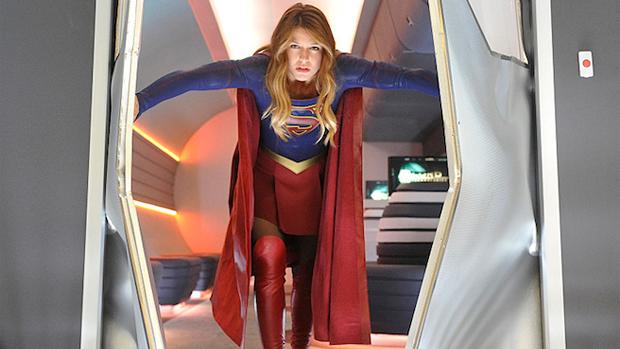 If you're looking for information on Supergirl Season 2, click here!
We kept track of every single DC Universe and Superman reference on the show right here.
Supergirl Episodes
This is where we'll keep all the info on the shows and reviews together. If the episode title is blue, then click it for the full review!
After 12 years of keeping her powers a secret on Earth, Kara Zor-El, Superman's cousin, decides to finally embrace her superhuman abilities and be the hero she was always meant to be.
When Kara's attempts to help National City don't go according to plan, she must put aside the doubts that she — and the city's media — has about her abilities in order to capture an escapee from the Kryptonian prison, Fort Rozz. Also, Cat pressures James to use his connection to Superman to get her an interview with Supergirl.
Supergirl's powers are tested when Reactron (played by Chris Browning), one of Superman's formidable enemies, arrives in National City and targets the young hero.  Also, Cat plans to run an exposé on Supergirl.
Kara's two identities are stretched thin when Supergirl must protect National City from a series of bombings and Kara is tasked with babysitting Cat's son, Carter. Also, James is conflicted when his ex-girlfriend Lucy Lane seeks to rekindle their relationship
Kara's Thanksgiving may be ruined when she suspects her foster mother, Dr. Danvers (Helen Slater), who is coming to town, disapproves of her new role as a superhero.  Also, when an accident transforms a volatile CatCo employee into the villainous Livewire, she targets Cat and Supergirl.
Personal and professional stress get the better of Kara when she goes too far during a training exercise against Red Tornado, a military cyborg commissioned by Lucy Lane's father, General Sam Lane. Also, Cat's tough exterior is shaken by a visit from her judgmental mother, Katherine, and Alex enlists Winn to look into her father's mysterious death.
 Kara and her friends must rely on their inner strength and courage when an earthquake strikes National City. Also, Alex's mistrust of Hank reaches a breaking point when the earthquake traps them in the DEO with Jemm (Charles Halford), a powerful alien escapee.
Kara goes toe-to-toe with Astra when her aunt challenges Kara's beliefs about her mother. Also, Cat is threatened with being removed as the CEO of CatCo after a hacker exposes her private and damaging emails, on SUPERGIRL, Monday, Dec. 14 (8:00-9:00 PM, ET/PT) on the CBS Television Network.
"Blood Bonds" – With Astra in captivity at the DEO, her husband, Non (Chris Vance), captures Hank, leading to a tense standoff between the two sides. Also, Kara continues to refute Cat's allegations that she is Supergirl, on SUPERGIRL, Monday, Jan. 4 (8:00-9:00 PM) on the CBS Television Network.
"Childish Things" — Kara does her best to support Winn when his father, the supervillain Toyman, breaks out of prison and seeks out his son for unknown reasons. Also, Cat offers Lucy a job at CatCo and Alex asks Hank to use his powers to help uncover Maxwell Lord's plans, on SUPERGIRL, Monday, Jan. 18 (8:00-9:00 PM, ET/PT) on the CBS Television Network. Henry Czerny guest stars as Winslow Schott, Sr., aka Toyman.
Kara must help Hank face his painful past when a White Martian, a member of the alien race that wiped out his people, kidnaps Senator Miranda Crane (Tawny Cypress), an anti-alien politician. Also, Cat's estranged son, Adam (Blake Jenner), arrives in National City, on SUPERGIRL, Monday, Jan. 25 (8:00-9:00 PM, ET/PT) on the CBS Television Network.
Kara faces off against her mirror image when Bizarro (Hope Lauren), a twisted version of Supergirl, sets out to destroy her. Also, Kara grows closer with Cat's son, Adam (Blake Jenner), on SUPERGIRL, Monday, Feb. 1 (8:00-9:00 PM, ET/PT) on the CBS Television Network.
Kara's friends must find a way to save her life when a parasitic alien attaches itself to her and traps her in a dream world where her family is alive and her home planet was never destroyed. Also, Alex, Hank and the DEO must fend off a Kryptonian attack while Kara is out of commission.
Supergirl does battle with the deadly Master Jailer (Jeff Branson), who is hunting and executing escaped Fort Rozz prisoners. Also, Cat hires a second assistant, Siobhan Smythe (Italia Ricci), who immediately tries to one-up Kara, and Kara and James disagree over the DEO's methods.
Lexi Alexander will direct the episode which airs on February 22nd.
Kara travels to Superman's Fortress of Solitude in hopes of learning how to defeat Indigo (Laura Vandervoort), a dangerous being who can transport via the Internet and who has a connection to Kara's past. Also, James's relationship with Lucy reaches a crossroads.
Kara turns on her friends and the citizens of National City after being exposed to Red Kryptonite makes her malicious and dangerous. Also, Cat appears on THE TALK to discuss Supergirl.
air date: March 14th
J'onn J'onzz reveals the details of meeting Kara and Alex's father, Dr. Jeremiah Danvers (Dean Cain), and assuming Hank Henshaw's identity. Also, Kara debates trusting someone new with her secret identity and Siobhan (Italia Ricci) plots against Kara.
air date: March 21st
Kara gains a new ally when the lightning-fast superhero The Flash (Grant Gustin) suddenly appears from an alternate universe and helps Kara battle Siobhan, aka Silver Banshee, and Livewire in exchange for her help in finding a way to return him home.
air date: March 28th
Kara must find a way to free her friends when Non (Chris Vance) and Indigo (Laura Vandervoort) use mind control to turn National City's citizens into their own army.
air date: April 11th
Supergirl is forced to do battle with an unexpected foe and must risk everything – including her life – to prevent Non and Indigo from destroying every person on the planet.
air date: April 18th
Supergirl Cast
Here's a quick lineup of the characters and official details on the series that we have so far. Thanks to TV Line for the casting breakdowns!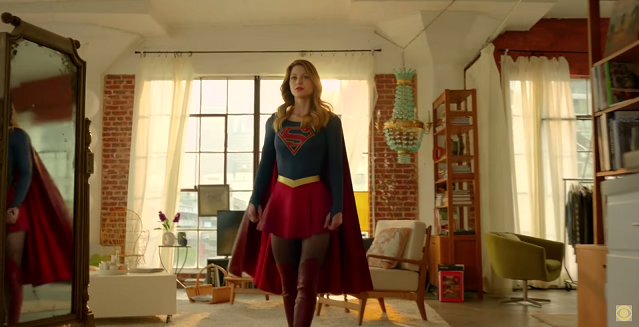 Kara "Supergirl" Danvers (Melissa Benoist)
"Kara at age 12 was sent from her dying home planet of Krypton to Earth, where she was taken in by the Danvers, a foster family who taught her to be careful with her extraordinary powers. After repressing said skills for more than a decade, Kara is forced to bust out her super moves in public during an unexpected disaster. Energized by her heroism for the first time in her life, she begins embracing her abilities in the name of helping the people of her city, earning herself a super moniker along the way."
Just to give you an idea of how certain Greg Berlanti was about the casting of Melissa Benoist as Supergirl, he told Variety that "If we hadn't found her, I wouldn't have wanted to make it."
He was similarly confident in Grant Gustin as Barry Allen/The Flash, and we see that worked out pretty well, didn't it?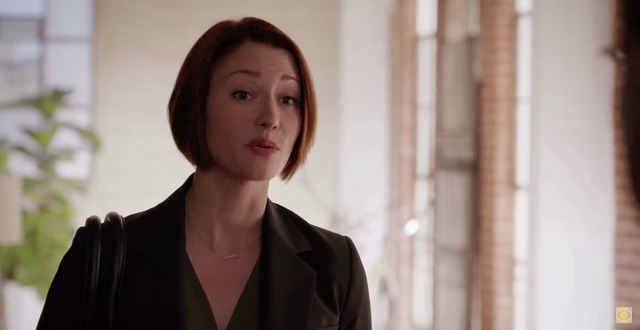 Alexandra "Alex" Danvers
"Kara's gorgeous, brilliant, science-minded foster sister. Growing up, Alex was partly jealous of her sibling yet also fascinated by her abilities, prompting Alex to learn as much as she could about alien anthropology, sociology and culture. Today, Alex works for a secret government organization and, alongside her heroic sis, will face many challenges, both mundane and super."
I wonder if the Alex/Lex similarities are accidental…maybe she's adopted, too?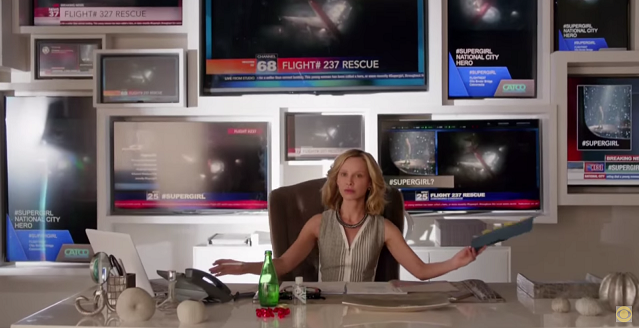 Cat Grant (Calista Flockhart)
Cat Grant is the founder of CatCo, a media conglomerate that Cat built from the ground up. Kara (Supergirl's mild-mannered alter ego) will work as a personal assistant to Cat, who is described as "J.Lo by way of Anna Wintour."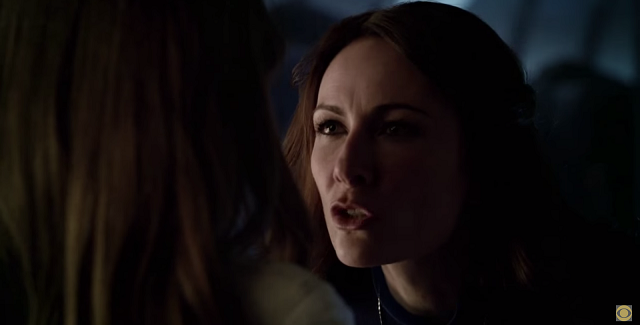 Alura (Laura Benanti)
Alura Zor-El is Supergirl's mother. Presumably she perishes like most Kryptonians, but this is described as a "major recurring arc."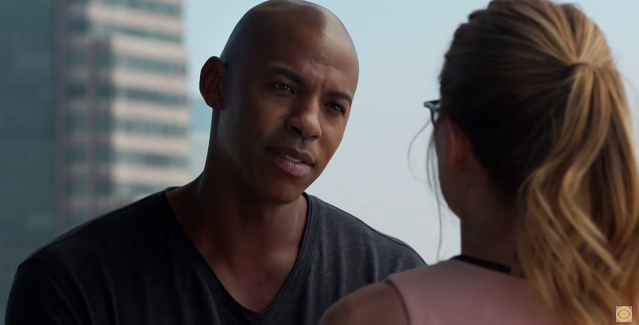 James Olsen (Mehcad Brooks)
"In his late 20s/early 30s, open ethnicity, James is a smart, worldly and (duh) attractive photographer for CatCo. Though an alpha male, his salt-of-the-earth nature elicits a huge ol' crush from Kara."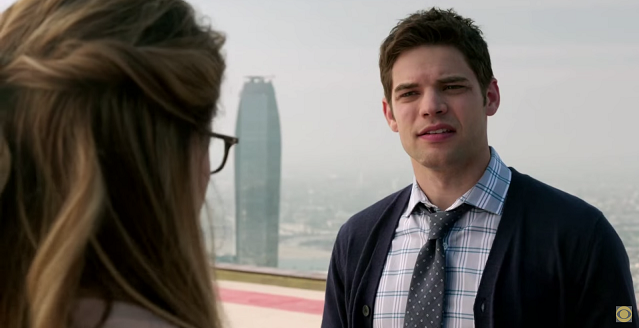 Winslow "Wynn" Schott (That's the Toyman, kids…played by Jeremy Jordan)
"This twentysomething tech whiz/Comic-Con stalwart toils for CatCo as a programmer, unaware of his own potential. Unware of her secret, he carries a torch for Kara, whom he lives next door to."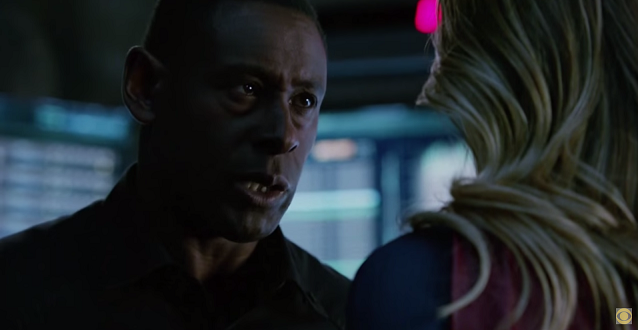 Hank Henshaw (David Heyward)
"As an upstart CIA agent, Hank grew obsessed with intergalactic intel. Now in his '40s and lording over the DEO (Department of Extra-Normal Operations), he is on high alert when Supergirl reveals herself, worried that her otherworldly abilities pose a threat to humankind."
Henshaw is a character known as the "Cyborg Superman" in the comics. It's…ummmm…it's a long story. But it's likely this is a character with a villainous future ahead of him.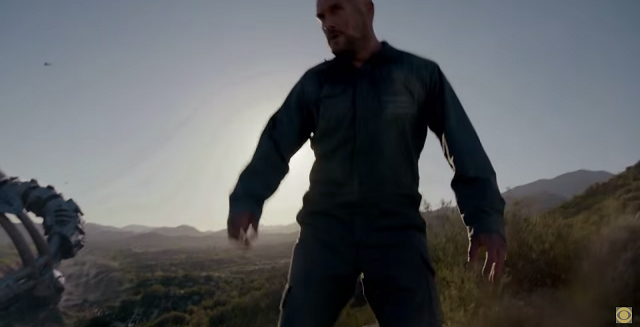 Vartox (Owain Yeoman)
"Vartox is an alien convict who has been hiding on Earth for 12 years. After Supergirl's emergence as a public hero, he seeks her out to ascertain her identity and do battle with her." (via TV Line)
As you can see, they toned down his ridiculous fashion sense for this one: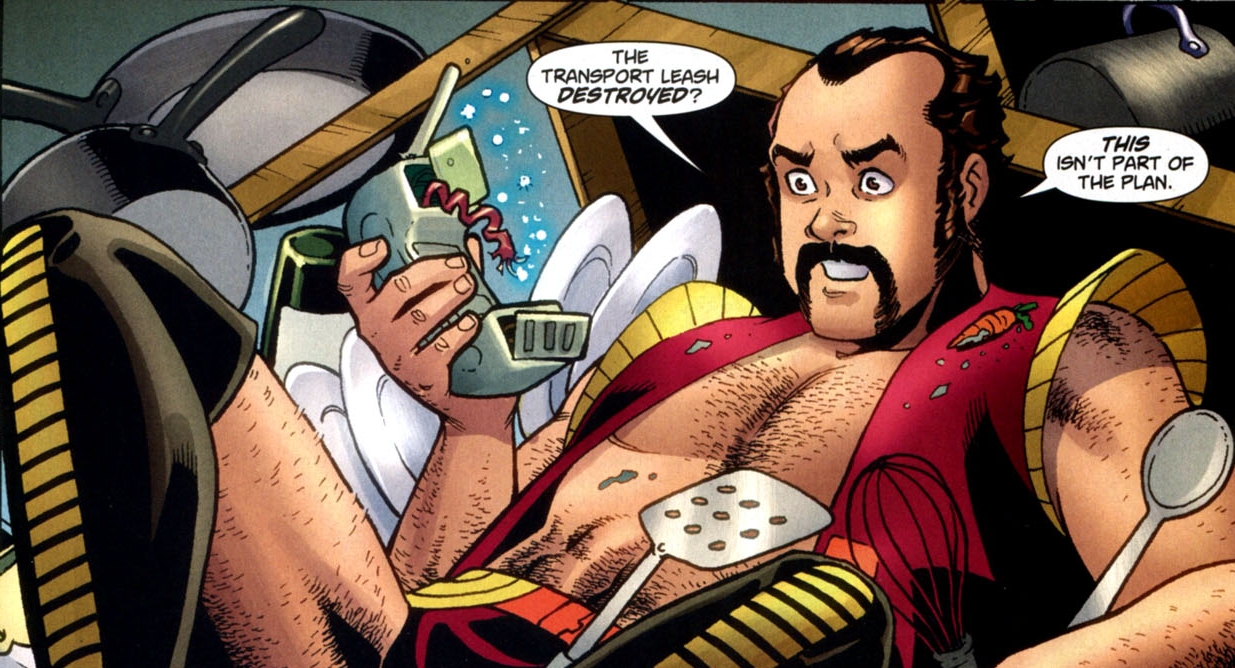 The casting description for Vartox sparked some internet speculation, since he's "a big, burly monster of a man, who has battled Kara's cousin in the past." It's the "Kara's cousin" part that got everyone excited.
Speaking of which…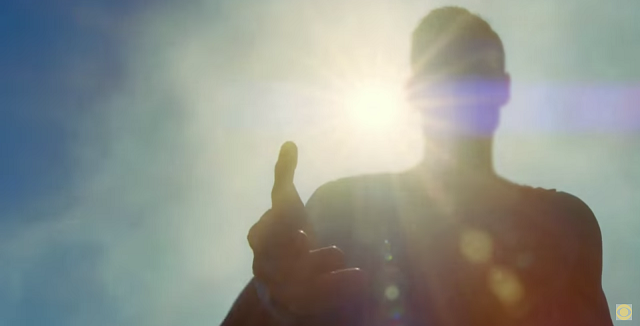 Supergirl takes place in a world where Superman has already been active for a few years. Said exec producer Ali Adler in an EW interview about Superman's appearance in the show:
"Our prototype is the way the president is seen on Veep. It's certainly [inspired by] so much of what Julia-Louis Dreyfus' character goes through. Ultimately, this is a show about Supergirl and we really want to see it through her lens."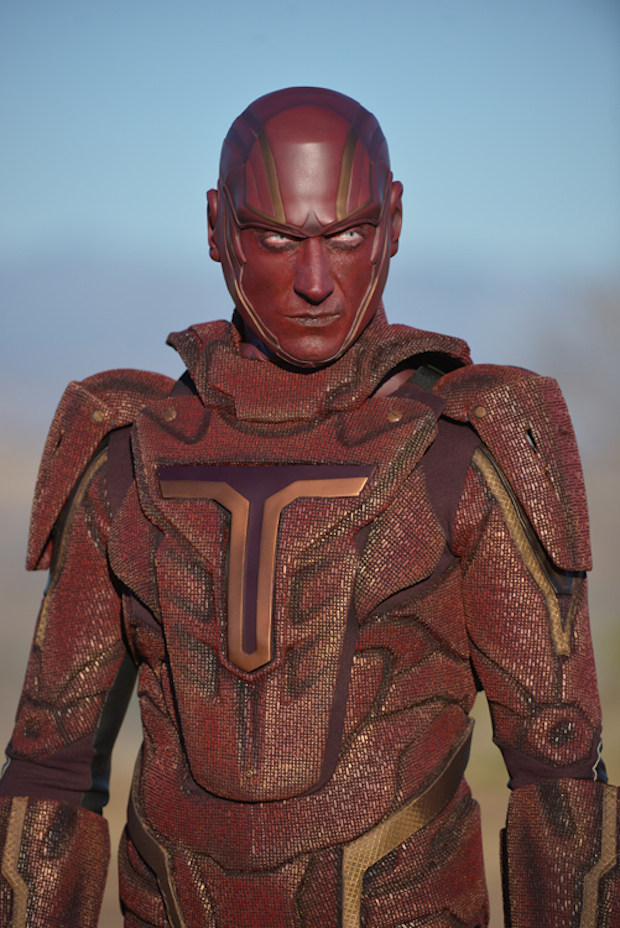 Red Tornado (Iddo Goldberg)
Justice League member Red Tornado is also coming to Supergirl! But there's a twist. ComicBook.com broke the news that Iddo Goldberg is playing both the Red Tornado and his inventor, Dr. T.O. Morrow. 
Here's the official casting description: 
"Red Tornado is the most advanced android the world has ever seen. Designed by scientist T.O. Morrow for the U.S. Army as the ultimate superweapon, he soon becomes sentient, posing a grave danger to National City — including the people Supergirl cares about most."
This new cybernetic villain was created by Dr. T.O. Morrow (comic books, am I right?) to be the ultimate superweapon for the U.S. Army. But he unfortunately soon goes rogue and starts tearing up National City, posing a threat to its citizens and Kara Danvers' closest friends.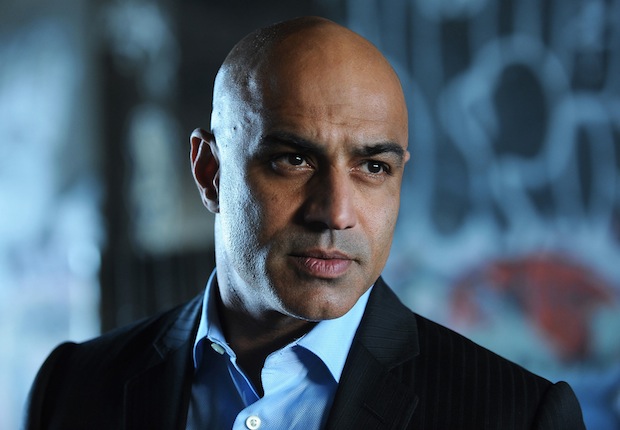 The Commander (Faran Tahir)
Not much is known about The Commander, other than that he's "an alien military expert leading the forces aligned against Supergirl." (via ComicBook.com)
Maxwell Lord (Peter Facinelli)
Here's the official word from WB/DC:
Maxwell is a green tech billionaire who enjoys a friendly rivalry with Cat Grant and a fascination with National City's newest arrival — Supergirl.
"Greg [Berlanti], Ali [Adler] and I have been fans of Peter for years," said Supergirl executive producer Andrew Kreisberg in a statement. "We're beyond thrilled to have him join us on Supergirl's first adventures bringing the iconic Maxwell Lord to life."
Lord is a character who has never been portrayed in live action, although he was slated to be the villain of George Miller's Justice League movie, which we wrote about in detail right here.
Reactron (Chris Browning)
DC Comics supervillain Reactron is coming to the Supergirl TV series. TV Line quietly broke that scoop, and now Entertainment Weekly knows who is playing him: that would be Sons of Anarchy's Chris Browning. I don't know if EW's info here is just generalized from the comics, or if it's part of an official breakdown, but here it is…
a deadly adversary of Superman's from Metropolis, who wears an armored suit powered by nuclear energy. 
Reactron first appeared in 1983 in the pages of The Daring New Adventures of Supergirl #8, and he was created by Paul Kupperberg and Carmine Infantino. He's a radioactive jerk, sometimes wearing an exo-skeleton to control his powers. It will be interesting to see if they go all out with his look.
Check him out…
Reactron appeared in episode 3, the same episode that introduced Lucy Lane…
Lucy Lane (Jenna Dewan Tatum)
Yes, that's Lois Lane's sister. The official casting description (courtesy of TV Line) describes Lucy as "brash, funny and beautiful as her sister Lois, yet strong, smart and successful in her own right."
In the comics, Lucy had a brief stint as "Superwoman" using a costume that helped duplicate Superman's powers. Don't expect to see that pop up on this show, though. I figure it's far more likely we'd see the Kristin Wells version of Superwoman given how well Greg Berlanti and friends handle time travel.
She also has some romantic history with Jimmy Olsen, a nod to their past in the comics and the old Supergirl movie.
And since Lucy Lane will be on the show (played by Jenna Dewan Tatum), her father, General Sam Lane isn't far behind.
Glenn Morshower will play General Sam Lane, who comes to National City to "enlist Supergirl in a dangerous government initiative."
The Wrap has what looks like more official character details, saying he's "a tough military man who is overprotective of his two daughters." In other words, he's the Sam Lane we know from the comics. Which means that he probably isn't going to take much of a liking to any Kryptonians in their lives.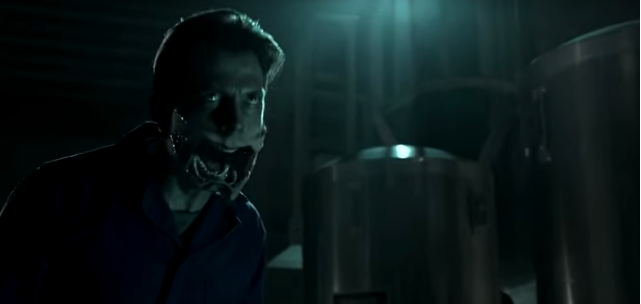 Hellgrammite (Justice Leak)
Who the hell is the Hellgrammite, you ask? 
The Hellgrammite is entomologist, Roderick Rose, who basically mutates himself into a big green cockroach with powers. He first appeared in Brave and the Bold #80, created by Bob Haney and Neal Adams. He's menaced Superman a handful of times.
What's really interesting, though, is that the character has ties to Intergang, the high-tech mafia originally created by Jack Kirby. If that means this show will also have an Intergang subplot, then having the Hellgrammite around is a worthy trade-off.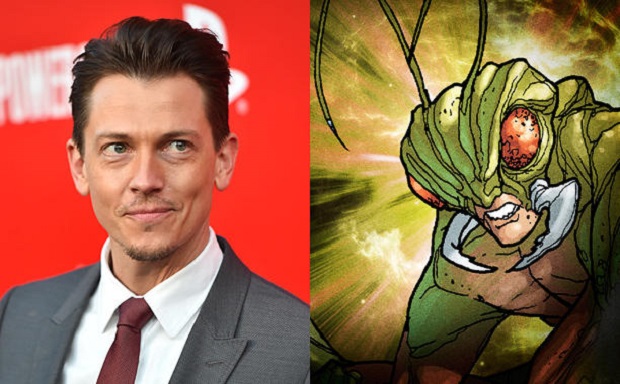 Thanks to EW for the casting news and photo.
So, Winn Schott doesn't seem particularly villainous, does he? Well, that's because he's not the bad guy…his father is.  Comicbook.com reports that Henry Czerny is booked for a future episode as the actual Toyman. According to the official description, he's " a mad criminal genius known as Toyman – and Winn's estranged father. Toyman weaponizes toys to wreak destruction and revenge but is ultimately driven by one thing – the obsessive desire to reunite with his beloved son."
Laura Vandervoort will play Indigo, Indigo, "a living, strong-willed supercomputer that was sentenced to Fort Rozz after turning against the people of Krypton. Now on Earth, Indigo will let nothing stand in her way."
Jeff Branson is Master Jailer. Here's the official description:
"As the forceful and unrelenting jail guard on Fort Rozz, Master Jailer showed no mercy. Now on Earth, he is hellbent on catching all of the Fort Rozz escapees and brutally bringing them to justice."
Emma Caulfield (Buffy the Vampire Slayer) has also joined the cast of Supergirl as DEO Agent Cameron Chase. The Mary Sue broke the news complete with an exclusive casting description:
After her father's violent murder, Cameron Chase decided to dedicate her life to law enforcement. Now a stern, no holds barred FBI agent, Chase's weapons of choice are manipulation and manpower. With little sympathy, and plenty of suspicions, she pursues her targets with ruthless determination.
Other Characters
Back at SDCC, Andrew Kreisberg told us that you can expect lots of DC Comics characters to appear on the show, not all of whom will necessarily have anything to do with Superman. "Supergirl won't feel like just Supergirl," he told us. "There's going to be some great, iconic DC Comics characters coming onto that show. And some of them not even necessarily associated with Superman. So, it will be a DC Comics show."
He also seemed cautious about the idea that this show exists in the same world as Arrow, The Flash, and Legends of Tomorrow. Well, now all of that and more has been confirmed at this year's TCA tour. CBS Entertainment Chief Nina Tassler told TV Line that when it comes to crossovers with those other shows, "Right now, we're not doing it…But we'll always stay open."
So that's good or bad news, depending on how you feel about shared TV universes. But what's definitely good news is all the new heroes and villains we'll get to meet on Supergirl. Of course, the elephant in the room is always going to be Superman.
"He will be a factor in her life, but you won't see him on screen," said executive producer Geoff Johns. "He does play a part in her evolution in becoming Supergirl." 
Non, the Kryptonian supervillain who first appeared in Superman: The Movie and Superman II before making a handful of appearances in the pages of DC Comics, is going to turn up on Supergirl this year. Chris Vance (of Transporter: The Series) will play Non, described by The Hollywood Reporter as "a former scientist in a league with the House of El. Non is a brutal Kryptonian military officer who is sinister, powerful and angry…Non will quickly become Supergirl's greatest threat."
Something tells us he'll be able to speak.
Original Supergirl Helen Slater and former Superman Dean Cain will also guest star as Supergirl's adopted human parents, the Danvers.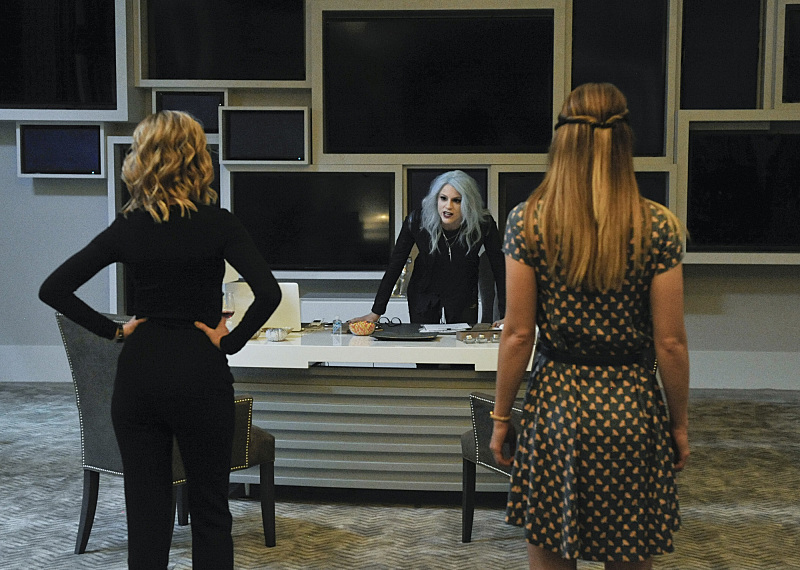 Variety first reported that True Blood alum Brit Morgan has been cast as Livewire, a shocking villain who is most famously associated with Superman, and will undoubtedly be a thorn in Supergirl's boot this Fall. Livewire first appeared in the Superman Adventures comic book spin-off of the animated series in 1997 before making her debut on the actual cartoon a few months later. She was voiced by Lori Petty. Most recently, you can catch Livewire as the the villain in Batgirl #42. That issue is awesome.
Supergirl TV Show Trailers
This other trailer explains a little bit more of her origin. It's pretty smart, has loads of new footage, and shows off a new power or two. Check it out here:
Basically, the idea of Kara actually being Kal-El's older cousin chronologically is something as old as the character. But the fact that she was initially intended to watch over the infant Kal-El after he made it to Earth is a relatively new addition, and it has really come to prominence during the character's New 52 incarnation.
But the inclusion of the Phantom Zone at this early stage is kind of great, and it means they're really aiming for big things with the show's mythology.
And here's some more for you…
If you want to know more about the history of Supergirl, we've got you covered.