News
Suicide Squad Movie Reveals New Images of Jared Leto as The Joker
Here's the first full body image of Jared Leto as the Joker from the Suicide Squad movie.

Empire has a new look at Jared Leto as the Joker from the Suicide Squad movie in all his unfashionable glory. This probably isn't going to ease anybody's fears about the Joker looking like one of Walter White's customers, unfortunately.
Leto spoke to the magazine in rather descriptive fashion about what it took to get into the mind of one of comics' most notorious villains.
"I took a pretty deep dive. But this was a unique opportunity and I couldn't imagine doing it another way. It was fun, playing those psychological games. But at the same time it was very painful, like giving birth out of my prick hole."
Thanks for that, Jared.
Here he is…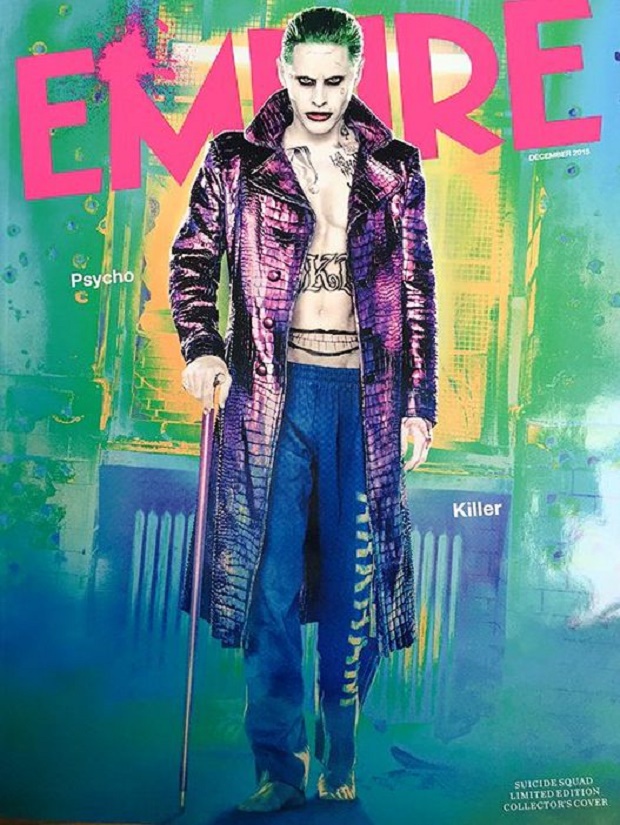 Are…are those Arkham sweatpants? Seriously?
Director David Ayer also released an image that teases the origin of Harley Quinn.
— David Ayer (@DavidAyerMovies)
October 26, 2015
Our original story from April, when Mr. Leto was first officially revealed as the Joker, follows.
Well, this is certainly different. In honor of the Joker's 75th anniversary, Suicide Squad movie director David Ayer unveiled the first look at Jared Leto as the Joker. 
Check it out:
— David Ayer (@DavidAyerMovies)
April 25, 2015
This isn't quite what we were expecting, but in a way it makes sense. Keep in mind that the Joker of the newly minted DC Comics cinematic universe has been around the block a few times, and has presumably already had a career fighting Batman. Plus, from what we understand, he starts the film in prison, where he's probably been for awhile.
[related article: 10 Times The Joker Almost Nailed Batman]
The iconic purple glove is there, and the tattoos are pretty cool. Well…some of them are. The lettering on the "ha-ha-ha" recalls the font used in house ads for The Killing Joke, so that's something, I guess. At least I think that's where it's from.
If nothing else, this rather radical reinvention should help distance Leto's Joker even further from Heath Ledger's portrayal, as that's a hard shadow to step out of. The fact that his whole body is white would seem to indicate they're going with the "dipped in chemicals" origin, as opposed to the "mysterious psycho in runny makeup" backstory from The Dark Knight.
Here's another, slightly larger look at Jared Leto as the Joker: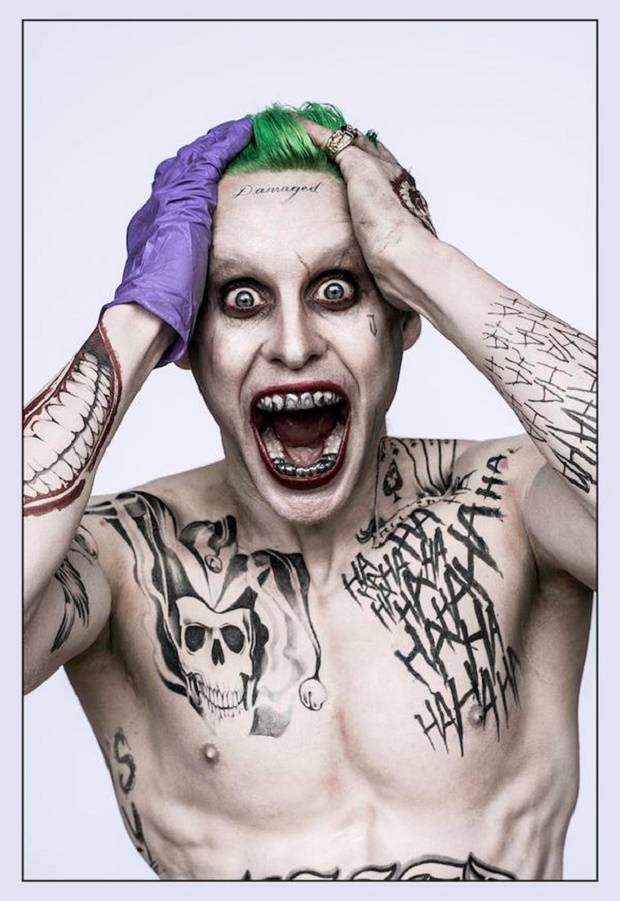 The Suicide Squad movie opens on August 5th, 2016. It also stars Will Smith as Deadshot and Margot Robbie as Harley Quinn. The full DC Comics superhero movie release calendar can be found here.