News
Suicide Squad Extended Cut Trailer Has Lots of Joker
There will be a Suicide Squad extended cut with extra scenes coming to Blu-ray and Digital HD.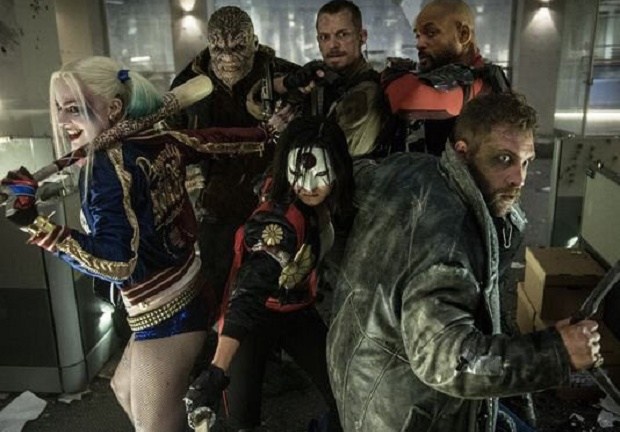 Wondering where the rest of Suicide Squad went? You're going to find out when the Suicide Squad extended cut arrives on Blu-ray and Digital HD, with extra footage.
Suicide Squad Extended Cut Trailer
Suicide Squad Extended Cut Release Date
You'll be able to watch the Suicide Squad extended cut on Digital HD from November 15th, and it will be available on Blu-ray as of December 13th. You can pre-order it on Amazon at this link.
Suicide Squad Deleted Scenes
There's a lot of speculation about what went on in the editing room with Suicide Squad. There were a number of reshoots made after the critical reaction to Batman v Superman: Dawn of Justice, and even fans of the Suicide Squad movie admit to a certain inconsistency in tone from one scene to the next. And with Jared Leto making noise about how much of his Joker was cut out of the movie, there's a good chance that there's a lot we haven't seen.
While we're usually cautious about what we run from Reddit (here's the source of these scenes), some of these scenes seem to have been glimpsed in trailers, TV spots, and promotional images, so they're quite plausible. Here they are…
"In early cuts, the movie's opening detailed June Moon's posession by Enchantress in real tome. Reshoots reshuffled the scene to be later in the movie in flashback form in favour of a new opening centered on Deadshot."

"Deadshot in the prison cell, watching the rain fall and thinking about his daughter."

"El Diablo observing the flame of a lit match, before putting it out due to his vow to no longer use his powers."

"El Diablo being escorted to a training center by being placed in a tube that fills with water to quel his flames, and then unceremoniously dropped onto the ground."

"Early interviews showed Captain Boomerang's racism and sexism, but the movie is light on examples of such behaviour, which have apparently been deleted. Most of them were reportedly directed at Katana, to whom Boomerang is attracted to."

"Early reports indicated more backstory for Killer Croc, revealing that he entire life as a social outcast due to his physical appearancr and has convinced himself that he is beautiful in his own way. Croc crossed paths with Batman while working as muscle-for-hire for numerous Gotham's crime bosses, while secretly planning to take over one day. There were also scenes displaying his affinity for making sculptures out of discarded materials. Aside from jokes about Croc viewing himself as 'beautiful,' one of these were retained in the final cut."

"Also deleted was a scene where he becomes sick at the helicopter escort to Midway City, throws up half-digested pieces of goat, and then eats them again, disgusting the nearby Navy Seals."

"Early cuts reportedly included a passing reference to Slipknot being serial rapist, likely to further paint him as unsympathetic to the audience ahead of his own death."

"More scenes of Rick Flag and June Moon's romantic relationship, including him reading the files of the Suicide Squad recruits after Waller delivers them to him."

"Another scene where Flag and Moon are out on a date."

"Extended scene of Joker interrogating Captain Griggs, including the line, "I can't wait to show you my toys," which was in every trailer, but was removed from the movie."

"Joker and his men escaping after shooting up a restaurant. Harley, who is already affiliated with the Joker, follows them on a motorcycle and intercepts their car. Joker bangs his head against the glass in frustration."

"Joker and Harley then get into a fight, which ends with Harley pointing a gun at Joker's head. Joker sweet-talks Harley into lowering the gun, charming her, then backhands her across the face. Afterwards he sweet-talks her again and they kiss."

"Extended Ace Chemicals scene where Harley jumps into the chemicals. More bits of dialogue from Joker."

"Extended Batmobile chase scene with more interaction between Joker and Harley. One of the examples, presented in all the trailers, is the Joker punching the roof of his car."

"Harley using her baseball bat as a mock gun to play shoot at invisible foes."

"Extended scene of Joker breaking into the nanobomb manufacture facility to arrange for Harley's neck-bomb to be disabled."

"More interactions between Harley and Boomerang. Early cuts apparently included her really disliking him despite growing affectionate to all the other members of the squad."

"Extended bar scene with Harley taking everyone's orders. Deadshot calls for a shot, Katana wants whiskey, Croc and Boomerang settle for beer, Harley asks Diablo wants and he prefers water which she jokes, "is a good idea." The scene was featured in the trailers, but in the movie it cuts directly to Deadshot's speech about them all almost pulling the mission off."

"Removed several scenes with the Joker to repaint his relationship with Harley as more loving rather than abusive."

"Joker and Harley get into an argument after he rescues her in the hijacked helicopter. In early cuts he reportedly pushes her out to kill her, then the helicopter gets shot down. This was apparently reworked into the helicopter getting shot down first and Joker pushing her out to save her."

"Joker returns during the final battle in the subway station, face half-burnt from the helicopter crash, which apparently leads to a brief altercation with the Squad. He calls for Harley to escape with him but she refuses for once in order to help her friends, and the Joker escapes after throwing a live grenade at the group to cover his own escape."
So maybe Suicide Squad will get the kind of R-Rated Ultimate Edition treatment that Batman v Superman did? We'll find out soon enough.
Suicide Squad Trailer
The weekend might be over, but Warner Bros. is already helping you fight a case of the Mondays with their brand new and wicked Suicide Squad trailer. The latest bit of marketing continues the trend of having slick, breezy, and overtly fun energy in the Suicide Squad films. The pop tunes in question here are a cover of Leslie Gore's "You Don't Own Me"–which suggests that WB might be taking a page out of Showtime's marketing for Penny Dreadful season 3, which used the exact same song to haunting effect–and The Sweet's "Ballroom Blitz."
But most of all, after Batman v Superman: Dawn of Justice, the message is clear: we're going to have a wild ride this time! Now, enjoy it, you Jokers!
Here are the earlier trailers…
In case you didn't notice, there's an absolute ton of DC Comics mythology stashed around in the margins of this trailer. If you want a detailed breakdown of all the craziness in it, click here!
We have a detailed analysis of the trailer right here.
And here is the recut international trailer.
So, there's not much new footage in this international trailer, but it's better than nothing, right?
Get ready for an endless parade of TV spots for this one over the next month or so as Warner Bros. ramps up the promotional machine. And now the first two have arrived.
There's not much in the way of new footage here, just a few seconds here and there, but if you need your fix, this is one way to get it.
Here's the first…
…and here's the second:
Check out a brief clip showcasing the "worst heroes ever" right here…
The final trailer for Suicide Squad, a sizzle reel of the insane action packed into this supervillain flick, arrived during SDCC 2016. Watch it below:
Another trailer for Suicide Squad arrived during SDCC 2016 and it's all about Mr. J himself, who dons pretty much every ridiculous outfit imaginable in the 1-minute video. Check out the Joker trailer below:
These kind of trippy Suicide Squad character trailers are a little retro and a lot of weird. Check 'em out…
— Suicide Squad (@SuicideSquadWB)
July 18, 2016
— Suicide Squad (@SuicideSquadWB)
July 17, 2016
— Suicide Squad (@SuicideSquadWB)
July 17, 2016
— Suicide Squad (@SuicideSquadWB)
July 17, 2016
— Suicide Squad (@SuicideSquadWB)
July 17, 2016
— Suicide Squad (@SuicideSquadWB)
July 17, 2016
— Suicide Squad (@SuicideSquadWB)
July 17, 2016
— Suicide Squad (@SuicideSquadWB)
July 16, 2016
— Suicide Squad (@SuicideSquadWB)
July 16, 2016
— Suicide Squad (@SuicideSquadWB)
July 16, 2016
— Suicide Squad (@SuicideSquadWB)
July 16, 2016
Suicide Squad Rating
There had been some speculation that Suicide Squad could go the Deadpool route and chase an R-rating, although that was never the director or studio's intention. It would have made some sense considering the subject matter, but that's not happening. The Suicide Squad movie is officially a PG-13 affair for "sequences of violence and action throughout, disturbing behavior, suggestive content and language."
But hey, if you're a proponent of R-rated superhero movies, take heart! Batman v Superman: Dawn of Justice was PG-13, and that hasn't stopped Warner Bros. from putting out an R-rated edition on the Blu-ray. So really, anything can happen!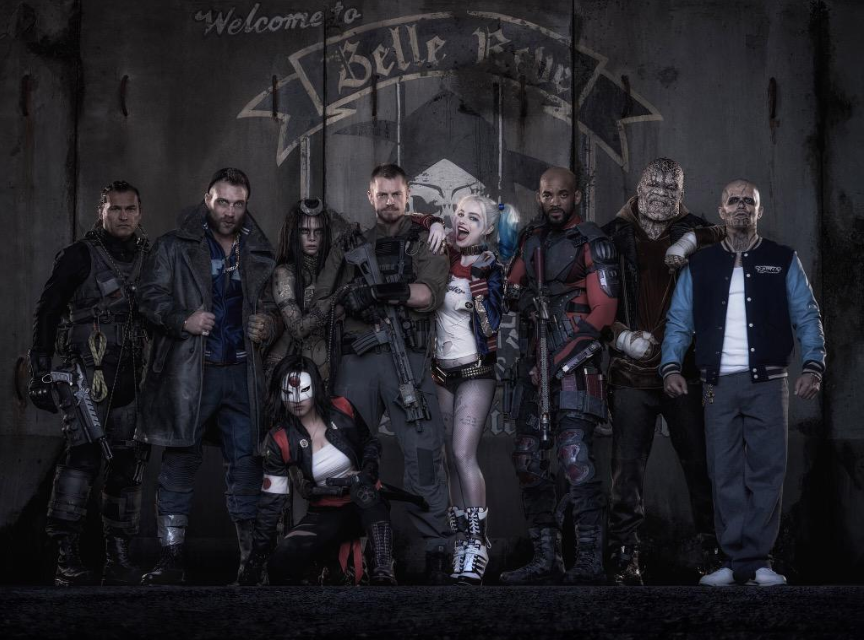 Suicide Squad Movie Cast
From the left we have Adam Beach as Slipknot, Jai Courtney as Captain Boomerang, Cara Delevingne as Enchantress, Karen Fukuhara as Katana, Joel Kinnaman as Rick Flagg, Margot Robbie as Harley Quinn, Will Smith as Deadshot, Adewale Akinnuoye-Agbaje as Killer Croc, and Jay Hernandez as Chato Santana: El Diablo (he may be the Joker's cellmate, too).
Not pictured here is Viola Davis as Amanda Waller. Waller is the government liaison that keeps Task Force X in line and sends them on their missions. There are reports that she's signing on for multiple DC movies, potentially making Amanda Waller the "Nick Fury" of the DC Cinematic Universe.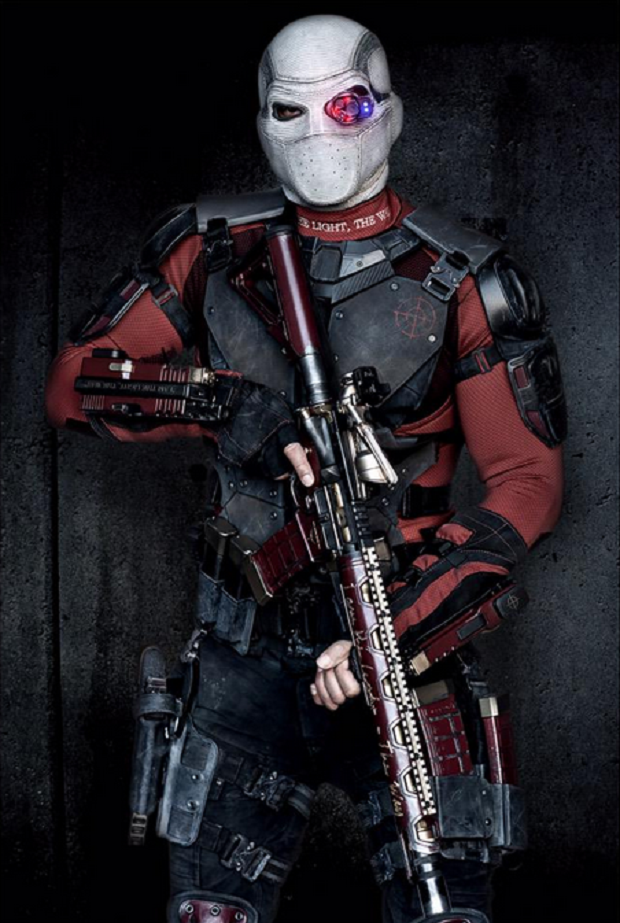 Supposedly, we'll also meet minor DC villains like Blockbuster (who showed up in an earlier draft), Live Wire, Killer Frost, and King Shark during the course of the movie, too. Expect them to mostly just show up in various prison sequences (at iconic DC Comics location Belle Reve prison, no less) or to be used as cannon fodder.
Because trust me, the Suicide Squad can never have enough cannon fodder.  
Suicide Squad Movie Plot
ScreenCrush revealed a synopsis via DC Collectibles that reveals a little more about the movie. Interesting to note that there's no mention of the Joker, which may be an indication of how small his role in the film actually is.
It feels good to be bad…Assemble a team of the world's most dangerous, incarcerated Super Villains, provide them with the most powerful arsenal at the government's disposal, and send them off on a mission to defeat an enigmatic, insuperable entity. U.S. intelligence officer Amanda Waller has determined only a secretly convened group of disparate, despicable individuals with next to nothing to lose will do. However, once they realize they weren't picked to succeed but chosen for their patent culpability when they inevitably fail, will the Suicide Squad resolve to die trying, or decide it's every man for himself?
Here's what else you need to know, though. The Suicide Squad is Task Force X, a secret government unit comprised of supervillains and mercenaries. They're offered a chance at redemption by running black ops missions for the US Government under the watchful eye of Amanda Waller. The problem is, these missions, well…they don't really expect you to come out of 'em alive. 
Oh, and if you try and defy orders and use this opportunity as a chance to escape? They have a solution for that. Each criminal is fitted with subcutaneous explosives that will quite literally blow their heads off if they try and return to their villainous ways. We imagine that this won't deviate too far from that concept, although Warner Bros. are reportedly trying to sell this as having some of the old Ocean's 11 charm.
But seriously, the whole Suicide Squad concept is a ridiculous bloodbath. So much so that we wrote an entire article about exactly that: See for yourself.
David Ayer has shared a little on Twitter about the story inspirations for the film, and he seems to be looking squarely at Jon Ostrander's lengthy tenure writing the comic. Check it out:
— David Ayer (@DavidAyerMovies) 
February 8, 2015
Ostrander's Suicide Squad comics of the late '80s and early '90s were an anomaly at DC Comics. Nobody was safe, the body count was far higher than was traditional at the time, and the book explored little known corners of the DC Universe. If that's the vibe that the movie is going for, I suspect we're in good shape.
In the meantime, Mr. Ayer has promised that he wants this movie to be like "The Dirty Dozen with supervillains" and has asked the question, "does a movie really need a good guy?"
That still doesn't shed much light on what the actual story might be, though, does it? Well, maybe a look at the villains might help.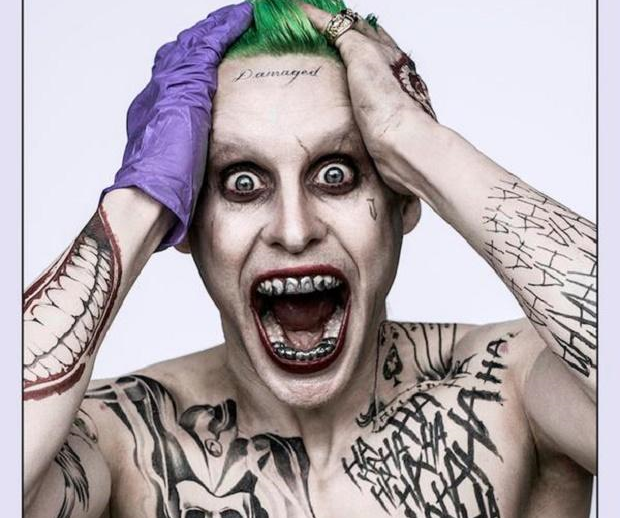 What About the Joker?
Jared Leto is playing the Joker in the film, and he certainly raised some eyebrows with his new look. Then again, the Joker's entire presence in this movie is worth raising an eyebrow over, because he comes with some serious baggage of his own.
The thing about the Joker is, he's never really been part of the world of the Suicide Squad, which, despite the flashy costumes, has always been more action movie than superhero movie. There's also the little matter of how disposable the team tends to be, and if there's one thing the Joker isn't (other than, y'know, sane), it's disposable. I do know that neither the Joker nor Harley Quinn were in an earlier draft of the movie (although a number of the other characters we're going to meet were, so there may still be some similarities). 
As for why he's here, it's simple economics. It looks like Warner Bros would like to front load the marketing of this, one of their less recognizable concepts, with big name villains like Mr. J, Harley Quinn, and the aforementioned Lex Luthor. From the trailers, it appears that the Joker will mostly appear in flashbacks, though, and he certainly doesn't appear to be a member of the actual Squad or a big bad for the movie. The same goes for Batman's involvement. It looks like those shots of him on the roof of the Joker's car are purely from flashback sequences.
Jared Leto has spoken out about his preparation for the Joker role, and he described the Joker as a "Shakespearean" character, which makes us wonder just what their plans are for him. It's clear that this Joker has a bit of a past. We know that the Batman of the DC Cinematic Universe has been operating in secret for many years, so it makes sense that he's clashed with the Joker on more than one occasion. You can imagine, for example, that his grill in the above picture is a result of having his teeth knocked out by Bruce Wayne on several occasions, and some of those tattoos indicate that he's been doing some hard time. In other words, he's not new to the supervillain game.
Of course, with the Joker comes Harley Quinn. From the trailers, it appears that Ms. Quinn won't be a fully formed supervillain when we meet her, and the movie will at least show us a little bit about how Mr. J gets inside her head and breaks her down. 
See what the director had to say about this:
— David Ayer (@DavidAyerMovies) 
February 5, 2015
Harley is a relative newcomer to the world of the Suicide Squad, only showing up in their DC Comics stories in the last five years or so. Why? Well, probably for the same reason that she's in the movie. It's an easy excuse to bring in a popular character like the Joker if the lesser-known Squad sees interest start to flag a little. Harley recently got her own comic book series, so DC used her time in the pages of Suicide Squad as a bit of a proving ground for the character. Don't be surprised if the same thing happens in the movies.
We'll update this article with more information as it becomes available!