News
Star Wars: New Details on Journey to The Force Awakens Series
We have new details on the Star Wars: Journey to The Force Awakens multimedia series!

It's been a big week for Star Wars news. Not only did we get the first details on the first Star Wars solo film, but we also learned that Disney will release 20 books this year that bridge the gap between Return of the Jedi and The Force Awakens. 
Slowly, more details about those 20 books, which as part of a series called Journey to The Force Awakens, are starting to trickle down from the galaxy far, far away. We have some updates for you:
First, StarWars.com announced the title of the first Marvel comic book series that will take place during this era. It's called Star Wars: Shattered Empire. And we even got some art from Phil Noto…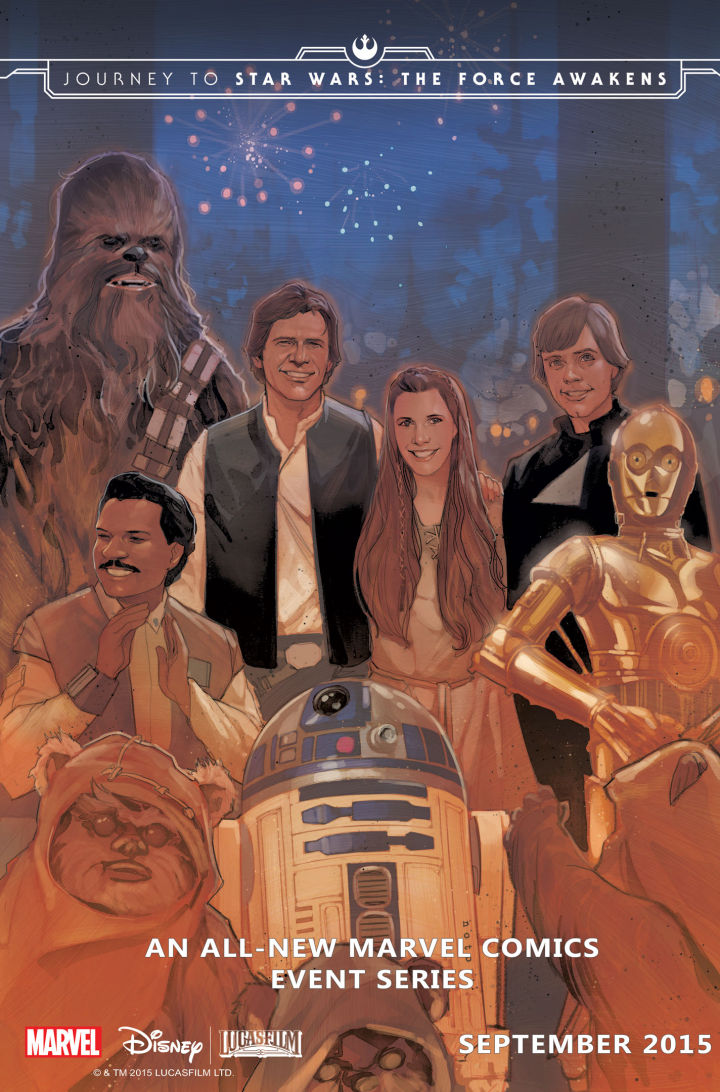 No story details or creative teams have been announced as of yet, but the book will arrive in Sept. 2015. From one what we can tell in this cover for issue #1, the series may pick up right after the Battle of Endor, events that were chronicled in the Legends book, The Truce at Bakura by Kathy Tyers. Of course, that isn't canon anymore. Who knows what Marvel will come up with. They're also planning a series about post-RoTJ events through the eyes of C-3PO. Even less details on that. 
The second bit of news hasn't been confirmed by StarWars.com, but we can assume it's not Sith trickery: Chuck Wendig will be the scribe of the recently announced Star Wars: Aftermath novel from Del Rey, according to this listing on the Random House website. Although Wendig might not be a household name, he has several books under his belt, including a couple of no-nonsense writing manuals. You can find his work on his official website. 
Wendig has been lobbying on Twitter for a chance to write a Star Wars novel since last Sept., and it looks like it's paid off:
— Chuck Wendig (@ChuckWendig)
September 4, 2014
He even got an endorsement from Jason Fry, who's already added some entries in Star Wars lore, and will pen a new Journey to The Force Awakens novel called The Weapon of a Jedi, a Luke Skywalker adventure:
— Jason Fry (@jasoncfry)
September 5, 2014
So if your dream is to write a Star Wars novel, maybe start tweeting about it? More details as we learn them!