News
New Star Wars Series Explores Empire to Jedi
Marvel's main Star Wars book is relaunching with Charles Soule and Jesus Saiz at the helm!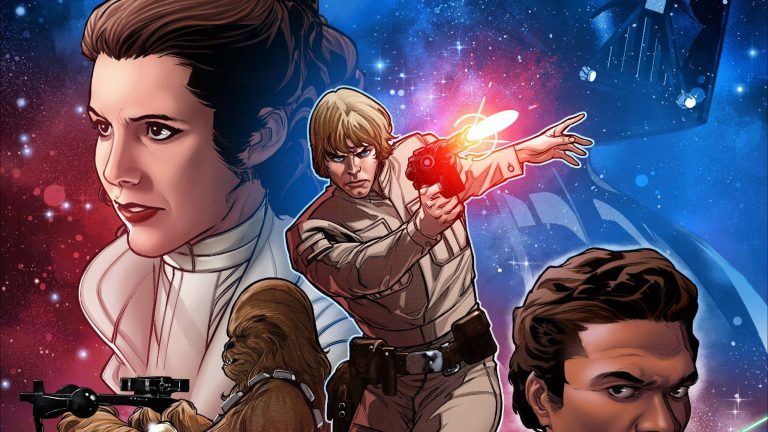 Marvel has been going through a bit of a deck-clearing with its Star Wars comics of late, leading many to wonder what the company was setting up. Now we know: announced at NYCC, 2020 will see a relaunch of the main Star Wars title, which will now be set between The Empire Strikes Back and Return of the Jedi. Veteran comic writer and novelist Charles Soule has been tapped to write the series.
Soule, whose early OGN, Strange Attractors, remains one of the best non-Batman comics ever published about a city, has spent a great deal of time working in the galaxy far, far away. He wrote Lando, Obi-Wan and Anakin, Poe Dameron, the second Darth Vader series, and is currently working on The Rise of Kylo Ren, an origin story to the new trilogy's main antagonist (maybe?).
His work on Darth Vader was a great surprise: while Soule is a talented and accomplished writer, he followed Kieron Gillen's definitive take on the villain by bringing Lord Vader back to his earliest days as a Sith, and he was enormously successful. The book continued Vader's reinvention away from the weepy emo teen of the prequels to an unstoppable force of extreme violence. The first story arc had Vader earn his Sith lightsaber by using the Force to rip down an entire dam and flood a city full of padawans. It's REALLY good. The idea of Soule working with post-Empire Vader is exciting, to say the least.
That same series also intertwined beats from Star Wars Rebels to create a new understanding of the way the Force operates. The Force is now more capable of manipulating time and space than even in the now-discarded extended universe novels and Vader's Palace on Mustafar is a locus of that energy.
Soule will be joined on the new book by Jesus Saiz, currently earning accolades for his work with Mark Waid on Doctor Strange. Joining them on covers is RB Silva, who is about to wrap up his work on Powers of X, where he got to draw Nimrod using skulls as puppets while he vamped about the meaning of existence. Saiz is excellent and an interesting departure from recent arcs of Star Wars, which were very reliant on photo reference.
Here's what Marvel has to say about the first issue:
STAR WARS #1Written by CHARLES SOULEArt by JESÚS SAIZCover by RB SILVA

"No…I am your father."

In the wake of the events following The Empire Strikes Back, it is a dark time for the heroes of the Rebellion. The Rebel fleet…scattered following a disastrous defeat at the Battle of Hoth. Han Solo…lost to the bounty hunter, Boba Fett, after being frozen in carbonite. And after being lured into a trap on Cloud City and bested in a vicious lightsaber duel against the evil Darth Vader, Luke Skywalker…learned the horrible truth about his past. Vader did not kill Luke's father Anakin–Vader is Luke's father! Now, after narrowly escaping the dark lord's clutches, and wounded and reeling from the revelation, Luke, Princess Leia, Lando Calrissian, the Wookiee Chewbacca and the droids C-3PO and R2-D2 must fight their way back to the Rebel Alliance—for the fate of the entire galaxy is at stake! After so many losses is victory still possible?  But, what Leia, Luke and their ragtag band of freedom fighters do not realize is that they have only traded one Imperial trap for another! Enter the cunning and vengeful Imperial Commander Zahra, at the helm of the Tarkin's Will!

Writer Charles Soule (Darth Vader) and artist Jesús Saiz (Doctor Strange) are taking us all to the galaxy far, far away next year! With covers by RB Silva (Powers of X)!

THE GREATEST SPACE ADVENTURE OF ALL TIME…BEGINS THIS JANUARY!!!
You can check out the cover for issue #1 below: