News
Star Trek: Discovery Star Sonequa Martin-Green on Status with The Walking Dead
Sonequa Martin-Green discusses what her historical starring role in Star Trek: Discovery means for Sasha on The Walking Dead.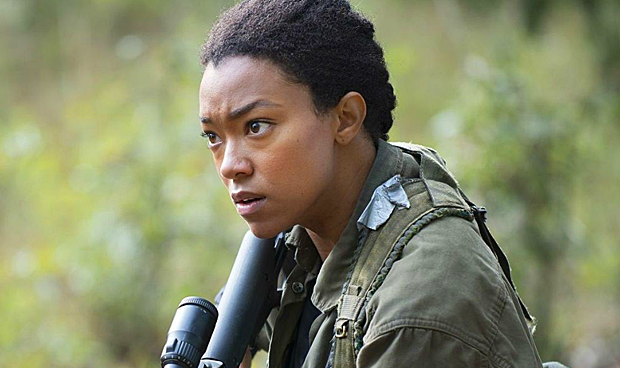 Warning: Some spoilers about The Walking Dead comic book series.
The Walking Dead's Sonequa Martin-Green landed the prospective role of a lifetime when it was announced in December that she will star in the CBS serial streaming revival of a sci-fi icon in Star Trek: Discovery. However, the luster of being the first African-American woman to headline a Trek series does manage to cover bittersweet afterthoughts when it comes to implications for Sasha Williams, her current character on the undead juggernaut cable series. Now, the actress chimes in on this potentially revelatory situation.
Speaking to EW about the apparent dilemma in which her starring role as a still-unnamed lieutenant commander on Star Trek: Discovery has placed Sasha on The Walking Dead, Sonequa Martin-Green is vague, due to the obvious necessity of keeping national security-like secrets for two of television's highest profile shows. However, she didn't exactly shy away from acknowledging the situation. As she laughingly answers about her character-juggling quandary:
"Well, I can't say anything. I can say that the story [on The Walking Dead] is as impactful and powerful and dynamic as it always has been, and there's nothing to worry about where that's concerned."
Martin-Green's Sasha – a player on The Walking Dead since Season 3 – was introduced as the sister and supporting character of debuting main character Tyreese (Chad Coleman). Four seasons later, Tyreese is dead and Sasha – who doesn't exist in the comic book source material – has become a main player, manifesting as an amalgam of several comic-character-inspired tropes; notably as the "other woman" in the romantic life of the late Abraham. After becoming an eagle-eyed sharpshooter, enduring a borderline-suicidal crisis and surviving the series' infamous "Lucille" lineup, Sasha's personal arc could arguably be at an end. However, showrunner Scott Gimple is casting doubts about that, stating:
"Sonequa Martin-Green can do anything. I've seen her battle a horde of walkers this year while simultaneously battling a stomach flu that would have had most people crying in the dirt. She can fulfill the duties of a Lieutenant Commander on a Constitution-class starship whilst battling walkers, Saviors, and whatever gets in Sasha's way.  We've had to juggle before. I will certainly juggle for Star Trek any day of the week. Okay, maybe not on Sunday."
Yet, with Gimple having to publicly play part of a man whose words must be taken with a grain of salt, his comments aren't exactly substantive. Moreover, Sasha's role as Abraham's "other woman" could also prove ominous, since, in the comics, an Alexandria resident named Holly fulfilled this part. Later taken hostage by the Saviors, Holly was dealt (another) famous death from Negan, delivered back to Alexandria with a bag over her head that hid her zombified status, resulting in the comic book death of Dr. Denise – who's already dead on the series. While it could be argued that spinoff Fear the Walking Dead fulfilled the "bag head walker" ruse in Season 2, Sasha is, nevertheless expendable to the broader storyline. – Do with that what you will.
The Walking Dead returns from its midseason hiatus, purportedly reenergized in tone on AMC on February 12. Star Trek: Discovery, on the other hand, just received another major delay, with its debut date on CBS All Access now up in the air, though presumably still set for 2017.