News
Shazam! The Rock is Playing Black Adam, Screenwriter Hired
The Shazam movie is ready to go at Warner Bros, with Dwayne Johnson as Black Adam and a new writer hired.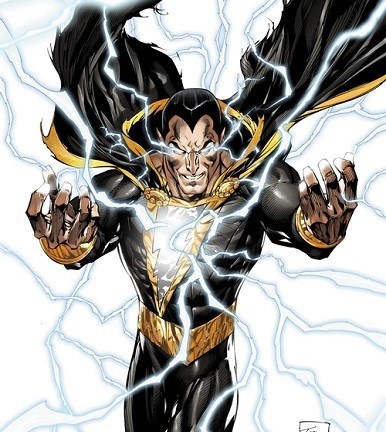 Shazam! Get used to that one magic word, folks. You're going to be hearing it an awful lot over the next couple of years. The Shazam movie has long been in development at Warner Bros., and at one point in the last year had been pronounced dead, mostly because of executive anxiety over the character's cosmetic similarities to Superman. But then Dwayne "The Rock" Johnson started getting frisky on Twitter, teasing his involvement, and word came down that they were just waiting for the right writer. 
Sounds like they've found him. Variety reports that Darren Lemke (Turbo, Jack the Giant Slayer) has been brought on to write the screenplay for the Shazam movie. But in more exciting news, Dwayne "The Rock" Johnson has finally confirmed that he is playing Black Adam.
After teasing that he's "always had a fondness for anti-heroes" and more hints that he could become either Captain Marvel/Shazam or Black Adam for the upcoming movie, the Rock has made his decision to play the villainous Black Adam in the Shazam movie. Mr. Johnson made the announcement on Twitter.
— Dwayne Johnson (@TheRock)
September 3, 2014
It's about time. The Rock has barely been able to contain himself since San Diego Comic-Con. But his association with a Shazam-themed role dates back several years, so it's great to hear that he's actually going to step into the black and gold.
"We Love Dwayne and have had nothing but success with him over the years," New Line President and COO Toby Emmerich told Variety. "When I look at Dwayne both off screen and on screen, he is such a larger than life character and it just made perfect sense to me that we put him in a DC comic movie. You look at these comic book characters and they have this certain swag and charisma that Dwayne carries with him where ever he is so that's why this always made sense."
As for Mr. Johnson, he just can't help himself, continuing to tease bits about the character. Once again from his Twitter…
"BLACK ADAM. A complex psychology, motivated by bad ass dominance with a devilish charm. This'll be fun."
Now, if Dwayne Johnson is playing Black Adam, who could they get to play Captain Marvel Shazam? We'll let you know when we hear anything! Who do you think should say the magic word?
Like us on Facebook and follow us on Twitter for all news updates related to the world of geek. And Google+, if that's your thing!