News
Shazam: Dwayne Johnson talks Black Adam, Release Dates, and More
Dwayne "The Rock" Johnson talks about what's in story for Black Adam after the Shazam movie...which might arrive sooner than expected.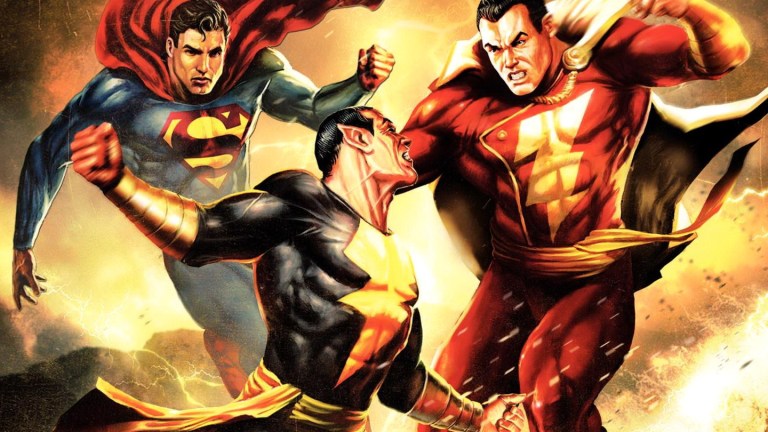 Updated below with a little information about the Shazam movie release date…
Considering how chatty Dwayne "The Rock" Johnson was about his role in the Shazam movie early on, he's been pretty quiet lately. Rock is playing Black Adam, who will certainly be the villain of the Shazam movie, but after that? Well, there are other plans. And they might not even necessarily involve another Shazam movie.
First, there are hints about the Black Adam origin story we'll see in Shazam:
"I think Black Adam is going to grow into becoming an anti-hero," Johnson tells Total Film (via Games Radar). "It's all written within the spirit of respecting and paying homage to the comics. As we know, Black Adam started out as a slave. When he's given the powers, he utilised them. Then in the wake of his powers, tragedy strikes, which turns his sentiment and tone in terms of psychology."
But then he kind of broadens the scope a little, hinting at bigger things for Black Adam down the road.
"It was all agreed that the worlds are all interconnected… One day you will see Black Adam go at it with Superman or Batman or any of the DC characters. But that said, there's a great independence to Black Adam from the DC world, allowing us to inject, not only viciousness, but also winking humour."
Black Adam could certainly be one of a group of supervillains who oppose the Justice League, but on the other hand, if there's a suitable planetary threat, he's the kind of guy who could help them out, too. 
The thing about all this is, the Shazam movie isn't scheduled for release until April 5th, 2019. There are two whole Justice League movies that will be released well before then. But it sounds like we might see it sooner. Rock told MTV at the Oscars that "You know, it may happen a little earlier than what has been predicted. The script is coming in, it's great. The support from the studio has been great." This is the first public rumbling we've heard about Shazam having an earlier release date. I was initially a little surprised about how far off in the future Shazam was on the DC Comics Superhero Movie Release Calendar when it was first announced. Maybe we will see him sooner after all…
I wrote more about the importance of the Shazam movie right here.