News
Seven Actors Fans Thought Would Suck
In the wake of Jesse Eisenberg's Lex Luthor casting breaking the Internet, we revisit seven other actors fans thought would suck.
Yes, Jesse Eisenberg is Lex Luthor, and for that matter, Ben Affleck is Batman [insert Phantoms joke here]. After the roar of Internet rage washes over you like a warm, wet, impotent blanket, stop for a moment and let that sink in. Jesse Eisenberg IS Lex Luthor, and the world did not end this afternoon, despite what some of the more creative and enterprising snarkers have tweeted. The sun is shining, the birds chirping, and as resignation slowly drifts through the fan community, the thought that maybe, just maybe, Eisenberg can pull off Lex Luthor spreads….
It's possible. While Eisenberg nor Affleck are my first (or tenth) choices for those roles, I have seen both give good performances before and in Batman vs. Superman, they will certainly be sharing half the burden with the likes of Jeremey Irons as Alfred, Amy Adams as Lois Lane, Laurence Fisburne as Perry White, and an already perfectly cast Henry Cavill. Stranger things have happened. Don't believe me? Well consider this list of seven actors who once upon a time fans were ABSOLUTELY positive would fail. Seven actors whose casting spelled doom in the trades and constituted an assortment of varying handwringing.
Here Are Seven Actors Fans Thought Would Suck: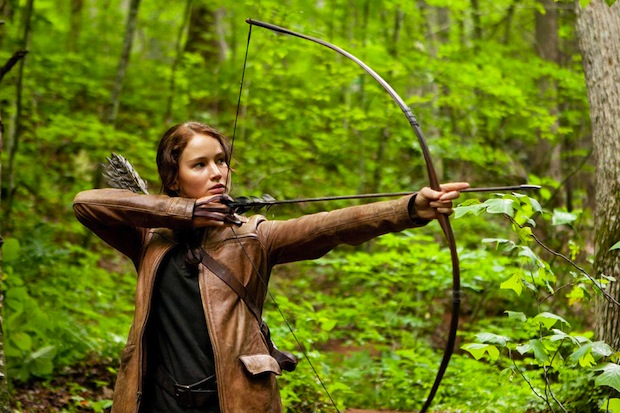 7. Jennifer Lawrence as Katniss Everdeen (The Hunger Games)
Before Jennifer Lawrence went on to win fans' hearts at the U.S. box office with $408 million (a feat Iron Man 3 only just NOW barely matched) and everyone else' with her Oscar Winning turn in last fall's Silver Linings Playbook, she was The Girl Who Couldn't Catch Fire. At least that is what a very vocal backlash in the fan community, as well as some decidedly harsh critics, had to say.
When she was cast over a slew of other fan favorites, including actual teenagers like Hailee Steinfeld, the then-21-year-old Lawrence was ridiculed for being too old, too tall and, most egregiously stupid, too "fat." The actress who at 19 earned an Oscar nomination for playing a dirt-poor orphan of the Ozarks in Winter's Bone was considered too well fed to star in a film called The Hunger Games (which was also shot in another humble mountain range setting: Appalachia). Even after the film was released, critics for The New York Times and The Hollywood Reporter suggested that she was too womanly and suffered from "lingering baby fat." Funny how less than a month later, after The Hunger Games became one of the biggest films of 2012, some of the same critics were running glowing pieces about why Lawrence's Katniss is a "new type of woman warrior" for young girls to admire. Riiiight.
6. Daniel Craig as James Bond 007 (Casino Royale)
Remember that one bloke called "James Blond?" He was that one who was cast as Bond back in 2005 when everyone wanted Pierce Brosnan to return. There was absolutely NO WAY he could play Her Majesty's Loyal Terrier. Whatever happened to that guy?
As hard as it is to recollect now, Daniel Craig, arguably the most popular 007 since Sean Connery, was once repelled by a belligerent fan community. It got so bad that in 2006, before Casino Royale was even released, Craig had to speak of how stunning and vicious the calls were for him to be dropped from the role. He was accused of being too ugly, too mean and of course too blond. At least The Daily Mirror was slightly wittier when, after only a day had past since the casting announcement, they pronounced the actor, as if they were writing an obituary, to be James Bland.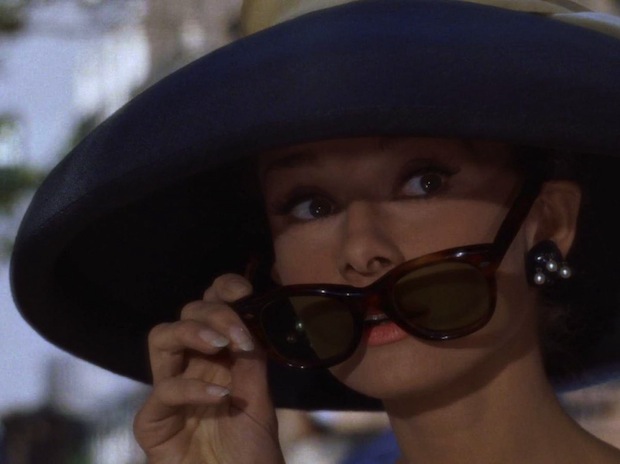 5. Audrey Hepburn as Holly Golightly (Breakfast at Tiffany's)
Before the Internet Age, fan skepticism and outrage was kept to the quiet dignity of their own homes or ignored Letters to the Editor. However, sometimes these fans could find a famous champion to carry on their disdain at Hollywood developments. For example, it doesn't hurt when the author who created a character leads the charge. Look no further than when Truman Capote reacted in disbelief to the casting of Audrey Hepburn in her now most iconic role.
When Capote sold the rights to his short novella Breakfast at Tiffany's to Paramount Pictures, he did so with the express wish that Marilyn Monroe play the part of Holly Golightly, New York's ultimate Goodtime Girl. After all, Holly is supposed to be seductive, charismatic and able to ensnare any man on her hook, if only ever fleetingly. But when Monroe passed on the part because Lee Strasberg advised Norma Jeane that playing a prostitute would be bad for her image, the part went to the decidedly less bombshell Hepburn. When Capote saw that this thin, gamine waif was going to be his ultimate creation of superficial and jaded femininity, he remarked, "Paramount double-crossed me in every way and cast Audrey." Thank. God.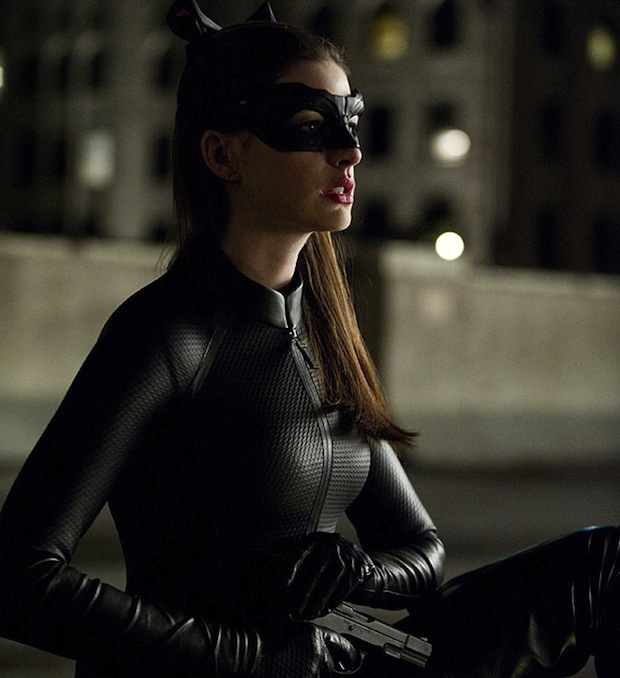 4. Anne Hathaway as Catwoman (The Dark Knight Rises)
Everyone should recall this: Anne Hathaway cast as Selina Kyle aka Catwoman? What? How? A DISNEY PRINCESS?!
Mind you many of those loudest critics likely never saw her riveting work in Brokeback Mountain or Rachel Getting Married (the latter of which got her a well-earned Oscar nomination). And if they wanted seductive, they had to look no further than Havoc. Yet for many, Hathaway was little more than the chick from The Princess Diaries with a very, very bubbly public persona. Hardly the stuff of femme fatale. That's why all the way up until the film's release, there were still blogs like this filled with unflattering photoshopped pictures and snap judgments based on movies she did 10 years prior. But lo and behold when the movie came out in July 2012, she was the single best-reviewed facet of the movie. Whether you were Michael Caine or a message board poster, the only thing you could talk about was how good she was in the skintight leather and a mean pout. Even President Obama gave Ms. Hathaway a shout out when he said, "I got a chance to see Batman, and she was the best thing in it."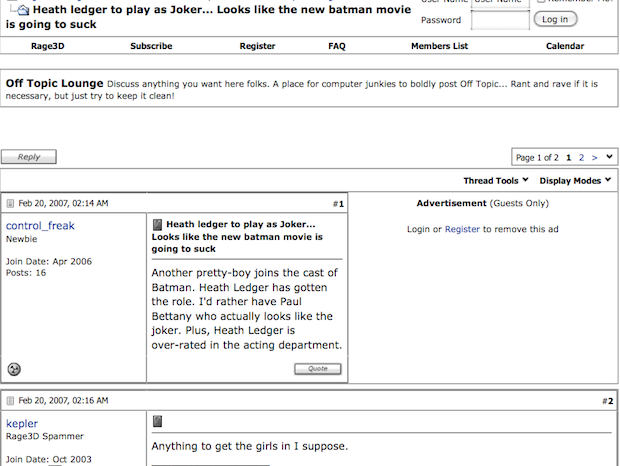 [related article: Batman vs. Superman – Everything We Know]
3. Heath Ledger as The Joker (The Dark Knight)
And before there was Anne Hathaway as Catwoman, there was Heath Ledger as The Joker. Look at the above pic. Let that one roll around for a minute. Still not satisfied? Here is a page of fans whining about why it should have been Christopher Walken, Crispin Glover or anybody else. In 2006, nobody thought anyone save for Jack Nicholson could be The Joker. Then this trailer hit, followed shortly by similar images: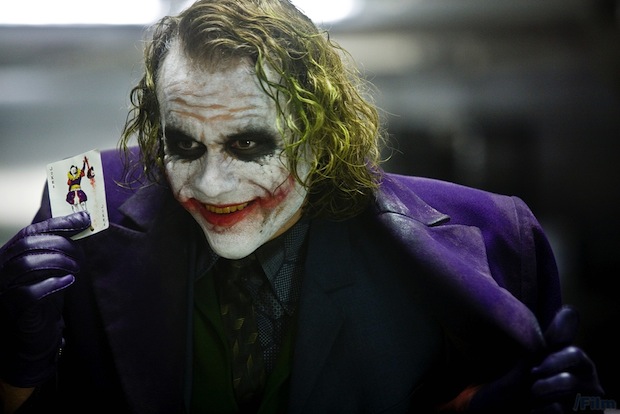 Even after Ledger's tragic passing, the role continues to be recognized as a benchmark of villainy not only in comic book films, but in ALL OF CINEMA, thus earning Ledger a posthumous Oscar, which was the first time the Academy had handed one out in the 32 years following Network. 'Nuff said.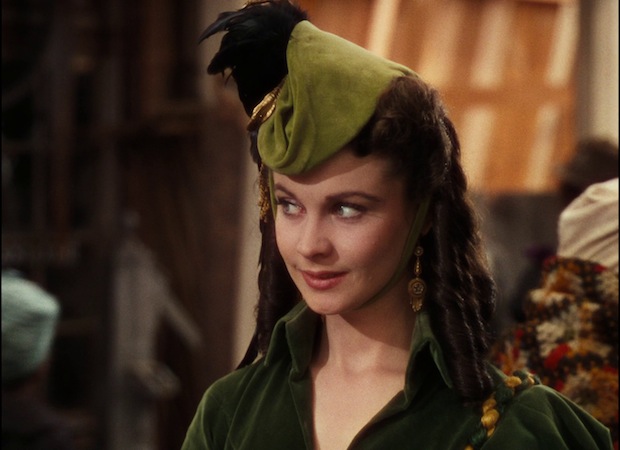 2. Vivien Leigh as Scarlett O'Hara (Gone with the Wind)
Casting a Brit in an iconic American role always earns a whisper of chagrin from U.S. audiences and press prior to release. However, none was more thunderous than when Vivien Leigh, an obscure English actress born in British India, was cast as Southern belle and revisionist history heroine Scarlett O'Hara in David O. Selznick's adaptation of Gone with the Wind. Often cited as one of the most beloved novels of the Depression, particularly in states south of Missouri and east of Oklahoma, Gone with the Wind was practically American heritage in its few short years of existence. As the ultimate soap opera epic, it captured idyllic daydreams with a mythic, fairy tale quality. And at the center of all that passion was Scarlett O'Hara, everyone's favorite wicked creature.
The casting process, lovingly followed in the press as The Search for Scarlett, lasted two full years. Unsurprisingly, when Selznick finally settled on his admittedly dark horse candidate, Vivien Leigh, there took a lot of coaxing. Angry letters poured in, Gossip columnists were pressured to boost Leigh's heritage, and a tightrope was long walked all the way until the movie's Atlanta premiere. Today, whatever inclinations people may have towards its politics 70 years on, there is no denying that Leigh is magnificent. She not only won an Oscar for the picture, she won a place in permanent cinematic immortality as one of the most fiercely realized leading female performances ever committed to celluloid. Fiddle-dee-dee.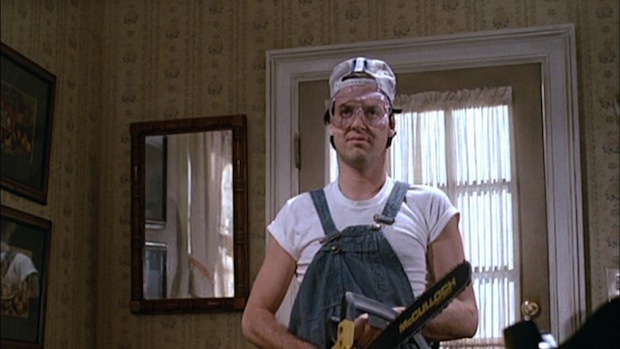 1. Michael Keaton as Batman (Batman)
Yes the most obvious comparison is still the most fitting. Michael Keaton, America's official Mr. Mom, was cast by Tim Burton to play the Dark Knight.
Keaton is not an assuming man. As a comedian with thin, receding hair and a height of five-feet and nine-inches, a muscular uberman he is not. Also, when he was cast in 1988, many could not get past that this was the guy from Nightshift and Beetlejuice. Were they remaking the campy Adam West TV show? The Wall Street Journal reported on the hundreds (some say tens of thousands) of protest letters they received over the casting. There was literally protesting in the streets. And then this image appeared:
The whining stopped. To this day there is still a school of thought that prefers Keaton to all actors who have donned the cowl, even Christian Bale. Not bad for an actor who The Times once described as a prankster.
There you have seven actors who fans were once oh-so-sure would suck. But the list is actually much longer. I can recall the skepticism that surrounded Hugh Jackman as Wolverine and Rooney Mara as Lisbeth Salander. One can also note a slew of others in history from Hepburn again as Eliza Dolittle to Ian Fleming's own misgivings toward Sean Connery. Ultimately, gut-reactions tend to be filled with hyperbole and slight embarrassment from hindsight. Hence, it may be best to take a step back before pulling out the message boards. Then again, I still want to leave you with this one more time: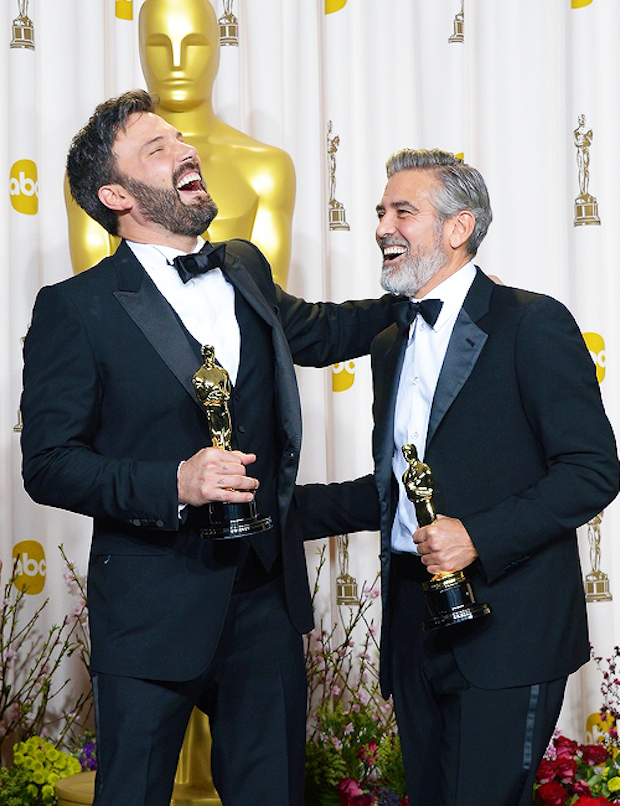 So there is our list. Agree? Disagree? Still worried about Eisenberg or even Affleck? Leave us a message below!
Related:
7 Delayed Movies People Also Thought Would Suck
Like us on Facebook and follow us on Twitter for all news updates related to the world of geek. And Google+, if that's your thing!