News
Scott Snyder & Greg Capullo Reunite for New Batman Comic Event
One of the greatest Batman creative teams of all time is reuniting for a new summer event called Dark Nights: Metal.
Scott Snyder and Greg Capullo, the creative team behind the critically praised and successful run on New 52 Batman, are reuniting for a new comic book event called Dark Nights: Metal, which will star the Dark Knight as well as the rest of the Justice League. The news was revealed by Snyder and Capullo at Fan Expo Dallas, where they also dropped some hints regarding the event's story.
Dark Nights: Metal will tie into other things going on in the current Rebirth books, especially the Death of Hawkman series that just wrapped in March. This new event will see Batman investigating the mysteries of Nth Metal, a Thanagarian element that gives heroes like Hawkman and Hawkgirl their powers.
A previously announced Batman mini-event, Dark Days, which will be written by Snyder and James Tynion IV and drawn by John Romita Jr., Jim Lee, and Andy Kubert, will act as a prologue for Dark Nights, although the connection is not currently clear.
Dark Nights will see the entire original New 52 Batman team reunite. Along with Snyder and Capullo will be colorist FCO Plascencia and inker Jonathan Glapion. 
Check out the promo for the miniseries below: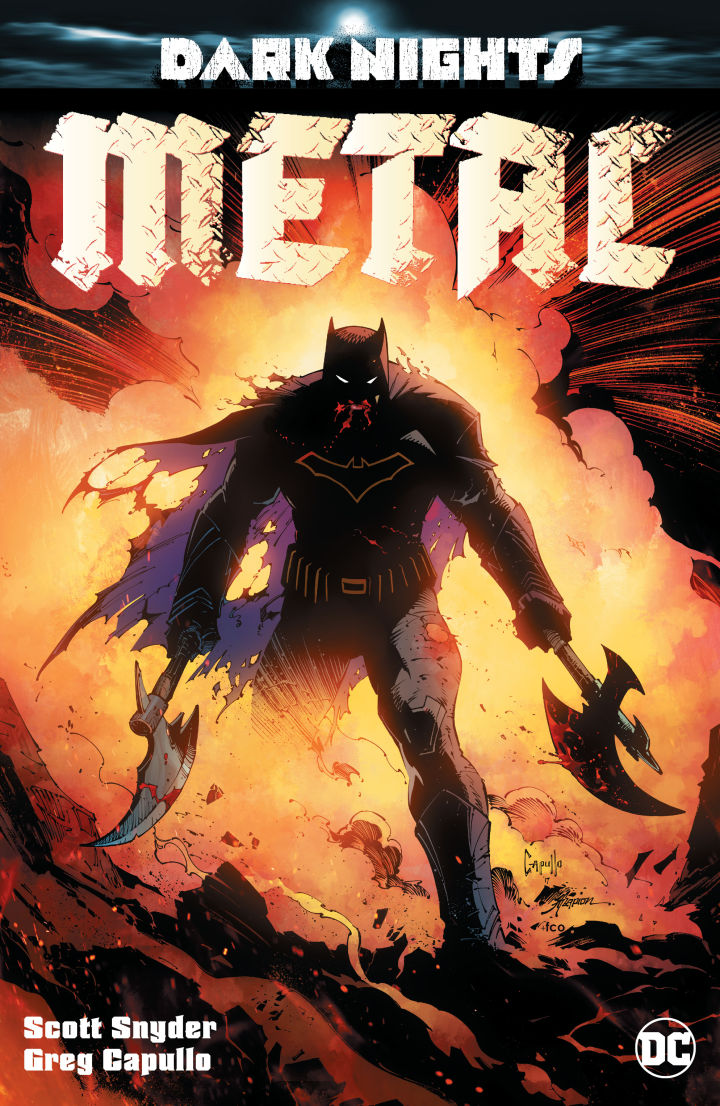 Snyder revealed in a tweet that the series will be self-contained and last for six issues, starting in August. He also described Dark Nights as a "DC wide event," promising that promos for Wonder Woman and Superman tie-ins are upcoming. The Green Lanterns will also play a role in the event. 
Snyder said in a press release, "I've been planning Metal for as long as I've been writing Batman. But this is bigger than Batman. Greg and I started dropping clues during 'Court of Owls,' we continued through our Joker stories and we placed our biggest hints in the run that culminated with Batman #50. And now we're back to tell a story that breaks everything apart. This will be the definitive project of our careers. Metal takes us in an entirely new direction. Greg and I will dig beneath the surface of all the stories we've told to find a place of terror and twisted nightmares."
"I want Metal to be built upon the stories happening now in Rebirth and create new material that feels really modern and different," continued Snyder. "And above all, it's going to be fun. Even with terror and nightmares, it won't be grim. Dark Nights: Metal will be celebratory, huge and crazy. I've said it before: I am going for out-of-control dinosaurs and lasers."
More Batnews as we learn it!