News
DC's Sasquatch Detective is Exactly What It Sounds Like
The fun Snagglepuss backup story spins off into Sasquatch Detective #1.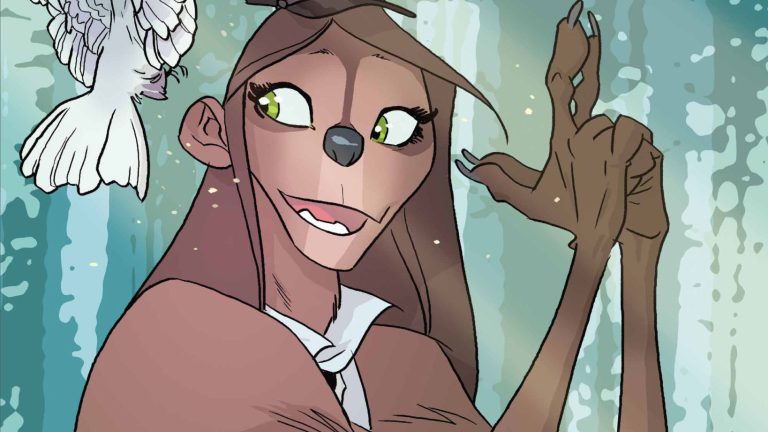 There's something inherently charming about the high concept behind Sasquatch Detective, Brandee Stilwell and Gus Vasquez's story about exactly what it sounds like that first appeared as a backup in Exit Stage Left: The Snagglepuss Chronicles. We're not talking about time travel paradoxes or closeted panther playwrights examining the birth of the gay rights movement in America or a rich orphan who likes to beat on poor people for "justice." She's a sasquach. And she's also a detective. It's admirably straightforward.
And if you read the stories, you'll see that the charm doesn't end with the hook. Tanya Lightfoot is enthusiastic and competent and earnest and fun and endearing in a way that you don't often see in comics these days, and she feels like she's just sophisticated enough to not be an all ages character that we're swearing "really works for everybody."
In Sasquatch Detective #1, DC collects all the backups from Snagglepuss and adds in a new origin story for Tanya from Stilwell and Vasquez, but my favorite part is probably the note from Stilwell about the titular cryptozoological investigator's origin as a concept that fleshes out her existence in a way that somehow made it even more likeable. And then we meet an entirely wholesome family of sasquatches (sasquatchi? Sasqui? Sasquatch? Can you help in the comments with the appropriate plural for "more than one sasquatch?") in this exclusive preview DC sent us to share with you.
Tanya's parents, also Bigfoots (Bigfeet? No, I'm pretty sure it's Bigfoots), are sort of the respected town elders for Northern California wildlife. Her mom is a tennis pro and her dad the golf pro, teaching neruotic, flatulent animals the finer points of WASP sports. They're also just a generally well adjusted family – they spend time with each other, snack together, watch TV together. But they're sasquatches.
Here's what DC has to say about the book:
SASQUATCH DETECTIVE #1 written by BRANDEE STILWELL

art by RON RANDALL and GUS VAZQUEZ

cover by BEN CALDWELL

Before Tonya Lightfoot became Los Angeles' most decorated detective, she was a wee sasquatch roaming the Appalachian mountains, fed a steady diet of tennis and golf (as both of her parents are pros at the local country club) and CSI episodes. But her idyllic life of pranking campers and squatching around the local golf course hits a bump in the fire road when Bigfoot hunters come to the dense forest. Would Tonya back down in the face of adversity? Not yeti! But experiencing this abominable anti-sasquatch sentiment gives her the determination to leave her home behind—she heads to the dangers of the city. After all, it's hard to fight unconscious bias, but crime is something America's sassiest sasquatch is ready to tackle.This special features a new 30-page lead story plus the backup stories from EXIT STAGE LEFT: THE SNAGGLEPUSS CHRONICLES #2-6.
Check it out!