News
Sandman Presents: The Dreaming Gets New Writer
Fans of DC Comics and Sandman can sleep easy because the realm of the Dreaming is in good hands.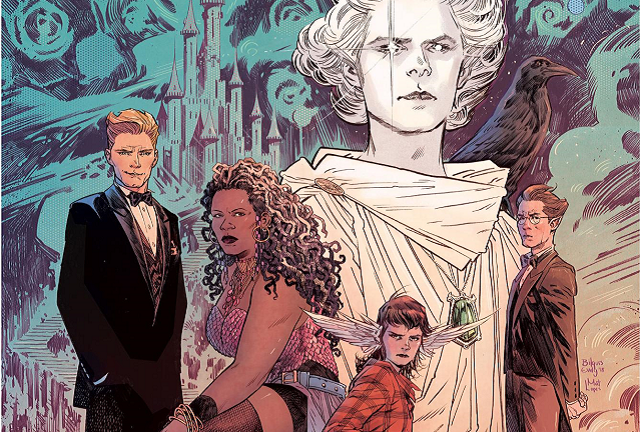 At the DC House of Horror panel at New York Comic Con, it was announced that the new creative team of Sandman Presents: The Dreaming will be none other than G. Willow Wilson (the co-creator of none other than Kamala Khan, Ms. Marvel) and artist Nick Robles (Doctor Mirage, Euthanauts). Sandman Presents: The Dreaming launched a year ago with writer Simon Spurrier and artists Bilquis Evely, Matt Lopes, and Simon Bowland. But with Spurrier departing The Dreaming to write Sandman Presents: Hellblazer, Wilson and Robles will soon take up residence as proprietors of Dream's realm. 
Wilson told an appropriately surreal story on how she found out that Neil Gaiman and DC were handing her the keys of the Dreaming. 
"I was on book tour for The Bird King," Wilson told the NYCC crowd. "Chris Conroy called me to put in contact with Neil Gaiman. What was funny about that conversation was that I walked outside kind of in a daze after it was over and I looked at the mountains and I had this wave of deja vu," she revealed. "Because the very first time that I read Sandman at a good friend of mine's house in high school, I was in Longmont, Colorado. I was looking at the same landscape that I was looking at when I first read the book."
It was a dream come true for Wilson and it will be dream come true for Sandman fans because Wilson's style and character work should be perfect for the world of the Dreaming. Plus, Wilson promised she will be bringing some old Sandman favorites back including William Shakespeare who Gaiman introduced to the Dreaming Universe back in Sandman #19 (1990). In that classic tale, Shakespeare and Dream cut a deal that if the Bard writes two plays for the Sandman, Dream will insure that people will dream of Shakespeare's plays forever. It will be fascinating to see where Wilson and Robles go with Shakespeare and the rest of the Dreaming family as the Sandman Universe spins its way into its second year. 
Sandman Presents is a line of Sandman-adjacent books curated by Neil Gaiman. The line of books began last year and includes the aforementioned The Dreaming, Books of Magic, House of Whispers, and Lucifer. All of these titles examine characters from the world of Sandman as Gaiman and company extend the narrative began in Sandman so many years ago. As for Wilson, she has been getting experimental and speculative in Dark Horse's sci-fi space nun saga Invisible Kingdom and touring the DC Universe in her run on Wonder Woman. With creators like Wilson, Robles, and Spurrier aboard the next year of Sandman Presents, this should be an exciting time for fans who are lamenting the loss of Vertigo Comics.