Features
Runaways Season 2: What to Expect
The cast of Runaways is eager for more action, and it sounds like they'll be living it in Season 2.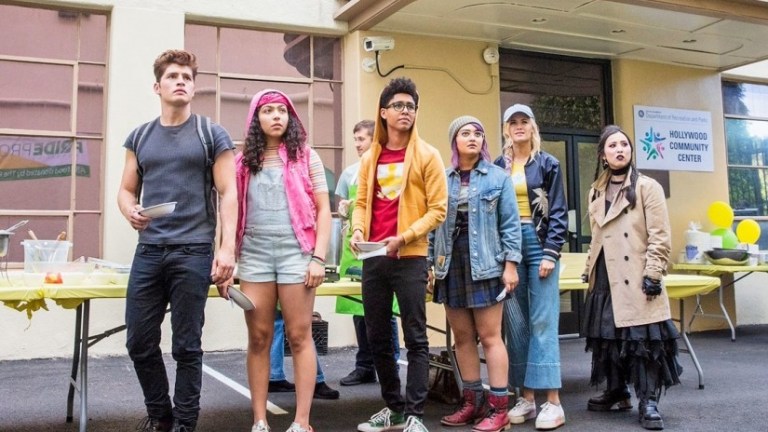 It wasn't until the very end of RunawaysSeason 1 that Alex Wilder (Rhenzy Feliz), Nico Minoru (Lyrica Okano), Karolina Dean (Virginia Gardner), Gert Yorkes (Ariela Barer), Chase Stein (Gregg Sulkin) and Molly Hernandez (Allegra Acosta) made good on the show's title.
Before that pivotal moment, when these disparate teenagers discovered that their villainous parents had framed them for murder, series co-creators Josh Schwartz and Stephanie Savage had spent most of the season's time laying the groundwork for the group's eventual escape. It's a common method showrunners will use to adapt comic books for television (see the first season of AMC's Preacher), and while it may tax the patience of some viewers, it often pays off in the long run.
Hence Runaways Season 2, which premieres Friday, December 21st on Hulu. Based on the Marvel comic series created by Brian K. Vaughan and Adrian Alphona, the latest installment sees Alex, Nico, Karolina, Gert, Chase and Molly finally going on the run. At the same time, as the first teaser trailer suggested, audiences will also be seeing the group testing the limits of their powers—and their teamwork—for the eventual confrontation with their parents, all of whom are a member of the secretive group dubbed "The Pride."
According to what the cast told Den of Geek at the 2018 New York Comic Con earlier this month, this is the development they have all been looking forward to the most. That is to say, more "action."
"It's just up in action," says Feliz, whose character more or less serves as the group's leader. "When I first watched that teaser, it reminded me a lot of what we've been doing this season. Everything is on a bigger scale this time. We get more action, we get more explosions, we get more of everything."
Many of his fellow cast members say the same, but there's also a lot more they're excited about. From the new directions that Savage, Schwartz and the writers have decided to go in, to the inclusion of at least two more characters from the comics, it seems Runaways Season 2 will have plenty to satisfy hardened comic book readers and general audiences alike.
"The writers really trusted us with some new material this year," says Barer. "I think they tapped into some really the deep stuff that we've brought to these characters, and they let us explore that on our own."
Acosta adds to this point, saying "the way Molly grows into this superhero role" was especially fun to play with. "She's ready to take it on. It's fun to play with her abilities." After admitting a conspiratorial grin, she adds that "the way we throw in some Easter eggs is fun, too. That she might be the M-word." (That is to say, Molly is a "mutant," but with the Disney-Fox merger still in progress, Marvel and Hulu cannot legally employ that word in the show.)
Of course, this wouldn't be a decent Runaways adaptation without Old Lace, a genetically engineered dinosaur designed by Gert's parents that shares a telepathic link with her. Barer loved working with the animatronic character during Season 1, and has enjoyed the experience even more the second time around.
"We actually get to explore Old Lace in a way I didn't expect," she says. "She goes through all the same stuff that we go through, but she also has her own storyline. She encounters peril and escapes victorious from it. She has these very real, almost human, moments, where we all connect with her. That was really fun to shoot."
For of all the Marvel properties currently in play, Runaways has demonstrated one of the most progressive platforms. From its casting and the diversity of the people working behind the camera, to the storylines themselves, it's readily apparent. Like the budding romance between Nico and Karolina, which fans of the show have enthusiastically responded to. It was a popular point of discussion heading into the first season, and now that Season 2 is going to explore it even more, the actresses can't help sharing their excitement.
"The fan response to that has been incredible," says Gardner, who plays Karolina. "I've been asked if I was nervous about exploring it, or felt any pressure to do it, and we never did. We just wanted to explore it like you would explore any other relationship on television. I mean, let's just provide this representation already. From the beginning, I think it was always Josh and Stephanie's intention to write that relationship into the show."
"I think it's a beautiful dynamic," says Okano, who plays Nico. "I was really excited for Karolina and Nico to get together. I read the comics and I was always a huge fan of their relationship, and even though it didn't really exist in the comic book world, I desperately wanted them to be together. This season, you'll see Nico and Karolina deal with being in a new relationship while in this horrible situation, where they're running away from their homes and their parents. Things aren't always that easy, and you'll definitely see that with our story."
Yet the mainstay of the series is the reasoning behind the group's ultimate decision to run away from home — their parents' antagonistic alliance with the villainous and otherworldly Jonah (Julian McMahon). In their own unique ways, all six kids feel a deep sense of betrayal and loss. After all, their parents — the people who love them and have raised them — are killers who have now set their sites on them.
As the Runaways cast repeatedly told Den of Geek, Season 2 will see these deep-seated feelings of loss and regret resurface in a series of climactic standoffs between the two groups, and it's not going to be pretty.
"I think they're confused," says Sulkin, who plays Chase. "They're frustrated by the fact that they thought their parents were superheroes, when they were actually supervillains, so to speak. They're just a bunch of young kids who have this love for their parents, even though what they've done is wrong, so they're battling with themselves. They feel that justice needs to happen, but at the same time, they still love their parents. They don't want to cause them any harm."
Runaways season 2 premieres December 21st on Hulu.
Read and download the Den of Geek NYCC 2018 Special Edition Magazine right here!