News
Rogue & Gambit Series Coming From Marvel
Star-crossed X-Men lovers Rogue and Gambit will headline some new adventures next year.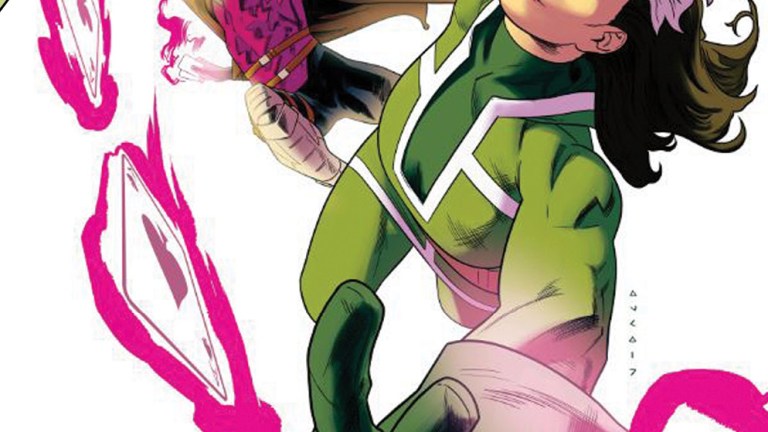 To help build hype ahead of their first X-Men New York Comic Con panel in years, Marvel leaked word of a new Rogue & Gambitseries, and at the con, they shared more details.
Rogue & Gambitis due out in January. It's written by Kelly Thompson (Jem & The Holograms, Hawkeye) with art from Pere Perez (Faith, Deadpool versus Punisher) and covers by Kris Anka (Captain Marvel, Uncanny X-Men). The book was announced as a limited series, but at the panel, Marvel's folks strongly hinted that it could be stretched into an ongoing.
The pair have been flirting with each other almost since Gambit's introduction in 1990. They were a couple on the '90s X-Menanimated series, and have been around each other for every major life event, at least for Rogue. Most recently, Gambit has been a recurring character in All-New Wolverine, after his period as a mentor to Laura in her previous comic. Rogue has been leading the Avengers Unity Squad in Uncanny Avengers, where she died one time but got better, and then she beat the hell out of the Red Skull to get Professor X's brain out of his head.
Interestingly, this book was announced at the same time as the new Legion series. There is some shared history there: Gambit and Rogue's first kiss took place as the world was being hit by a wave of destructive energy from the M'kraan Crystal following Legion's accidental murder of his father, which kicked off the Age of Apocalypse. With Marvel's attention to X-Men history during the Resurrxion relaunch, it's unclear if the timing and pairing of these announcements was meant to draw that reference out.
Read the full Den of Geek NYCC Special Edition Magazine right here!