News
Rocket Raccoon Gets New Solo Series In May
Al Ewing & Adam Gorham are putting Rocket Raccoon in a heist story.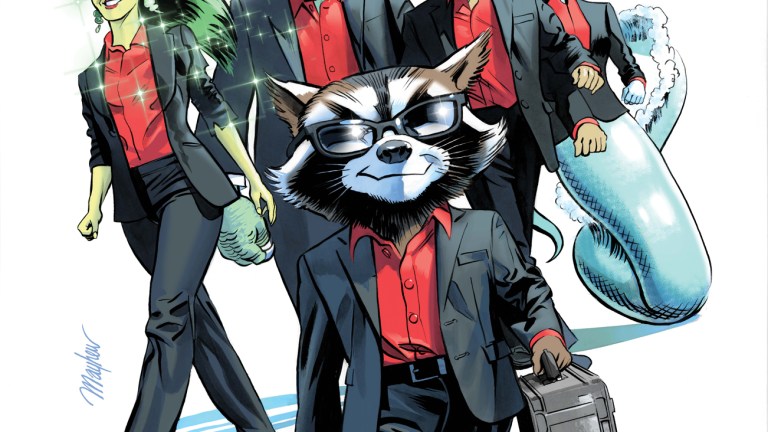 Al Ewing and Adam Gorham are dropping everyone's favorite anthropomorphic raccoon (just ahead of noted white supremacist Steve Bannon) in a noir-y heist story, according to today's news out of Marvel. Gorham, who with Ed Brisson hit noir perfectly with The Violent, sat down with Ewing at Marvel.com for an interview where he talked about some of the challenges of dropping a cartoon raccoon in an otherwise semi-serious story. "When I tried to keep his emotions and body language too human or "real," he came off reserved and stiff. Readers have come to know Rocket as an expressive, loud, character—perhaps a bit unwieldy…" said Gorham.
Meanwhile, here are a list of things Al Ewing has done that scream "Don't worry, this is going to be great."
– Mighty Avengers, where he made Blue Marvel a big deal again.
– That Secret Wars riff on Judge Dredd that was also a savage burn on David Cameron.
– Contest of Champions, a book about the Punishers of the multiverse killing each other (and also it was a tie in to that pointless mobile tapping game, and yet somehow still a fun comic about the Marvel multiverse post-Secret Wars).
– Ultimates and Ultimates 2, comics that explore the architecture of the Marvel multiverse. And by "explore the architecture of the Marvel multiverse," I mean "Galactus is now the lifebringer trying to free a shackled Eternity, and Chaos and Order just murdered the Living Tribunal because the old roles don't apply anymore." If Ultimates 2doesn't end with by enshrining in canon the theory about Franklin Richards being responsible for Marvel Time, I will be a tiny, tiny bit disappointed.
– New Avengersand U.S.Avengers, which are both actually stealth New Mutants revivals where they face off against Ultimate Reed Richards. Seriously. Sunspot, Cannonball and Warlock all play a big role.
– At the end of the interview, Ewing calls out the villains for Rocket: Technet. So you know what that means.
Al Ewing and Adam Gorham's stealth Excaliburrevival Rocketwill be out in May. Stay with Den of Geek for more news about this and all the other ways late '80s X-Men comics are being hidden in Marvel Cinematic Universe-relevant comics.