News
Robin & Superboy Team Up To Tackle Superman
In this preview of Adventures of the Super-Sons #1, Damian Wayne and Jon Kent take on an icon's icon.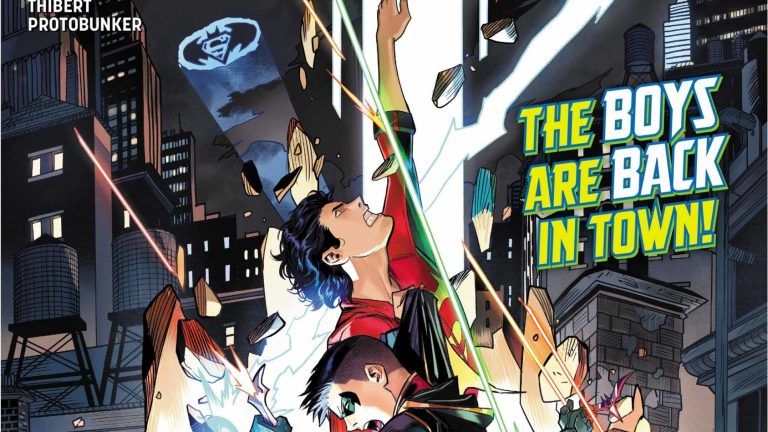 It's weird to think this, but it's very possible that the defining voice for Damian Wayne is actually Pete Tomasi's. Despite being created by Grant Morrison for his seminal Batman run, Morrison's voice for Damian was always very…specific. But it was in Tomasi's stories, in both volumes of Batman & Robin and in the recently wrapped Super-Sons that Damian was given space to grow as a character and into the DC Universe as a whole. And, as we've discussed many times over, he's done quite a good job at it.
The Super-Sons pairing has been a great one. Damian has always been a young Batman – cold, dickish, ruthlessly efficient, but trying to learn about the humanity that Bruce Wayne brought to the package without having to go through the hurt. Superman has always been a bright spot of optimism for Batman himself (except when Batman is being written as a paranoid conspiracy theorist cough cough Hush cough), so it makes sense that Jon and Damian would be a great pairing.
DC sent along an exclusive first look at The Adventures of the Super-Sons #1, the first of Tomasi and Carlo Barbieri's 12-issue run with the duo, for us to check out. Here's what they have to say about the issue:
ADVENTURES OF THE SUPER SONS #1 written by PETER J. TOMASIart by CARLO BARBERI and ART THIBERTcover by DAN MORAvariant cover by JORGE JIMENEZThe Super Sons are back in an all-new 12-issue miniseries written by Peter J. Tomasi! Check out the lost and secret adventures of Damian Wayne (Robin) and Jon Kent (Superboy) in this flashback miniseries that takes a deep dive into the bombastic bromance between the sons of the DC Universe's greatest heroes. It's an epic dual storyline that transcends current events, as Superboy and Robin find themselves targets of an interstellar team of young badasses called the Gang.
This art is gorgeous, and hey let's give Dan Mora more to do please. Take a look!